University of Memphis Honor Choir
January 25-26, 2024
The University of Memphis Rudi E. Scheidt Choral Area is excited to welcome singers and conductor-teachers for our 2024 Honor Choir.
This two-day Honor Choir event includes rehearsals and performances of the Honor Choir, and a special performance by the University of Memphis University Singers. Participants will have the opportunity to work with an exceptional guest conductor, our own Choral Faculty, and choral conducting graduate students during the event. We encourage choral directors to select their finest musicians for this exciting experience.
NO PREPARATION NEEDED: Music does not need to be taught ahead of time.
NO PRE-PURCHASE OF MUSIC: Singers/teachers will purchase packets of music upon check-in. The cost will be included in the singers' registration fees.
NEW TEACHER-TRACK: For all attending teachers.
UPDATED SCHEDULE:View updated schedule
HONOR CHOIR SOCIAL: New Honor Choir Social for singers and directors. Pizza, desserts and entertainment provided.
AUDITION OPPORTUNITY: Singers will be able to audition for acceptance into the School of Music and potential scholarships in lieu of an official UofM audition day.
---
Nominations + Fees
Students best suited for the Honor Choir possess the following qualities in this order:
Eemplary rehearsal behavior
Excellent musicianship skills (sight-reading)
Good vocal technique
Choral singing experience.
If possible, priority should be given to students who have a desire to continue singing in college.
Each school should aim to bring a balanced octet of singers (2 per part—SSAATTBB). If you need to bring a group that is not balanced with voice parts, please email Dr. Emily Frizzell, emily.frizzell@memphis.edu.
The participation fee is $50 per singer and includes:
Honor Choir music
Honor Choir t-shirt
Honor Choir Social
---
Honor Choir Conductors
Dr. Jefferson Johnson
Jefferson Johnson, D.M.A. is Director of Choral Activities at the University of Kentucky where he conducts the University Chorale and Men's Chorus..
Read More >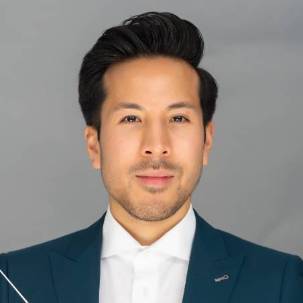 Dr. Francis Cathlina
Francis Cathlina, D.M.A., is a Vietnamese-American conductor-teacher whose work lies at the intersection of choral music and narrative.
Read More >
---
Auditions
New this year, Honor Choir students will have the opportunity to audition for Voice Scholarships and admission into the Rudi E. Scheidt School of Music.
Auditions are open to all high school seniors and community college students who attend the Honor Choir. An accompanist will be provided.
Students planning to be Choral Music Education or Vocal Performance should prepare two memorized solos - one English art song and one foreign language art song/aria.
Students pursing other concentrations of the Bachelor of Music, Music Minors, or Applied Lessons—should prepare one memorized classical solo (no language requirement).
View additional specific area audition reprertoire requirements.