Paulina Villarreal
Voice, Popular Music
Office Hours
Email for an appointment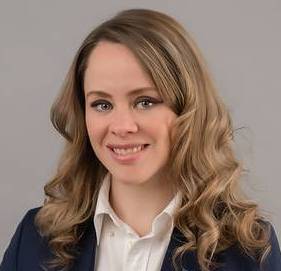 Education
D.M.A., Doctor of Musical Arts, Cincinnati College-Conservatory of Music, 2018
M.M., Master of Music, Cincinnati College-Conservatory of Music, 2015
B.M., Bachelor of Music, Appalachian State University, 2013
Biography
Mexican mezzo-soprano Paulina Villarreal is a prominent recitalist, cabaret, operatic, and musical theater singer who frequently performs in the United States and Mexico. Dr. Villarreal, a graduate of the Cincinnati College-Conservatory of Music, has been a soloist and invited artist in important companies and orchestras around the United States including Cincinnati Opera, Opera Saratoga, Opera Fusion: New Works, the Tanglewood Music Center, the Boston Pops Orchestra, the Princeton Symphony Orchestra, Kentucky Symphony Orchestra, Appalachian Symphony Orchestra, and the Millikin-Decatur Symphony Orchestra. In the entrepreneurship world, Dr. Villarreal is the founder and artistic director of the international concert series "Cantos para Hermanar al Mundo" (songs to bring the world together), devoted to the promotion of classical vocal genres hosted in Torreón, Mexico.
Trained as a classical vocalist, Villarreal is now in demand for her singing versatility in musical theater and commercial music genres. An advocate of new music and crossover works, she has closely collaborated with contemporary American composers like William Bolcom, Laura Kaminsky, Ricky Ian Gordon, and Derek Bremel, and is recognized by important foundations like the Kurt Weill Foundation in New York and the Comic Opera Guild in Michigan for performing a wide variety of vocal genres.
Recent performances and career highlights include Simply Sondheim: Stephen Sondheim's 85th Birthday Celebration with the Boston POPS and Broadway veterans Jason Danieley and Kate Baldwin, Sondheim vs Webber with the Kentucky Symphony Orchestra, the world premiere of Derek Bremel's Mango Suite with the Princeton Symphony Orchestra, as a principal artist in Cincinnati Opera Fusion: New Works, an American tour of William Bolcom's Complete Cabaret Songs, a residency with the Tanglewood Music Center performing multiple world premieres and her performance at the international 2017 Lotte Lenya Competition, awarding her one of the top prizes.
Dr. Villarreal is currently the director of the Young Singer Program at Hawaii Performing Arts Festival, where she also teaches applied voice during the summer seasons. Before joining the faculty at the University of Memphis, she held the position of Opera and Musical Theater director at Centenary College of Louisiana, and taught applied voice at Millikin University.