Meet the First Lady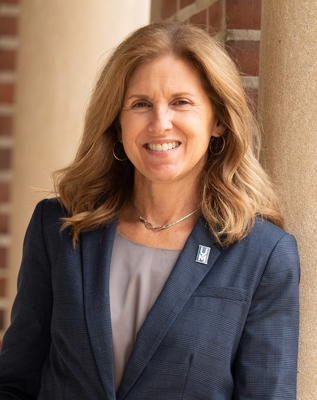 As the First Lady of the University of Memphis, Ronda Hardgrave is looking forward to becoming involved on our campus as an advocate for physical fitness and mental wellness.
Mrs. Hardgrave has always given generously of her time to give back to her community, having supported food banks and the Empty Bowls event, co-chairing the Alabama Cooperative Extension Systems Garden Tour and being a member of the Woman's Club of Auburn. She has been actively engaged with P.E.O. International, a philanthropic organization where women celebrate the advancement of women and provide support through scholarships, grants and awards. Mrs. Hardgrave served on the Auburn Campus Club Board for six years in various roles, including one year as president.
Mrs. Hardgrave received a Bachelor's of Nursing degree from the University of Arkansas. She put those skills and her passion for helping others to use during the COVID-19 vaccination drives at the East Alabama Medical
Center Vaccine Clinic as a volunteer helping to assist with the intake process.
As an avid nature enthusiast, Mrs. Hardgrave is a certified Alabama Master Gardener. Master Gardeners are trained volunteer educators in the area of home horticulture. She also enjoys photography, golf and pickleball.
President and Mrs. Hardgrave have been married for 33 years and have two children, Rachel, 26, and Gavin, 20.