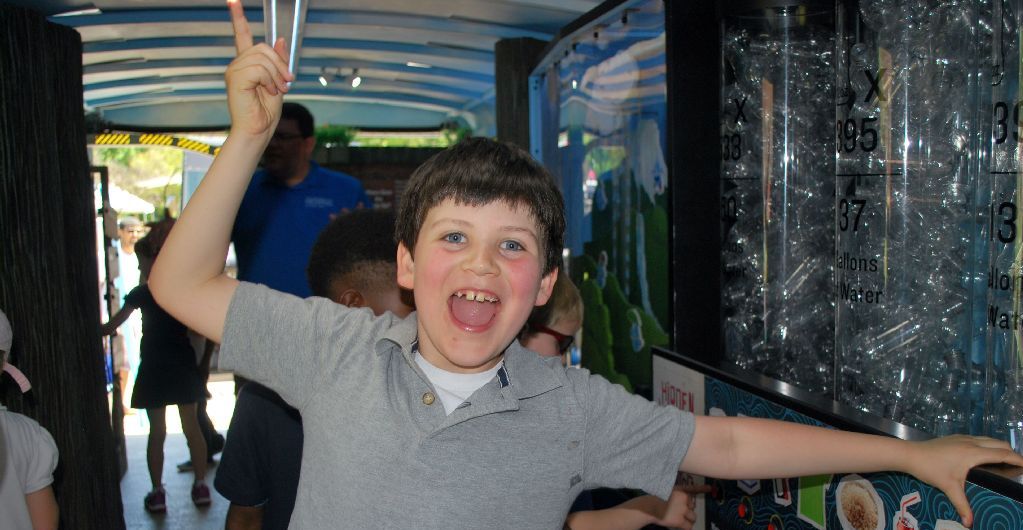 WOW Requests for 2019
The Water on Wheels program is five years old, having debuted in the fall of 2014. More than 5,000 people a year experience the WOW, and it's in need of some minor maintenance and repairs. A limited number of visits will be made through September 2019. The lesson plans that accompany the WOW are also being updated, to reflect current Tennessee science academic standards.
Want Water on Wheels to visit you?
Here are some things to know before requesting Water on Wheels to visit your organization:
Schools, Camp, Festivals, and Other Organizations:

The Water on Wheels (WOW) is available to public, private and home schools, as well as educational groups such as those who offer fall and spring break camps, and community festivals.
A minimum of a week's notice is needed to request the WOW, but more is preferred to help with staffing needs.
The WOW does not go out on Mondays.
What to Expect:
The WOW will be staffed by Center for Applied Earth Science and Engineering Research (CAESER) employees and students. The WOW staff will work with teachers and students to ensure that students learn about water in a productive and safe manner. Teachers are expected stay with their classes during the WOW experience.
Knowing that each school has different needs to accommodate, the WOW staff will work with a teacher or teachers to create a plan before the WOW arrives on a school's campus.
The WOW school visits are targeted to students in grade 4. However, it's accessible to those who can read at the 4th grade level and up, making it ideal for community festivals.
Each presentation is approximately 20 minutes, depending upon the size of each class and how many classes will tour the WOW.
No food or drinks are allowed inside the WOW.
Fees:
There is a flat day fee of $100 for the WOW to visit, along with a travel fee.
Within Shelby County, there is a $10 gasoline fee.
Outside of Shelby County, a travel fee of 47 cents per mile will be charged (subject to change) to and from the University of Memphis campus.
Payment:
A school will not be charged until after the completion of a WOW visit. Once the WOW has completed its visit, the University of Memphis will invoice your organization. A Form W-9 must be provided to CAESER prior to being invoiced as well as the following information:
Name of requesting person and organization

Mailing address

Telephone number

Fax number (if available)

FEIN (Federal ID Number)

Completed Form W-9


Email address if possible
The WOW will not go to an event if we do not have a completed W-9 from the requesting person/organization.
Refund policy: We will reimburse basic cost plus travel, but extras are non-refundable.
Extra

:
For small groups, and should time permit, an extra activity is the aquifer in a cup activity, which is $30 for a classroom of up to 30 students. This activity takes about an hour per group. It cannot be done inside the WOW. This activity requires tables provided by the school or organization. It's advised that the tables be covered in kraft paper or newspaper so that messiness is minimized.
This educational activity is hands-on and visual. It can also be requested separately from the WOW to do during a classroom visit. The lesson plan for this activity is found HERE.
Weather:
The WOW is an open air vehicle. There is no air conditioning or heating.
Because the WOW is designed to be open during its use, it cannot be used during rain. The WOW will not be sent out if it's raining.
Please make sure your students dress appropriately for the weather since they will be inside and outside of the WOW during a typical presentation.
If requesting during summer months, please be advised that the interior of the WOW will most likely be extremely hot.
WOW Parking and Set-Up:
The WOW is a 24' trailer and needs to be parked on a flat, level surface. Electrical access within 100' - 200' is needed. The WOW is pulled by a large truck. A total of at least 54' is needed to park the WOW and truck.
The trailer is 8'6" wide and 8'6" in height.
Wheelchair Access:
The WOW is wheelchair accessible.
Questions?
For more information about the Water on Wheels (WOW) program, email.