Meet the Provost
---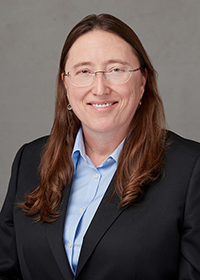 The provost is the chief academic officer of the University, overseeing and supporting the University's 12 college and schools and a wide range of offices that support them in their teaching and outreach efforts at the undergraduate and graduate levels. On July 1, 2022, Dr. Abby Parrill-Baker was named Interim Provost of the University of Memphis after serving as dean of the College of Arts and Sciences at the UofM.
In her role as dean of the College of Arts and Sciences, she supported development of an expanded number of pathways into professional schools, secured endowed funds to support experiential learning fellowships, and lead college initiatives that contributed to the recent accomplishment of the University of Memphis goal to be classified as a Carnegie Very High Research (R1) institution.
Parrill served as Associate Dean of the College of Arts and Sciences from 2014-2019, collaboratively offering faculty development workshops, managing faculty research support programs and leading research development activities for the College of Arts and Sciences. She also served as Chair of the Department of Chemistry from 2010-2014. Her efforts to network with chemical industry leaders in Memphis resulted in the creation of student internship opportunities and donations of funds and instrumentation to support research and education efforts in chemistry.
Prior to her appointment to the faculty at the University of Memphis, she was the Lumsden-Valrance Lecturer in the Department of Chemistry at Michigan State University from 1996 to 1998. She pioneered development, deployment and assessment of internet-delivered learning resources for students studying organic chemistry at a time when few online resources were available on this topic.
Abby Parrill is a proud alumna of Central Michigan University (BS, 1992) where the Midland Local Section of the American Chemical Society recognized her as an Outstanding College Chemistry Student. During her undergraduate studies, she participated in the Dow Chemical Company co-operative education program, earning two Special Recognition Awards. She later received MS and PhD degrees in Chemistry from the University of Arizona in 1996, where she earned both departmental and University of Arizona Foundation awards for teaching.
Abby Parrill established herself as a leading scholar in computational and medicinal chemistry. She has published over 100 peer-reviewed articles, co-edited six books, and is co-inventor on six issued patents. Her work has been cited over 3600 times and she has lead or participated in team projects supported by grants from the National Science Foundation, National Institutes of Health, American Heart Association, and the Elsa Pardee Foundation totaling over $5M. Parrill has mentored or co-mentored over 20 doctoral students and over 70 undergraduate researchers. She was recognized by the University of Memphis Alumni Foundation with the Willard R. Sparks Eminent Faculty Award in 2017.
Abby Parrill and her husband of 26 years, Daniel Baker have one child, Lindsey, 20.