2022 Willard R. Sparks Eminent Faculty Award
The Willard R. Sparks Eminent Faculty Award is the highest distinction given to a faculty member by the University. The award is given annually to one faculty member who has made outstanding and sustained contributions to scholarly creative activity, teaching and service, bringing honor and recognition to the University.
Willard R. Sparks Eminent Faculty Award
Lan Wang, PhD, Professor and Chair, Department of Computer Science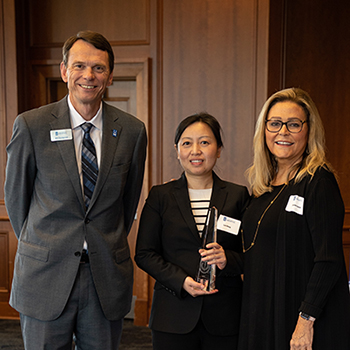 Dr. Lan Wang is a Full Professor and Chair in the Department of Computer Science. She received her Ph.D. from the University of California, Los Angeles, in 2004 and joined the University of Memphis faculty that same year. She is an award-winning scholar who is currently a Dunavant Professor in the College of Arts & Sciences (CAS) and has previously been honored with the CAS Distinguished Research Award (CASDRA) and the Alumni Association Distinguished Research Award (AADRA) in Science, Engineering and Mathematics.

Wang's research focuses on the development of scalable and secure networked systems that can make an impact on the real world. She has developed major components in the Named Data Networking (NDN) architecture to support secure real-time distribution of mobile health data and vehicular data and has been working with the City of Memphis to build 3D models of buildings that can be used by public safety agencies.

She has received $8.2 million in funding for her research and holds four U.S. patents and has over 100 publications with more than 9600 citations.

More information on Dr. Wang and her research can be found on her faculty profile page.