In an effort to reduce risk on our campus from COVID-19 (coronavirus) and protect the health, safety, and welfare of our community, all persons entering the Department of Architecture Gallery must wear an appropriate mask.
Department of Architecture Gallery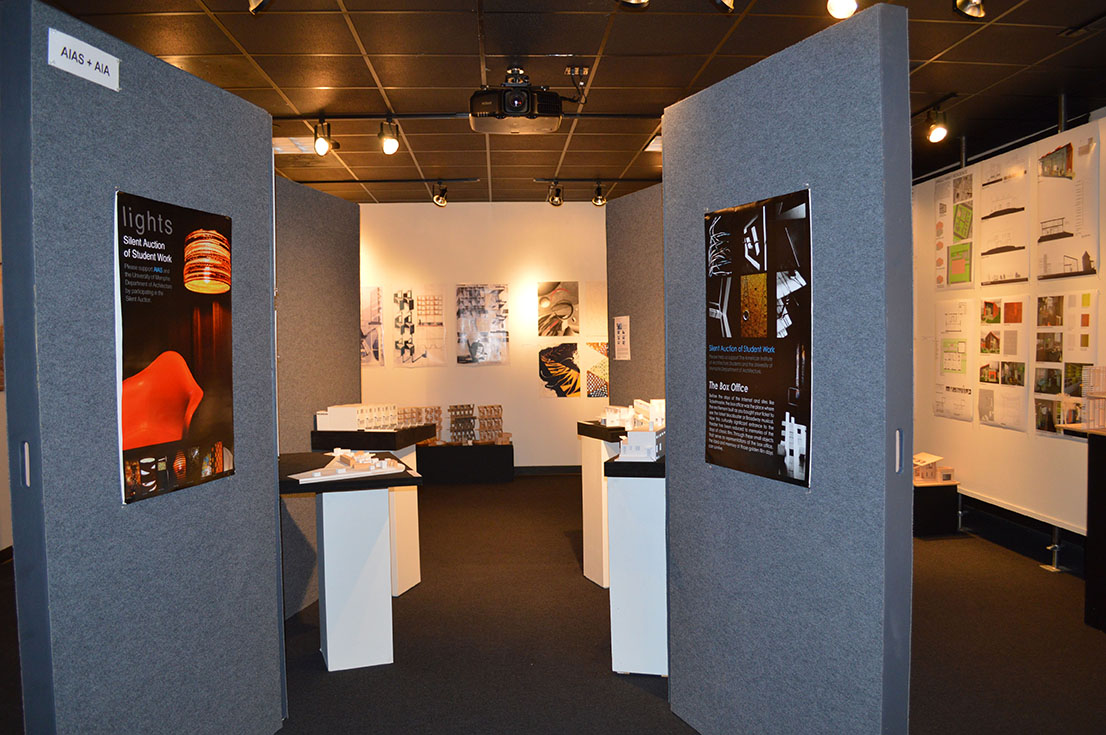 The Department of Architecture Gallery is located off the lobby of Jones Hall. Exhibits change throughout the academic year and feature work by students in the department. All M.Arch Thesis defenses and presentations take place in the Gallery as do many design studio final presentations. Please see flyers posted throughout the Department for dates and times. If the Gallery is closed when you visit, please come to the Department office, 404 Jones Hall, for admission.
Summer 2021 Exhibitions
"Undergraduate Architecture Student Work"
Representative Work from First Year through Fourth Year Courses
Ongoing During Architecture NSO
Spring 2020 Exhibitions
"Visions of Umbria"
Sabbatical Watercolors by Professor James Williamson
21 January through 31 January
Student Opening 21 January, 11:30am-1:00pm
Community Opening 26 January, 3:00pm-5:00pm
"Student Work"
Computer Applications in Design 1, Professor Andrew Parks
3 February through 14 February
Fall 2019 Exhibitions
"Student Work 2017-2019"
Advanced Digital Workshop, Professor Andrew Parks + Professor Sherry Bryan
1 November through 30 November, 1:00-5:00pm
April / May Exhibitions
"A House for the 21st Century: Malone Park, Uptown"
Design Studio 2, Professor Jennifer Barker + Professor Michael Hagge
23 April, 1:00-5:00pm
25 April, 1:00-5:00pm
"Memphis Brooks Museum of Art: Downtown"
Design Studio 6, Professor Jim Williamson
27 April, 1:00-6:00pm
Master of Architecture Thesis Defenses 2019
"Impacts of Restorative Design: Returning to Our Roots"
Kate Whitaker, AIAS
19 February 2019, 11:30am-1:00pm
"Memphis Lowline and Community Hub: Creating a Place for Refuge"
Andrea Del Cisne Jimenez, AIAS
20 February 2019, 11:30am-1:00pm
"The Shelby Farms Restoration Center: Changing Behavior through Atmospheric Experience"
Isaac Akers, AIAS
21 February 2019, 11:30am-1:00pm
"Between Earth and Sky: Crafting an Architecture of Presence"
Holly-Lynn Tedder, AIAS
22 February 2019, 11:30am-1:00pm
Master of Architecture Thesis Defenses 2018
"The Music Village: How Architecture and Music can Revitalize Community and Culture"
Cameron McLemore, AIAS
12 March 2018, 11:30am-1:00pm
"Architecture In Harmony: The Symbiotic Relationship Between Humans and Nature"
Nestor Lobos, AIAS
13 March 2018, 11:30am-1:00pm
"An Architecture Beyond the Walls: Aligning Mind, Body, and Soul for Human Connection"
Priya Kharel, AIAS
14 March 2018, 11:30am-1:00pm
"The Power of Acoustical Architecture: Understanding How Acoustics Encourage Participation in Worship"
Emily Sinden-Redding, AIAS
15 March 2018, 11:30am-1:00pm
"See and Break Free: An Architectural Hamlet of Support"
Sonia Raheel, AIAS
16 March 2018, 11:30am-1:00pm
"Empathic Design: Using Kinesthetic Architecture to Empower Children with Autism"
Antonio Tirado, AIAS
19 March 2018, 11:30am-1:00pm
October / November / December Exhibitions
"A Sacred Space in a Rural Place: Blue Mountain Church Complex, Blue Mountain, MS"
Design Studio 5, Professor Tim Michael
13 December, 7:00-10:00pm
14 December, 6:00-10:00pm
"An Urban Monastery"
Advanced Design Studio 1, Professor Jim Williamson
13 December, 1:00-5:00pm (JO 300)
"Various Projects"
Advanced Design Studio 3, Professor Michael Chisamore
12 December, 1:00-6:00pm
"The Eggleston Museum"
Design Studio 3, Professor Jacob Davis
4/6 December, 7:00-10:00pm
"Overton Park Sculpture Garden"
Design Studio 1, Professor Josh Jackson + Professor Andrew Parks
29 November, 7:00-10:00pm
4 December, 7:00-10:00pm (JO 303)
"Photographs and Sketches"
Parameters in Architecture Studio, Professor Tim Michael
Opening Reception 20 November, 6:00pm
20 November - 28 November
"Cinematic Interpretations"
Design Studio 1, Professor Josh Jackson + Professor Andrew Parks
Opening Reception 14 November, 5:30pm

"Operative Surface Interventions"
Design Studio 3, Professor Jacob Davis
Opening Reception 9 October, 6:00pm
"Final Exhibition"
Advanced Digital Communication Workshop
Opening Reception 14 September, 6:00pm
14 September - 6 October
---
Design Excellence Award Winners
Jury Members
Reb Haizlip, FAIA, Haizlip Studio, Memphis, TN
Matthew Hird, RIBA, BDP Architects, Manchester, UK
Jim Lutz, AIA, University of Minnesota College of Architecture and Design, Minneapolis, MN
Carson Looney, FAIA, LRK Architects, Memphis, TN
Winner, Design Excellence Certificate of Recognition 2016 (M.Arch)
ARCH 7012, Advanced Architectural Design Studio 2 - "Addition to Whitehaven High School" by Priyanka Kinikar, AIAS
Winner, Design Excellence Award 2016 (BFA)
ARCH 4715, Architectural Design Studio 5 - "Cistercian Monastery" by Martin Pantik, AIAS
Honorable Mention, Design Excellence Award 2016 (BFA)
ARCH 3713, Architectural Design Studio 3 - "Soulsville Project" by Joel Jassu, AIAS
Design Excellence Award Winners
Jury Members
Reb Haizlip, FAIA, Haizlip Studio, Memphis, TN
Matthew Hird, RIBA, BDP Architects, Manchester, UK
Jim Lutz, AIA, University of Minnesota College of Architecture and Design, Minneapolis, MN
Juan Self, AIA, Self+Tucker Architects, Memphis, TN, Memphis, TN
Winner, Design Excellence Award 2015 (M.Arch)
ARCH 7996, M.Arch Thesis - "Redefining the Process: Overcoming Architectural
Nihiliphobia and Inspiring the Creation of Place" by Megan Hoover, AIAS
Honorable Mention, Design Excellence Award 2015 (M.Arch)
ARCH 7713, Advanced Architectural Design Studio 3 - "Rape Crisis Center" by Megan Hoover, AIAS
Winner, Design Excellence Award 2015 (BFA)
ARCH 4716, Architectural Design Studio 6 - "Eggleston Museum" by Matt Pate
Honorable Mention, Design Excellence Award 2015 (BFA)
ARCH 3714, Architectural Design Studio 4 - "Mississippians Project" by Martin Pantik, AIAS