Two UofM 2023 NSF Graduate Research Fellow Recipients
Two graduate students in the Department of Biological Sciences, Ms. Serena Blais and Ms. Julia Weil, were selected as 2023 National Science Foundation Graduate Research Fellows (NSF GRF). They join 2,550 other students awarded this nationally competitive fellowship, out of approximately 13,000 applicants.
The NSF GRF recognizes and supports outstanding graduate students in science, technology, engineering, and math (STEM) disciplines who are pursing research-based master's and doctoral degrees at US institutions. Each fellow will receive three years of support including an annual stipend of $37,000; their institution will receive an annual cost of education allowance of $12,000.
"We are very proud of Julia and Serena! The NSF GRFP provides an amazing opportunity for our students to immerse themselves in their research projects" says Chair of Biological Sciences, Dr. David Freeman.
Blais of Sacramento, CA, is working with Dr. Jennifer Mandel to investigate the evolution of a unique floral trait within a genus of the sunflower family. Blais is a first-year PhD student who earned her BS in Biology at California State University, Sacramento as a first-generation student. There she studied the evolutionary importance of polyploidy within diamond Clarkia, a California wildflower, as well as six species of wood ferns combining both genomic and ecological niche approaches. She presented her work six times and published a peer reviewed article. Outside the lab, Serena is a talented freehand nail artist.
Weil of Atlanta GA, is working with Drs. Jim Adelman to investigate whether differences in animal personality predict an individual's response to sickness, and the implications of this relationship for pathogen spread. Weil is a first-year PhD student who earned a BS in Ecology at the University of Georgia. Her undergraduate research focused on the impacts of human-feeding on variation in aggressive behaviors of the wading bird white ibis, and how this aggression contributes to transmission of zoonotic pathogens such as Salmonella and E. coli. Apart from her work in the lab, Julia is an avid bird enthusiast and enjoys hiking and birding at every opportunity.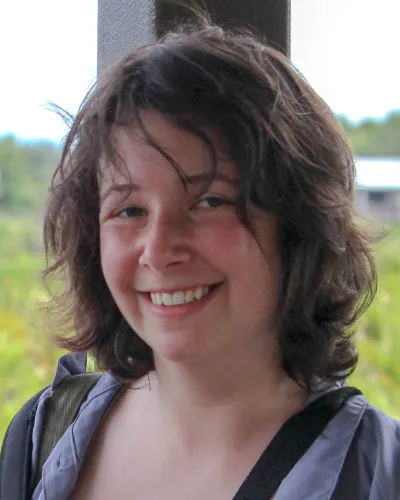 Both women acknowledge the prestige of the award, while recognizing the multitude of ways it will enhance their professional and personal lives. Blais notes, "the fellowship allows for the greatest resource in life, time, to do research and focus on my studies; which is the biggest gift a graduate student could ask for."
The pair participated in Biological Science's "GRFP Bootcamp," an 8-week intensive workshop focused on writing and editing their application materials. The workshop was created by faculty member Dr. Emily Puckett, and Adelman and Nuñez round out the faculty team that provides feedback. "I am thankful to the faculty for offering a departmental GRFP workshop to assist our students in preparing successful applications," notes Chair Freeman.
More information on the NSF GRFP can be found on the program's website (https://www.nsfgrfp.org/)