UofM trailblazer Dr. Miriam DeCosta-Willis (Sugarmon) passes away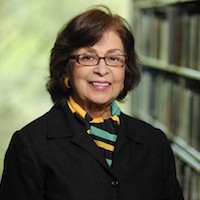 Jan. 7, 2021 — Dr. Miriam DeCosta-Willis (Sugarmon), the University of Memphis' first Black professor, passed away Thursday at her home surrounded by family. She was 86.
DeCosta-Willis received her BA degree and was a Phi Beta Kappa graduate of Wellesley College. After being denied entrance to then-Memphis State University in 1957, she earned her MA and PhD degrees from John Hopkins University, becoming one of the first Blacks to do so at the school. In 1966, she became the first Black professor at the UofM where she taught Spanish, was the advisor to the Black Student Association and helped organize the Faculty Forum.
The UofM dedicated a historical marker to honor DeCosta-Willis on Dec. 14, 2020. The marker will be placed in front of Jones Hall just north of the Administration Building on the UofM campus.
"We are forever grateful for the remarkable courage, sacrifice and service of Dr. DeCosta-Willis over many years at the University of Memphis," said UofM President M. David Rudd. "There are moments in the history of every institution that need to be memorialized. The great courage of Dr. DeCosta-Willis is one of those moments that will forever be remembered on our campus. On behalf of the entire UofM community, I extend my deepest condolences to her family."
Her forty-year career in academia also included teaching positions at Lemoyne-Owen, Howard, George Mason and the University of Maryland, Baltimore County.
A pioneer in the struggle for racial and gender equality, she organized a student protest in high school, participated in the Montgomery Bus Boycott, was jailed during the Civil Rights Movement, helped lead a boycott of Memphis Public Schools and joined protest marches in Washington, D.C. She was also the first African American admitted to Westover, a preparatory school in Connecticut.
A renowned writer, she authored or edited fifteen books, including "Notable Black Memphians" and "Black Memphis Landmarks." As an academic, DeCosta-Willis chaired a department, directed a graduate program, co-founded the Memphis Black Writers' Workshop, chaired the Tennessee Humanities Council and organized the DuBois Honors Program.
In 1955, she married attorney Russell B. Sugarmon, with whom she had four children — Tarik, Elena, Erika, and Monique — and in 1972, she married Attorney A. W. Willis, who predeceased her. She is survived by her four children, eight grandchildren and seven great-grandchildren.
Due to the Pandemic, there will be a private graveside service for immediate family. Instead of flowers, donations may be sent to the UofM Miriam DeCosta Sugarmon Scholarship Fund at supportum.memphis.edu/decostascholarship.