ARCHIVED EVENT:
Politics and Poetics of Race in the Americas
Friday, November 9th, 2018
UC Fountain View Room (350)
9:15 a.m.: Introductions
First Panel: Politics
9:30-11:30 a.m.
Angélica Bernal, Associate Professor of Political Science, University of Massachusetts, Amherst
"Pachamama as the People: Indigenous resistance and the politics of extractivism in Ecuador"
Lorraine Leu, Associate Professor of Spanish & Portuguese, University of Texas, Austin
"Black motherhood in contemporary Brazil: Seeing race, space, and gender"
Danielle Clealand, Associate Professor of Politics & International Relations, Florida International University
"Framing Racism in the Americas"
Lunch: Noon: open to public
UC Fountain View Lounge
Second Panel: Poetics
UC Fountain View Room (350)
1:30-3:30 p.m.
Lúcia Costigan, Professor of Spanish & Portuguese, Ohio State University
"The Malady: An autobiographical poem by the Afro-Brazilian Domingos Caldas Barbosa (1740-1800)"
William Luis, Gertrude Conaway Professor of Spanish, Vanderbilt University
"The Cuban Slave Poet Juan Francisco Manzano and the Transatlantic Abolitionist Movement"
Marilyn Miller, Associate Professor of Spanish & Portuguese, Tulane University
"At the intersection of Afro-Cuban visual and literary culture, at the intersection of politics and poetry"
BREAK: 3:30
Keynote Address: 4:00-5:30
UC River Room (300)
Tianna Paschel, Associate Professor of Sociology and African American Studies, University of California, Berkeley
"Rethinking Black Mobilization in Latin America"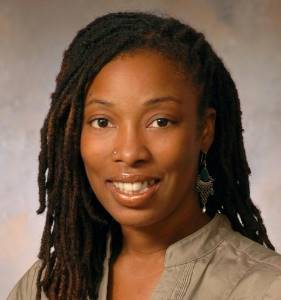 Biographies
POLITICS PANEL

ANGÉLICA BERNAL

Angélica Maria Bernal is Associate Professor in the Department of Political Science, and faculty affiliate with the Center for Latin American, Latinx and Caribbean Studies at the University of Massachusetts, Amherst. A former Fulbright Fellow (Ecuador), her work centers on the politics of founding and refounding, popular constitutionalism, and indigenous social movements in Latin America. Her first book Beyond Origins: Rethinking Founding in a Time of Constitutional Democracy (Oxford University Press, 2017) was named the 2018 Foundations of Political Theory First Book Award Honorable Mention by the American Political Science Association. She is also the editor of De La Exclusión a la Participación: Pueblos Indígenas y sus Derechos Colectivos en el Ecuador (Abya Yala Press, 2000), and the author of articles in journals such as Social Identities, New Political Science, The C.L.R. James Journal, Constellations, and Perspectives on Politics. She is currently embarking on two new research projects surrounding popular constitutionalism and indigenous resistance to resource extraction in Latin America.

DANIELLE CLEALAND

Danielle Clealand received her Ph.D. from the University of North Carolina at Chapel Hill in Political Science and joined the faculty at Florida International University in 2012. Her research examines comparative racial politics, group consciousness, black public opinion and racial inequality with a focus on the Spanish-speaking Caribbean and the United States. Dr. Clealand's book, one of the 2018 recipients of the Best book Award from the Race, Ethnicity and Politics section of the American Political Science Association, The Power of Race in Cuba: Racial Ideology and Black Consciousness during the Revolution, examines racial ideology and the institutional mechanisms that support racial inequality in Cuba. The book outlines structural racism the island and the experiences of discrimination that create a foundation for black solidarity. Through survey, ethnographic, and interview data, The Power of Race in Cuba draws from the many black spaces on the island, both formal and informal, to highlight what constitutes black consciousness in Cuba.

Dr. Clealand's current projects focus on racism and black consciousness in Puerto Rico and political attitudes and identity among Afro-Latinos in the United States. Dr. Clealand teaches courses such as Caribbean Politics, Cuban Politics, Black Politics in the Americas, Latino Politics, and Race and Politics in the United States. She was the recipient of the McKnight Junior Faculty Fellowship for the 2017-2018 academic year.

LORRAINE LEU

Lorraine Leu is an Associate Professor at the University of Texas, Austin with a joint appointment in the Teresa Lozano Long Institute for Latin American Studies and the Department of Spanish & Portuguese. Since 2000 she has been an Editor of the Journal of Latin American Cultural Studies. She is the author of Brazilian Popular Music: Caetano Veloso and the Regeneration of Tradition (Ashgate, 2006). She has also published articles and book chapters on Brazilian cinema and on race and urban space in Rio de Janeiro. She is the Editor (with Jens Andermann et al) of Latin American Cultural Studies: A Reader (Routledge, 2017). Her current book project (under contract with the University of Pittsburg Press) focuses on the interdependence of race and space in Morro do Castelo, a city center neighborhood of Rio de Janeiro that was destroyed in 1922.

POETICS PANEL

LUCIA HELENA COSTIGAN

Lucia Helena Costigan is a professor at Ohio State University. Her research and scholarly projects are focused on colonial minority subjects. Her approach departs from comparative and interdisciplinary studies centered on colonial Latin America and on the Iberian and Transatlantic World texts of the early modern era. New Historicism and Postcolonial theories have guided many of her research projects. Some of the colonial subjects include creoles, mestizos, and mulattos, and New Christians. Her research focused primarily on the satirical writings of two major poets from the seventeenth century: Juan del Valle y Caviedes, and Gregório de Matos. She published the books A sátira e o intellectual criollo na colônia: Gregório de Matos e Juan del Valle y Caviedes (Latinoamericana Editores, 1991); Through Cracks in the Wall: Modern Inquisitions and New Christian Letrados in the Iberian Atlantic World by Brill Academics in 2010. Based on literary writings and inquisitorial testimonies by colonial subjects of Jewish heritage, this book addresses the Inquisition's relationships to imperialism and colonialism, and enhances the field of colonial and imperial studies. She is currently starting another book project tentatively titled From Quilombo to Quilombhoje. In this new research project, she analyzes texts produced by Afro-Brazilian leaders and writers from the 17th, the 18th, the 19th, and the 20th century: Domingos Caldas Barbosa, Luiz Gama, Maria Firmina dos Reis, and Lima Barreto. Costigan also received various grants to teach seminars on Portuguese and Brazilian culture, such as: Fulbright-Hays (2001)- Universidade Federal de Minas Gerais- Brazil, National Endowment for the Humanities (2001, 2002) - "Brazil: The Invisible Giant," OSU, and National Endowment for the Humanities (2007) "From the Baroque to Modernism" UNICAMP, Brazil

WILLIAM LUIS

William Luis is the Gertrude Conaway Vanderbilt Professor of Spanish at Vanderbilt University where he also directs Latino and Latina Studies and edits the Afro-Hispanic Review. He has taught at Dartmouth College, Washington University in St. Louis, Binghamton University, and Yale University. Luis has authored, edited, and coedited fourteen books and more than one hundred scholarly articles. His books include Literary Bondage: Slavery in Cuban Narrative (1991), Dance Between Two Cultures: Latino Literature Written in the United States (1997), Culture and Customs of Cuba, (2000), Juan Francisco Manzano. Autobiografía del esclavo poeta y otros escritos (2007), Bibliografía y antología crítica de las vanguardias literarias del Caribe: Cuba, Puerto Rico, República Dominicana (2010), Looking Out, Looking In: Anthology of Latino Poetry (2013), and The AmeRícan Poet: Essays on the Works of Tato Laviera (2014). Currently, he is finishing a monographic study of the "Life and Works of the Cuban Slave Poet Juan Francisco Manzano." Luis was the recipient of a Guggenheim Fellowship for 2012. Born and raised in New York City, Luis is widely regarded as a leading authority on Latin American, Caribbean, Afro-Hispanic, and Latino U.S. literatures.

MARILYN G. MILLER

Marilyn G. Miller is Associate Professor of Latin American and Caribbean Studies and Sizeler Professor in Jewish Studies in the Department of Spanish and Portuguese at Tulane University. She focuses on issues of race, slavery, popular culture and emancipatory poetics in inter-American contexts. She has published the monograph Rise and Fall of the Cosmic Race. The Cult of Mestizaje in Latin America and edited Tango Lessons. Movement, Sound, Image, and Text in Contemporary Practice as well as numerous essays in journals such as Hispanic Review, the Colonial Latin American Review, Revista Iberoamericana, Hispania, Journal of Latin American Cultural Studies, and Comparative Literature. Her research on the Latin American Jewish detainees at Camp Algiers, Louisiana as part of the U.S. Enemy Alien Control Act during World War II was recently featured in the radio programs Tripod: New Orleans at 300 and Latino USA. She is at work on a book-length study of that topic titled Port of No Return: Camp Algiers and New Orleans' Role in the WWII Enemy Alien Internment Program, forthcoming from LSU Press.
KEYNOTE:
TIANNA PASCHEL
Tianna Paschel is Associate Professor of African American Studies and Sociology at the University of California, Berkeley. Her research analyzes the intersection of racial ideology, politics, and globalization in Latin America and the United States. She is the author of Becoming Black Political Subjects: Movements and Ethno-Racial Rights in Colombia and Brazil (Princeton University Press, 2016). The book draws on ethnographic and archival methods to explore the shift in the 1990s from ideas of unmarked universal citizenship to multicultural citizenship regimes and the recognition of specific rights for black populations in Colombia and Brazil, and throughout Latin America. It has won numerous awards, including the Herbert Jacob Book Award of the Law and Society Association, the Barrington Moore Book Award of the American Sociological Association, and the Global Division Book Award of the Society for the Study of Social Problems. She is also the co-editor of Afro-Latin@s in Movement, an interdisciplinary volume exploring transnationalism and blackness in Latin America. She has published numerous articles, in journals such as American Journal of Sociology, Du Bois Review, SOULS: A Critical Journal of Black Politics, and Culture and Society. She is currently working on three major research projects: one that explores the transnational making of ideas of Brazil as a racial paradise, another that examines race and inequality in media representation in Latin America, and a third with Professor Cristina Mora that explores racial attitudes and economic precariousness in California.