Derefe Chevannes
Assistant Professor Department of Political Science
Office Hours
Call for Hours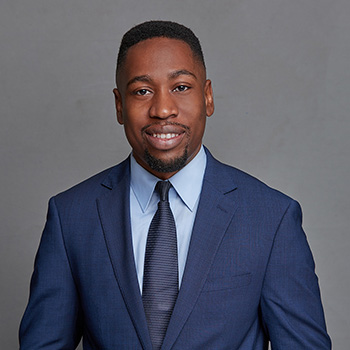 About
Dr. Chevannes joined the Department of Political Science in 2019. He primarily specializes in political theory and is also trained in the field of public law. His research focuses, broadly, on Africana political theory, with an emphasis on Black liberatory politics. His research project lies at the intersection of Africana Studies, Deaf Studies, and Caribbean Studies. Specifically, his current scholarly project offers a renewed conception of political speech by theorizing how the communicative practices of Black and Deaf subjects contribute to an enriched understanding of the relationships of speech, subjectivity and liberation for the study of politics.
Research Interests
Africana Political Theory; Social & Political Theory; Contemporary/Modern Political Theory; Decolonial Thought; Caribbean Studies; Deaf Studies; Africana Studies; Political Philosophy.
Teaching Interests/Fields
Black Political Thought; Women Political Thought; Critical Race Theory; Law & Society; Contemporary Black Radicalism; Global South/Non-Western Political Theory.
Education
Ph.D. University of Connecticut, 2019; M.A., University of Connecticut, 2016; M.Sc., University of West Indies, 2014; B.A., Northwestern College, 2007.
Publications
"Creolizing Political Speech: Toward Black Existential Articulations" The Review of Education, Pedagogy, and Cultural Studies, Vol. 40, No. 1 (2018): 5-15.
"Trabajando y estudiando para ser el hombre total: Socializing the Political in Living Ideology in Cuba," The C.L.R. James Journal: A Review of Caribbean Ideas Vol. 23, no. 1 (Fall 2017): 343–349.
Experience
Assistant Professor in Department of Political Science, University of Memphis (Fall 2019 to present)