STEM Jobs, Internships and Coops
View a listing of STEM Jobs Updated Weekly
---
Job Shadows
Job shadows are unpaid and generally for freshman and sophomores who have not taken many major courses but want to gain exposure to their STEM field to help them to prepare them for internships and cooperative experiences as well as help them refine their STEM emphasis. They can range from a one 8-hour day following someone as they work up to a week long rotation between areas of their STEM field as the same company.
Internships
Internships are paid or unpaid but are generally for juniors and seniors. They will have an academic component that ensures the student is engaging in work that allows them to experience their STEM field in application. It can be for a 40-hour work week during the summer or part time during the school year. Some students intern full time during a semester with approval from the department for credits in their academic program.
Coop
Cooperative Education experiences are full time work experiences where the student alternates each summer or semester with school full time or work full time. These are paid positions and the student is doing work in their STEM field. Some COOPs allow sophomores to begin rotations their spring semester. Students generally can earn credits in their academic program.
At a time when the world faces a growing number of public health challenges, from infectious to chronic diseases, the CDC Foundation has a very real opportunity to make a difference. The CDC Foundation is a nonprofit that helps the Centers for Disease Control and Prevention (CDC) save and improve lives throughout the world. We combine philanthropic and private resources with CDC's world-class scientific expertise and the CDC Foundation's speed and flexibility to create innovative, high-impact programs and breakthrough collaborations.
Virtual Student Federal Service Internships
The Virtual Student Federal Service (VSFS) is an eight-month remote internship program for U.S. citizen students, college-level and above, who would like to make a real difference in the work of the U.S. government. Since 2009, thousands of eInterns have expanded the efforts of the U.S. government, working remotely from their school, dorm room, apartment, local library or coffee shop – wherever they happen to be! Virtual interns work only on unclassified projects. They report to their mentors at the Department of State and other federal government agencies in the U.S. and around the world by email, phone, or video chat. VSFS is managed by the Office of eDiplomacy in the U.S. Department of State's Bureau of Information Resource Management. VSFS collaborates with federal agencies across government on this program.

Who can apply to VSFS?
US. citizens who are in "student status" in a full-time or part-time degree or certificate program, and taking classes in-person or online, in the U.S. or abroad, may apply. To be clear, an applicant must be:
A U.S. citizen
Enrolled as a student in a college level or above degree or certificate program
You
MUST

setup your

USAJOBS.GOV

PROFILE ACCOUNT FIRST

(THIS TAKES AT LEAST AN HOUR)
Applications for the 2020-21 Virtual Student Federal Service (VSFS) program will be accepted July 1-31, 2020 on USAJOBS.gov. There is only one VSFS vacancy announcement.
NATIONAL STEM INTERNSHIPS AND SUMMER OPPORTUNITIES
The George Washington Carver Summer Research Internship Program has been impacting and engaging the minds of high school and undergraduate student program participants for over 25 years.
Undergraduate Program
8 week program running from June - August. Undergraduate students are provided with room and board on campus, round-trip airfare, a meal plan, and a $3000 stipend. Note: Graduating seniors are eligible to apply. All application materials must be post-marked by February.
http://www.diversity.cals.iastate.edu/george-washington-carver-internship-program
INTERNSHIPS FOR CHEMISTRY MAJORS
SPEND YOUR SUMMER IMMERSED IN ORIGINS OF LIFE RESEARCH
• Previous research experience is not required.
• Undergraduate students with an interest in chemical sciences research (must have completed one semester of organic chemistry).
• Applications for the Summer Research Programs will be available at the end of September.
• Deadline in February

http://centerforchemicalevolution.com/education-outreach/summer-research-experience-undergraduates
Industrial Internships for Chemistry Undergraduate Students

Accepting Applications October 1 – November 30
• $6,000–$10,000+ for a 10-12 week internship
• A certificate and an additional $1,000, which can be used for any purpose, such as participation at an ACS or AIChE meeting
AMGEN Internships and Coops
At Amgen, we believe in a "biology first" approach. We use cutting-edge science and technology to study the subtlest biological mechanisms in search of therapies that will improve the lives of those who suffer from serious diseases. Amgen believes the cure for disease can be found inside each and every one of us.
We are committed to discovering and nurturing talents of those who can contribute to our mission of serving patients. Through our internship and co-op programs, we share knowledge and build relationships with qualified students from a variety of majors.
Internship opportunities available within most company functions throughout the United States, Canada and Puerto Rico; including Research and Development, Marketing, Information Systems, Manufacturing and other challenging areas.
For Students and Graduate Careers
ACS Chemistry Internship/Co-ops Portal
SCI Scholars Internship Program
Summer Institute Bio-Statistics
MATH, SCIENCE OR OTHER QUANTITATIVELY ORIENTED AREAS OF STUDY
Undergraduates and beginning graduate students. Must be American Citizens or permanent residents of U.S.A
The SIBS program covers the cost of
• University fees and tuition
• University-provided housing and some meals
• Program-sponsored field trips and extracurricular activities

https://www.nhlbi.nih.gov/research/training/summer-institute-biostatistics-t15
STATTRAK
*Not updated yet for Master's and PhD in Statistics or Math students
NATIONAL SCIENCE FOUNDATION RESEARCH EXPERIENCES FOR UNDERGRADUATES (REU)
https://www.nsf.gov/crssprgm/reu/reu_search.jsp

INSTITUTE FOR BROADENING PARTICIPATION PATHWAYS TO SCIENCE: GROUPED BY CLASSIFICATION AND MAJOR
Summer Research Programs and more
http://www.pathwaystoscience.org/programs.aspx
THE AMERICAN ASSOCIATION FOR THE ADVANCEMENT OF SCIENCE (AAAS) SCIENCE CAREERS
https://jobs.sciencecareers.org/
BIOSPACE CHAMPIONS THE LIFE SCIENCES INDUSTRY AS A DIGITAL HUB FOR CAREERS
https://www.biospace.com/jobs/
AMERICAN CHEMICAL SOCIETY: CHEMICAL AND ENGINEERING NEWS CAREER SITE
C&ENJOBS
Science Laboratory Based Research Summer Internship Opportunities
Unilever USA Interns and Jobs
https://www.unileverusa.com/careers/graduates/application-process/
Interns / CO-OPs / MBAs
Now Accepting Applications:
Mickey Leland Energy Fellowship Program
The Mickey Leland Energy Fellowship (MLEF) Program provides college students with an opportunity to gain and develop research skills with the Department of Energy's Office of Fossil Energy for 10 weeks over the summer. For 20 years, this program has increased awareness of DOE research opportunities to students pursuing STEM degrees (short for science, technology, engineering and math). The goal of the program is to improve opportunities for women and minority students in these fields, however all eligible candidates are encouraged to apply.
Selected candidates will train under the mentorship of program officials and scientists on focused research projects consistent with the mission of the Office of Fossil Energy. The 10-week summer program may place students at one of several possible FE sites including:
Department of Energy Headquarters, Washington, D.C. and Germantown, MD
National Energy Technology Laboratory, Pittsburgh, PA; Morgantown, WV; Albany, OR
Strategic Petroleum Reserve, New Orleans, LA; and other SPR sites in LA and TX
Oak Ridge National Laboratory, Oak Ridge, TN
Pacific Northwest National Laboratory, Richland, WA
Sandia National Laboratory, Livermore, CA
Lawrence Berkeley National Laboratory, Berkeley, CA
Lawrence Livermore National Lab, Livermore, CA
Los Alamos National Lab, Los Alamos, NM
Eligibility
• Be at least 18 years of age at time of application
• Be a U.S. Citizen
• Have a cumulative GPA of at least 3.0
• Be currently enrolled full-time as a degree-seeking student in a STEM program at an accredited college or university at the Bachelor's, Master's or Doctoral level (Students pursuing an Associate's degree are eligible to apply if transferring to pursue a Bachelor's degree for Fall of present year). Must be at least a college sophomore at the time of application.
• Be available to participate in the full 10-week program
Application deadline: January
How to Apply: Applications and supporting materials must be submitted at
Program Information: Detailed information about the internship can be found at
https://orise.orau.gov/mlef/default.html
For questions please email us at MLEF@hq.doe.gov.
U S Navy Civil Engineering Option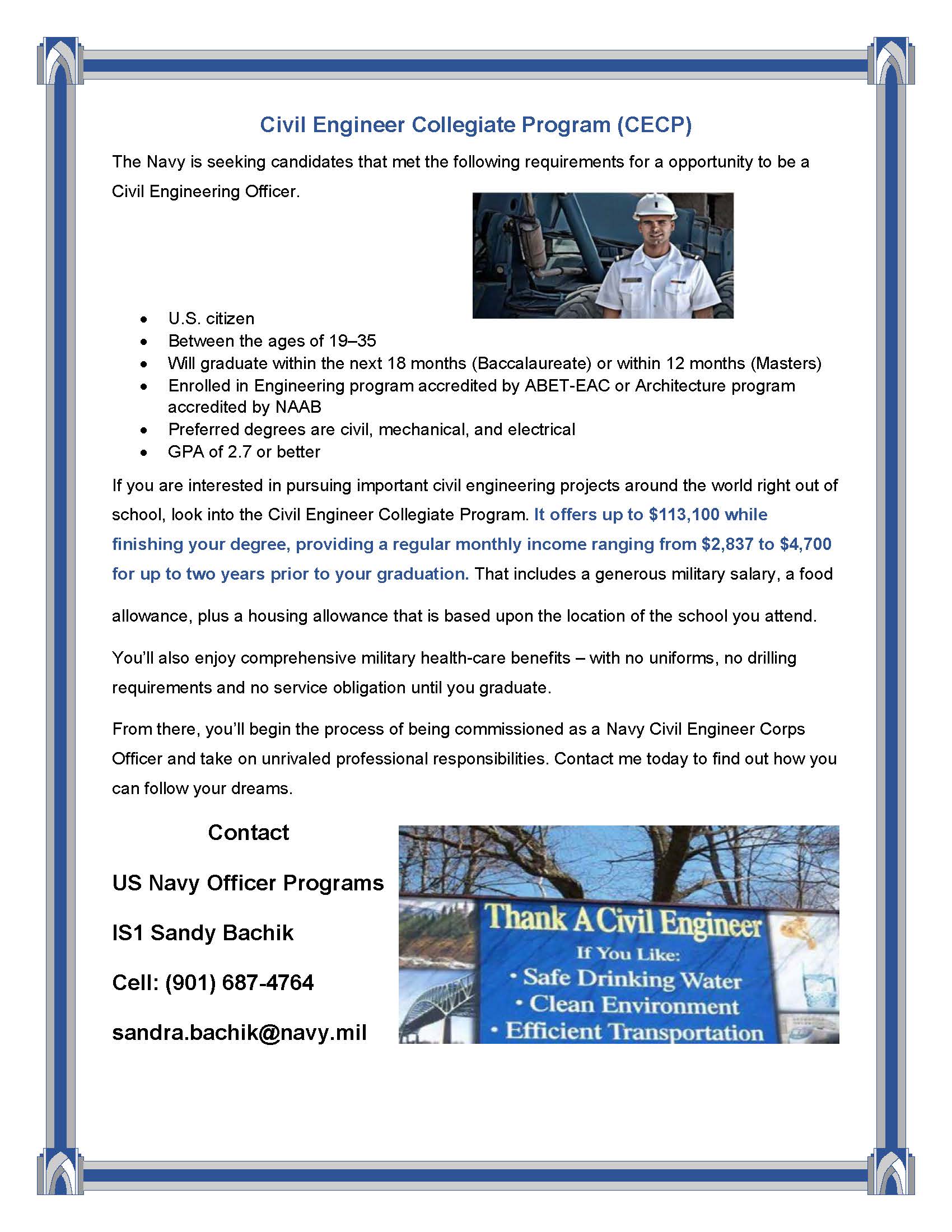 U S Navy Nuclear Scholarship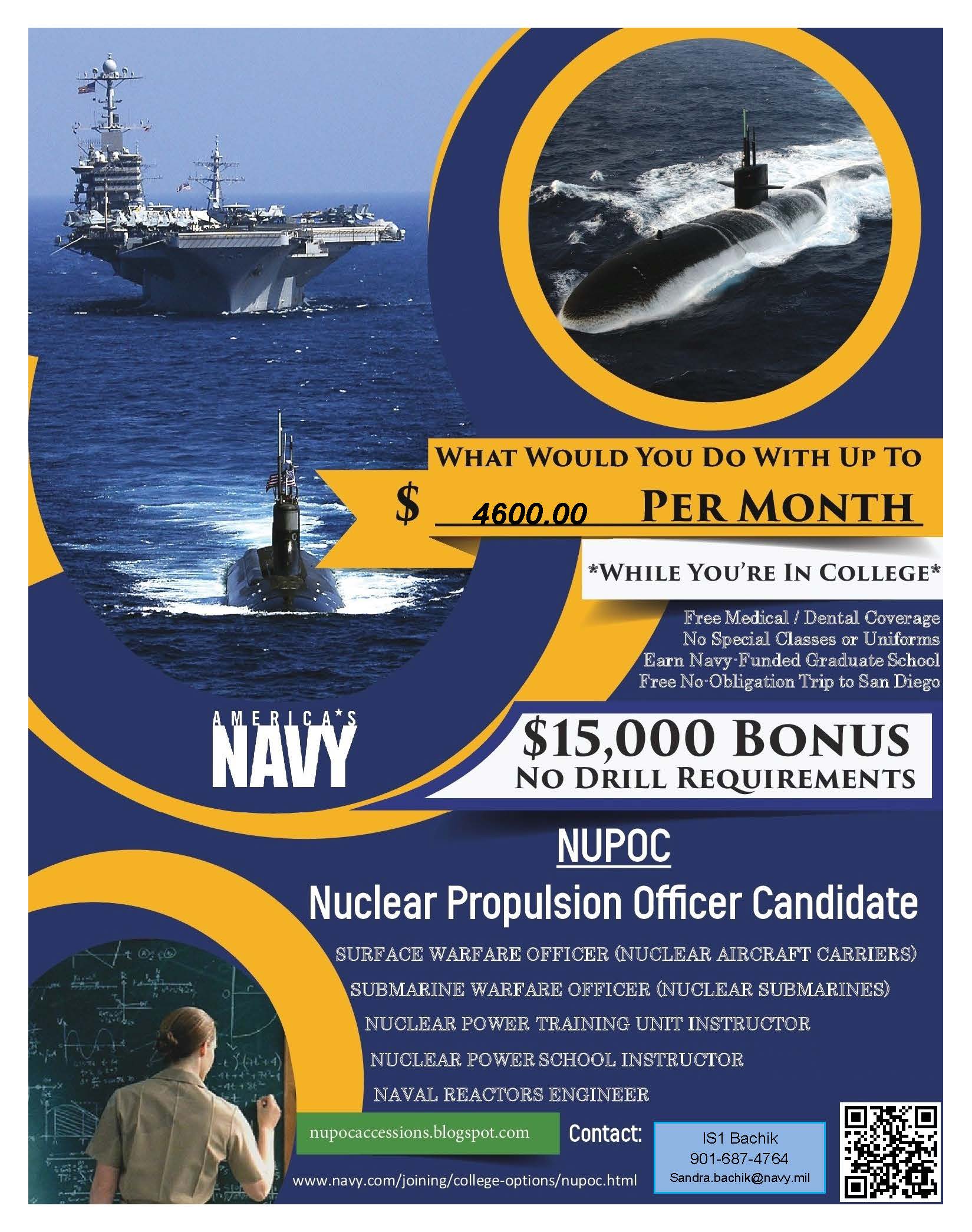 Math and Engineering Majors

Paid Research Internship opportunities for undergraduate STEM students
INTERNSHIP OFFICE OF SCIENCE/US DEPARTMENT OF ENERGY
DEADLINES
SULI Internship Term: Spring 2020 Summer 2020 Fall 2020
On-line Application Opens July 16, 2019 October 16, 2019 March 17, 2020
Applications Due October 7, 2019 January 9, 2020 May 28, 2020
5:00 PM ET 5:00 PM ET 5:00 PM ET
The Office of Science / US Department of Energy is pleased to announce paid research internship opportunities for undergraduate students majoring in areas of Science, Technology, Engineering, and Mathematics (STEM). The application system for the Term Science Undergraduate Laboratory Internships (SULI) program is currently open, with all applications due by 05:00 PM Eastern Time on October
The Science Undergraduate Laboratory Internships (SULI) program places students from 2 and 4 year undergraduate institutions as paid interns in science and engineering research activities at DOE national laboratories and facilities, working with laboratory staff scientists and engineers on projects related to ongoing research programs. Appointments are for 10 weeks during the Summer term, are open to US Citizens and US Lawful Permanent Residents, include a weekly stipend, reimbursement for one round trip domestic travel to the participant's host DOE laboratory, and possibilities for a housing allowance. More than 850 internships are sponsored annually.
Application is made online. Full program information and descriptions, including links to the online application system, are available at: Science Undergraduate Laboratory Internships (SULI) Program