Do Black Patent Leather Shoes Really Reflect Up?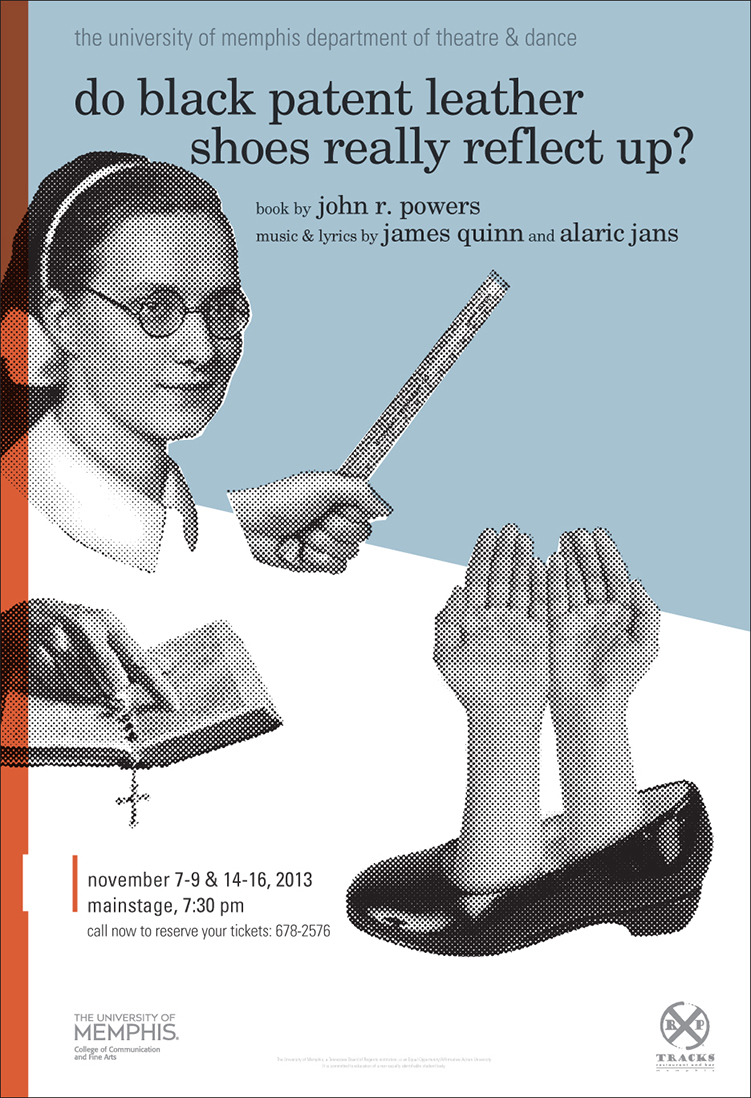 By John R. Powers
Music & Lyrics by James Quinn & Alaric Jans
Nov. 7-9 and 14-16, 2013

PHOTOS


Sex education, confession, nuns, heartache and first love – all ingredients for a fun filled night at the theatre – and all part of growing up in 1950s Catholic school. This delightful musical captures the comedy, the horror, joy and tenderness of adolescent growing pains. Eddie Ryan and his friends journey from 2nd grade to graduation in this hilarious and poignant musical. It will tickle the funny bone of anyone who ever went to school, public or private!
Director: RANDALL T. STEVENS
Choreographer: TRACEY BONNER
Music Director: JACOB ALLEN
Scenic Designer: BRIAN RUGGABER
Costume Designer: BRUCE BUI
Lighting Designer: KITTY DEVANY
Sound Designer: JOHN McFADDEN
Technical Director: MICHAEL O'NELE
Stage Manager: TRAVIS BLACKWELL
Cast
Eddie Ryan: BRADLEY KAREL
Becky Bakowski: AMELIA SUTHERLAND
Virginia Lear: FIONA BATTERSBY
Nancy Ralansky: JENNA NEWMAN
Mary Kenny: ELISABETH CROSS HIPP
Theresa Krambeck: REBEKAH MCFERRAN
Susie Reiner: ASHLEY AISARAE MAHONE
Felix Lindor: CAMERON LUCENTE
Mike Depki: JAKE BELL
Louie Schlang: DILLAN ERB
Tommy Newman: CHRISTOPHER CALDERAZZO
George Walenta: LOGAN BERNARD
Father O'Reilly: FRANK HOLIDAY, JR.
Sister Lee: MIRIAM RODRIGUEZ
Sister Helen: ALLISON HUBER
Sister Monica Marie: CASEY GREER