Accreditations
The University of Memphis is accredited by the Commission on Colleges of the Southern Association of Colleges and Schools (1866 Southern Lane, Decatur, Georgia 30033-4097, telephone number 404.679.4501) to award bachelor's, first professional, master's, educational specialist, doctoral degrees, and graduate certificates.
Accreditation Requirements by Program >
---
State Authorization Reciprocity Agreement (SARA)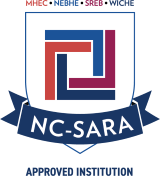 The UofM is authorized to deliver all of our online programs to students located outside of Tennessee through the federally recognized National Council for State Authorization Reciprocity Agreement (NC-SARA). Forty-nine states, excluding California, are members of NC-SARA. As a SARA institution, the UofM adheres to an established common set of standards for offering post-secondary distance education among member states, districts and territories.
Participation in SARA is intended to make it easier for students to take online courses offered by post-secondary institutions based in another state and to have a process for resolving student complaints. During your course of studies via UofM Global, any complaint you may have should be communicated in textual form first to your instructor. If unresolved, you may register your complaint through the University Concern or Complaint web service. For students located in California, students with complaints that are unresolved via the University Concern or Complaint process may contact the California Department of Consumer Affairs.
Authorization of distance education is a dynamic environment and prospective students should check this site often for updates. It is the student's responsibility to understand current circumstances or special requirements in their state of residence. For more information about SARA, please visit http://www.nc-sara.org/.​
Professional Licensure
Important Note for Prospective Students: If you are considering an academic program that leads to a professional license or certification in your state, it is highly recommended that you first seek guidance from the appropriate licensing agency in your state and from the UofM academic department offering the program to determine if our program meets your state's requirements. This should be done BEFORE beginning the academic program located outside your state.

Important note for students interested in pursuing professional educator programs: Educator licensure and certification are regulated individually by State Departments of Education and no two are exactly alike. Students who seek admission to a UofM College of Education online program for endorsement or initial educator certification in their state should contact their state's Department of Education and the UofM offering department for applicable requirements rules and regulations.
Student Code of Conduct and Complaint Resolution
We greatly value our student experience and urge all students to adhere to the Student Code of Conduct. Please refer to this website for student expectations and student rights: Student Accountability When an issue is brought to our attention, the UofM will take appropriate action to seek resolution. Students are encouraged to pursue the UofM's internal grievance procedures for any complaint before contacting external sources for resolution. Often, it is the case that communication with the course instructor is the most direct route to resolving issues. If an issue cannot be resolved at that level, a student may contact the academic unit for guidance. If grievances are not satisfactorily resolved by the academic unit, students may file a formal complaint through the UofM Dean of Students. If grievances are not satisfactorily resolved after an internal attempt by the University, a complaint may be filed with an agency in the student's state of residence.