More Information
Latest News
Dr. Amaia Iratzoqui was recently recognized by the University as one of the top 50 rated undergraduate faculty in the past year, based on student evaluations. These faculty were honored at a luncheon hosted by Dr. Thomas Nenon, the University Provost. Congratulations, Dr. Iratzoqui!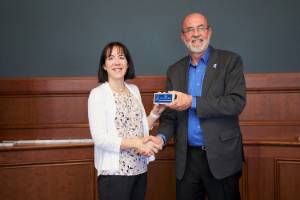 Department News
The Department of Criminology and Criminal Justice publishes a newsletter every semester updating students, alumni, and supporters of the Department with news on faculty productivity, department changes, student programs, and other department activity.
Fall 2015 Newsletter
Spring 2016 Newsletter
Fall 2016 Newsletter
Spring 2017 Newsletter
Fall 2017 Newsletter
Spring 2018 Newsletter
Fall 2018 Newsletter
Advanced Applications in Criminal Justice
Dr. Lenard Wells has conducted a series of interviews with individuals within the field of criminal justice, including academics, practitioners, and survivors of violence. Below are a sample of some of his interviews.
Dr. Wells interviews Rev. Dr. Roland Ehlke, the survivor of the Texas Tower Shooting.
Dr. Wells interviews Dr. Amaia Iratzoqui on issues teaching and working within the area of domestic violence.
Dr. Wells interviews Dr. Sheri Jenkins Keenan about the recent work and expansion of the Lambuth criminology program.