Prof. Kumar Helping Shape Presidential Initiative
Posted on 2015-02-05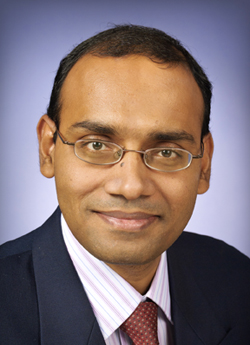 Prof. Santosh Kumar is playing a key role in President Obama's recently announced Precision Medicine Initiative.
Announced on Jan. 30, the initiative aims to improve patient care by individualizing treatment and prevention regimes. Making sense of patient data is a crucial requirement of this paradigm. Due to Prof. Kumar's expertise in the area, he is part of a small invited team tasked with making recommendations to move the initiative forward.
Kumar is leading the NIH Center of Excellence for Mobile Data Sensor-to-Knowledge (MD2K), a $10.8M, 11-university project that is working to develop innovative mobile health tools.
More information is available in these press releases: