B.S. Computer Science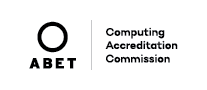 The B.S. degree program is accredited by the Computing Accreditation Commission of the Accreditation Board for Engineering and Technology (CAC/ABET), 415 N Charles Street, Baltimore, MD 21021 (phone: 410.347.7700).
As of Fall 2018, there are 384 students enrolled in the B.S. program. Graduation data from the last few semesters is provided below:
2018 - 23 (Spring)
2017 - 23 (Spring), 2 (Summer), 6 (Fall)
2016 - 17 (Spring), 7 (Summer), 10 (Fall)
2015 - 24 (Spring), 2 (Summer), 11 (Fall)
2014 - 8 (Fall)
Program Educational Objectives
The program educational objectives for the Bachelor's degree in computer science are that within a few years after graduation, graduates are expected to:
Demonstrate an ability to solve complex problems through the use of computer science, as evidenced by successful entrance into and advancement in the computer science profession.
Demonstrate an appreciation for lifelong learning and for the value of continuing professional development by pursuing graduate education, professional education or continuing education opportunities, attainment of professional licensure, and/or membership in professional societies.
Student Outcomes
Graduates with a B.S. in Computer Science will have an ability to:
Analyze a complex computing problem and to apply principles of computing and other relevant disciplines to identify solutions.
Design, implement, and evaluate a computing-based solution to meet a given set of computing requirements in the context of the program's discipline.
Communicate effectively in a variety of professional contexts.
Recognize professional responsibilities and make informed judgments in computing practice based on legal and ethical principles.
Function effectively as a member or leader of a team engaged in activities appropriate to the program's discipline.
Apply computer science theory and software development fundamentals to produce computing-based solutions.
Prior to Fall 2018, the student outcomes were different. Under the older outcomes, graduates were expected to have:
An ability to apply knowledge of computing and mathematics appropriate to the discipline;
An ability to analyze a problem, and identify and define the computing requirements appropriate to its solution;
An ability to design, implement, and evaluate a computer-based system, process, component, or program to meet desired needs;
An ability to function effectively on teams to accomplish a common goal;
An understanding of professional, ethical, legal, security, and social issues and responsibilities;
An ability to communicate effectively with a range of audiences;
An ability to analyze the local and global impact of computing on individuals, organizations, and society;
Recognition of the need for and an ability to engage in continuing professional development;
An ability to use current techniques, skills, and tools necessary for computing practice;
An ability to apply mathematical foundations, algorithmic principles, and computer science theory in the modeling and design of computer-based systems in a way that demonstrates comprehension of the tradeoffs involved in design choices;
An ability to apply design and development principles in the construction of software systems of varying complexity.
Honors Program and Minor
In addition to the traditional B.S. degree, we offer options for an honors designation and a Computer Science minor.
Concentrations
As of Fall 2017, students may choose one of two concentrations:
For More Information
Please refer to the University's Undergraduate Catalog for detailed B.S. degree information, including course requirements and a suggested four-year plan.
Related Documents