Bruns Scholarship Challenge
Students face many barriers to completing their education, but few so great as affordability.
Made possible through a commitment by longtime UofM supporter Mike Bruns, the Bruns Scholarship Challenge Fund's purpose is to help address the issue of affordability and increase the number of students who graduate from the University of Memphis. In 2019, the University of Memphis awarded 1,304 students with scholarships funded by our donors. Our goal is to increase the number of students we support with privately funded scholarships to 2,000 by 2025.

To increase the number of scholarships we award to University of Memphis undergraduate students with a demonstrated financial need, donations from eligible new donors who create new endowed scholarships at the University of Memphis, from September 1, 2020, until the $1M challenge is fulfilled, will be matched 1:2 through the Bruns Scholarship Challenge Fund.


How the Bruns Scholarship Works


You give at least $35,000 to create a new endowed scholarship in your name — or the name of someone you wish to honor or remember — and your gift will be matched 1:2 for a total gift of at least $52,500 and up to $82,500. (Eligible award range is $35,000 - $55,000, which includes $30,000 - $50,000 toward endowment and $1,000/yr. for five years to be awarded immediately.)


You may designate your scholarship to the college, school, or academic program of your choice. Scholarships will be for undergraduate students from the Memphis metro area. To ensure the maximum number of students will be eligible to benefit, no further restrictions will be applied.


Your gift can be paid over up to five years. Each year, your $1,000 annual payment will be matched with $500 and awarded to a student in need of financial assistance. The rest of your annual payment will go toward building an endowment that will benefit future Tigers. The endowment portion of the match will be applied when your pledge is paid in full.


Only two gift matches per household.


Example: Jim and Alice create an endowment in the Fogelman College of Business & Economics in memory of Alice's parents. They commit $55,000, pledged over five years with an annual payment of $11,000. Each year, $10,000 goes to the endowment principal and $1,000 is matched with $500 from the Bruns Challenge Fund and awarded to a deserving student. After their pledge is paid in full, the $50,000 principal is matched with $25,000, for a total endowment of $75,000. Awards will be made from the endowment every year, ensuring that Bill and Alice's generosity will be felt for generations.
For more information, contact Joanna Curtis at jecurtis@memphis.edu or 901-678-5274.
---

Related Stories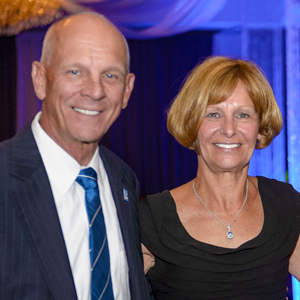 Longtime UofM supporter Mike Bruns challenges alumni and friends to join him in aiding students with a $1 million scholarship matching fund.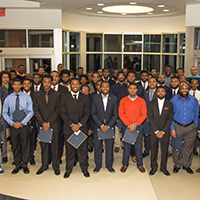 UofM President M. David Rudd and clinical associate professor in child development Dr. Loretta Rudd commit $50,000 to endow the Dr. Karen Weddle-West Completion Scholarship.



The list of scholarships established in response to the Mike Bruns Scholarship Challenge continues to grow, increasing support for UofM students.



Eighteen new scholarships have been established in response to Mike Bruns Scholarship Challenge Fund at the UofM.