Welcome to the Student Health Center!
Mission
The mission of the University of Memphis Student Health Center (SHS) is: to empower students to make informed healthy choices and to take responsibility for a goal of lifelong wellness; to provide personalized health services, education and disease prevention to a diverse student population; and to enhance academic achievement, personal growth, and out of the classroom learning.
Visiting the Health Center
Student Health Center is offering both in-person and telehealth/phone visits. We are NOT accepting walking-ins at this time. In an effort to enhance safety and social distancing, we ask that you speak to a staff member before coming to the Health Center to determine what service you require. After scheduling an appointment, on the MyPatient Portal, a staff member will contact you by phone. Please answer your phone.
We are not accepting walk-ins at this time. Learn more about patient eligibility.
If you have symptoms of coronavirus or had contact with a confirmed or suspected case of coronavirus, you may be tested at the Health Center. There is no charge for this testing. View available testing times and detailed instructions >
After hours, please call the COVID-19 public information numbers, 833.556.2476 and 877.857.2945, or Shelby County Health Department COVID-19 Call Center at 833.943.1658.
Save the Date for our annual Student Wellness Fair Tuesday, October 3rd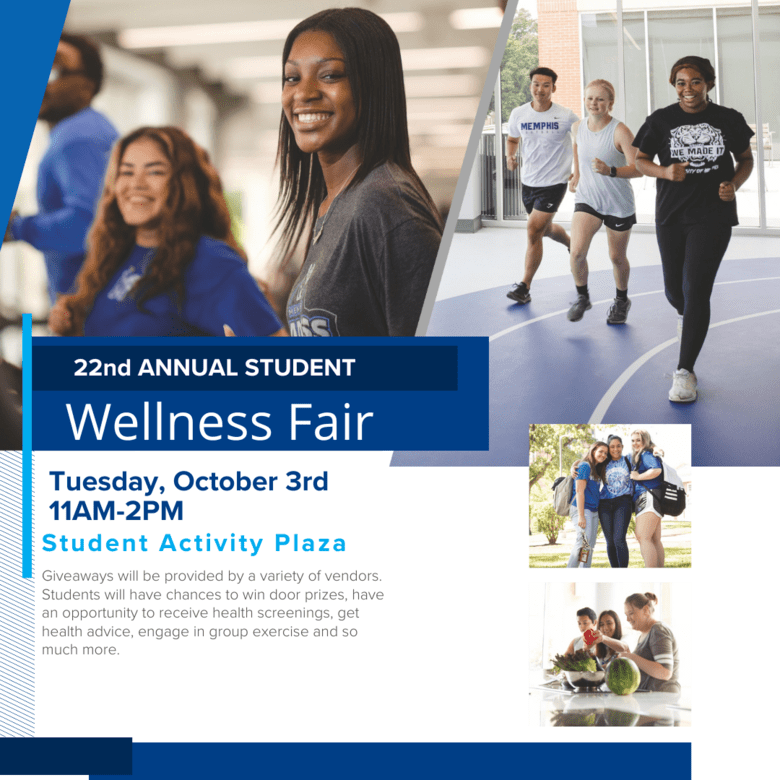 ---
Resources
Disclaimer:
The University of Memphis does not claim responsibility for information found herein, nor for effects suffered by the adherence to such information. The documents contained within this site are presented by the University of Memphis Health Services, solely with the intent of providing public service information on health and health-related issues. This information is not intended nor implied to be a substitute for professional medical advice. Always consult your healthcare provider or physician prior to utilizing any of the information presented on this website.
Student Health Services provides links to other websites for the convenience of site visitors in locating information that may be of interest. Student Health Services is not responsible for the availability or content of these external sites, nor does Student Health Center endorse, warrant or guarantee the products, services, or information described or offered at these other Internet sites.