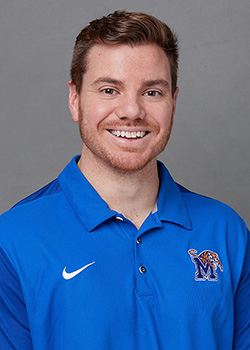 Alex Carnall, M.S.
Instructor | Applied Scientist
Office Hours
By appointment
About Alexander Carnall
Alex Carnall earned a bachelor's degree in Kinesiology from the University of Texas – Pan American, and completed his master's in health studies from the University of Memphis with a focus in biomechanics. He is currently an instructor in the College of Health Sciences at the University of Memphis, in addition to supervising undergraduate interns and contributing to the efforts of the Human Performance Center. Prior to coming to Memphis, Alex spent six years involved in the design, development and implementation of strength & conditioning programs for collegiate athletes at several universities across the country as well as in the private sector.
As an athlete, Alex played collegiate baseball and has medaled and competed at both the state and national levels in weightlifting. Alex is a Certified Strength and Conditioning Specialist through the National Strength and Conditioning Association, and a member of both the American College of Sports Medicine and the American Society of Biomechanics. He brings to Memphis a strong passion for exercise as a powerful tool for addressing health, performance and rehabilitative outcomes.
Education
M.S. Health Studies - University of Memphis - 2019
B.S. Kinesiology - University of Texas - Pan American - 2012