Douglas Powell, Ph.D.
Associate Professor | Applied Scientist
Office Hours
By appointment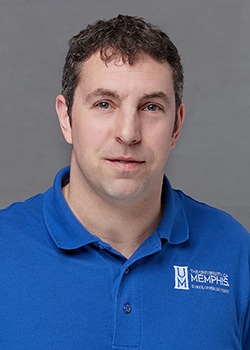 About Douglas Powell
Douglas W. Powell, Ph.D. earned a bachelor's degree in exercise science and a master's degree in biomechanics from East Carolina University under the tutelage of Dr. Tibor Hortobagyi. He completed his doctoral training in biomechanics/sports medicine under Dr. Songning Zhang at the University of Tennessee. He is currently an associate professor in the College of Health Sciences at the University of Memphis with undergraduate and graduate teaching responsibilities.
Dr. Powell's research interests pertain to the interaction of anatomical structure, neurophysiological function and movement biomechanics. He has interest in the biomechanical and neurophysiological underpinnings of stiffness and rigidity in sports movements and Parkinson's disease, respectively. Dr. Powell also has interest in the efficacy of therapeutic exercise interventions on neuromuscular function in patients and tactical athletes. For more information visit the Musculoskeletal Analysis Laboratory website.
Dr. Powell actively collaborates with researchers from institutions around the world including Virginia Commonwealth University, Virginia Tech University, Deutsche Sporthocschule Koln and the Saint Louis Cardinals. He is a member of the American College of Sports Medicine, American Society of Biomechanics, American Heart Association and National Strength & Conditioning Association. Dr. Powell has consulted with high school, collegiate and professional athletes as well as tactical athletes under Special Operations Command to enhance performance, reduce injury risk and accelerate rehabilitation.
Dr. Powell competed as a collegiate and semi-professional soccer player at East Carolina University and Tobacco Road FC, respectively. He has also coached soccer athletes from youth to professional levels. Dr. Powell now lives in Cordova, Tennessee with his wife Ashley and daughter Isabella.
Education
Ph.D. Kinesiology (Biomechanics) - University of Tennessee
M.A. Biomechanics - East Carolina University
B.S. Exercise Science - East Carolina University