Melissa Puppa, Ph.D.
Assistant Professor
Office
306 Elma Roane Fieldhouse
Office Hours
By appointment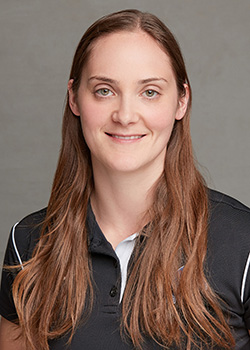 About Melissa Puppa
Melissa Puppa earned a Bachelor of Science in Biology from Roanoke College in Salem, VA, and received her Ph.D. in exercise science from the University of South Carolina where she focused on understanding how exercise can prevent cancer-induced muscle wasting in the presence of systemic inflammation. She went on to do her postdoctoral training in the Department of Developmental Neurobiology at St. Jude Children's Research Hospital where her work focused on the impact of skeletal muscle transcription factors on systemic aging and lifespan.
Dr. Puppa's research interests are largely focused on effects of exercise on skeletal muscle plasticity during cachexia and aging. Specifically, she is interested in understanding the mechanisms through which exercise induced myokines effect skeletal muscle mitochondrial function to prevent aging and disease induced muscle loss. Outside of the lab she is a member of both the American College of Sports Medicine as well as the American Physiological Society.
Education
Ph.D. Exercise Science (Exercise Physiology) - School of Public Health, University of South Carolina - 2014
B.S. Biology - Roanoke College, Salem, VA - 2008