April 2022 News Releases
- Tuesday, April 12 -
UMRF Ventures Inc. Celebrates 5th Anniversary
UMRF Ventures Inc., the private company founded in 2017 by the University of Memphis Research Foundation with a grant from FedEx, will celebrate five years in business with a reception at its headquarters on UofM's Park Avenue Campus Wednesday at 5:30 p.m. UofM President Bill Hardgrave and Rob Carter, executive vice president, Information Services, FedEx Corporation, will be in attendance.
Celebrating five years of UMRF Ventures >
---
- Tuesday, April 5 -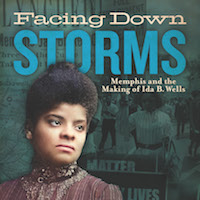 University of Memphis' Hooks Institute to Premiere Documentary on Life and Legacy of Ida B. Wells on April 19
The Benjamin L. Hooks Institute for Social Change at the University of Memphis will host the premiere film screening of "Facing Down Storms: Memphis and the Making of Ida B. Wells" on April 19 at the Halloran Centre for Performing Arts and Education. A reception will begin at 5:30 p.m. followed by the program and film screening at 7 p.m.
---
- Friday, April 1 -

Dr. Bill Hardgrave begins first day as 13th President of the University of Memphis
Dr. Bill Hardgrave began his first official day as the 13th President of the University of Memphis on campus Friday meeting, greeting, listening and learning. Prior to the UofM, Hardgrave served as Auburn University's Provost and Senior Vice President for Academic Affairs since January 2018. He served as dean of Auburn's Harbert College of Business from August 2010 through December 2017.