2010-2011 Bat Boy The Musical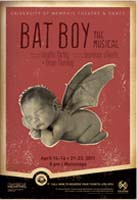 BAT BOY: THE MUSICAL
Story and book by Keythe Farley and Brian Flemming,
Music and lyrics by Laurence O'Keefe
April 14-16 and 21-23, 2011 at 8 p.m.
Based on a story in The Weekly World News, Bat Boy: The Musical is a show about a half-boy/half-bat creature who is discovered in a cave near Hope Falls, West Virginia. When he naively tries to fit in with the narrow-minded people of Hope Falls, they turn on him. Soon the entire town will hear the shocking story of Bat Boy's unholy origin. At a time when we strongly lump our demons into stereotypes based on nationality, creed or sexual orientation and de-humanize them to gain safety in numbers, shows like Bat Boy jar us awake with laughter and the moral obligation we have to all of our brothers and sisters.


Director: Copeland Woodruff
Choreographer: Jay Rapp
Scenic Designer: Jathan Innerarity
Lightning Designer: Vince Basile
Technical Designer: Michael O'Nele
Sound Designer: John McFadden and Ben Fichthorn
Costume Designer: Becca Bailey
Fight Choreographer: Chris Carter
Stage Manager: Molly Allen Watson
CAST OF CHARACTERS:
Chris McCollum: Bat Boy
Janie Crick: Meredith
Joe McDaniel: Dr. Parker
Mandy Martin: Shelly
Dylan Atkins: Sheriff
Sean Carter: Rick/Lorraine/Mr. Dillon
Lauren Scott: Mayor Maggie/Clem
Shakiera Adams: Reverend Hightower
Steven Albart: Pan
Blake Dorris: Mrs. Taylor/Lorraine's Son
Lena Wallance: Ron
Ellen Saba: Ruthie/Ned
Jon Castro: Doctor/Bud/Daisy
William Henry: Roy/Institute Man
VOICES IN DR. PARKER'S HEAD:
SA, SA, Taylor Burnside. Davis Fancher, and Melanie Stanek
ORCHESTRA:
Kevin Richmond: Keyboard I
Jason Bell: Keyboard II
Joel Middleto: Guitar
CJ Manning: Bass
Benny Reiner: Percussion
Vaeve Brophy: Rehearsal Accompanist