Comedy of Errors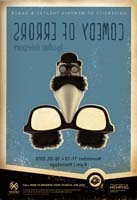 THE COMEDY OF ERRORS

By William Shakespeare
November 11-13 and 18-20, 2010 at 8 p.m.

PHOTOS

When two sets of identical twins with identical names are shipwrecked as infants, their father can save only one of each set. Years later, one Antipholus and one Dromio arrive in Ephesus in search of their long-lost brothers only to find that everyone there seems a little odd. Shakespeare's early farce is about the power of family, love, mistaken identities and finding the way home in a world that seems both cruel and mad.