39th Annual Juried Student Exhibition

---
39th Annual Juried Student Exhibition Web Gallery
Not able to visit the exhibition in person? Check out the web gallery. Click here
---
AMUM Congratulates Award Recipients
| | |
| --- | --- |
| Univ. of Memphis President's Purchase Award | "This Green is It" by Shelby Brown |
| Graduate School Purchase Award | "He Saw that Her Suffering Was Great" by Danielle Sierra |
| Art Department Graduate Award | "Wondering #2" by Rashawn Penister |
| Art Department Undergraduate Award | "That With Which We Hold Dear" by Sara Moseley |
| Best of Photography, Jack Robinson Gallery Award | "That With Which We Hold Dear" by Sara Moseley |
| Barber Williams Memorial Juror's Award | "HAIR LOVE?" by Abdo Mohamed |
| Art Center Supply Store Award | "Wondering #2" by Rashawn Penister |
| | "Hooded Merganser" by Daniel Twedt |
| Dixon Gallery and Gardens Membership Award | "Paradiso" by Aaron Binkowitz |
| | "Iroquois Sky Woman: Origin Story" by Mark Rawlinson |
| | "Poor Pierrot" by Anna Clements |
| | "Tea Time" by Sarah Stobbe |
| | "Milagro (You know the way to the place where I am going)" by Danielle Sierra |
| Memphis Brooks Museum of Art Membership Award | "Fat Bottomed Girls" by Mark Rawlinson |
| Metal Museum Membership Award | "Touch Starved" by Anna Clements |
---
AMUM announces the results of the Juror selections for the 39th Annual Juried Student Exhibition
Congratulations to:
| | |
| --- | --- |
| Mohamed Abdo | Rashawn Penister |
| Aaron Binkowitz | Mark Rawlinson |
| Shelby Brown | Danielle Sierra |
| Anna Clements | Sarah Stobbe |
| Madison "Raine" Irby | Daniel Twedt |
| Carly Johnson | Chetana Reiley Wilson |
| Sara Moseley | Erica Vanhaute |
| Kendrick Pendleton | |
---
About the Juror:
Julie Novarese Pierotti is the Martha R. Robinson Curator at the Dixon Gallery and Gardens in Memphis, TN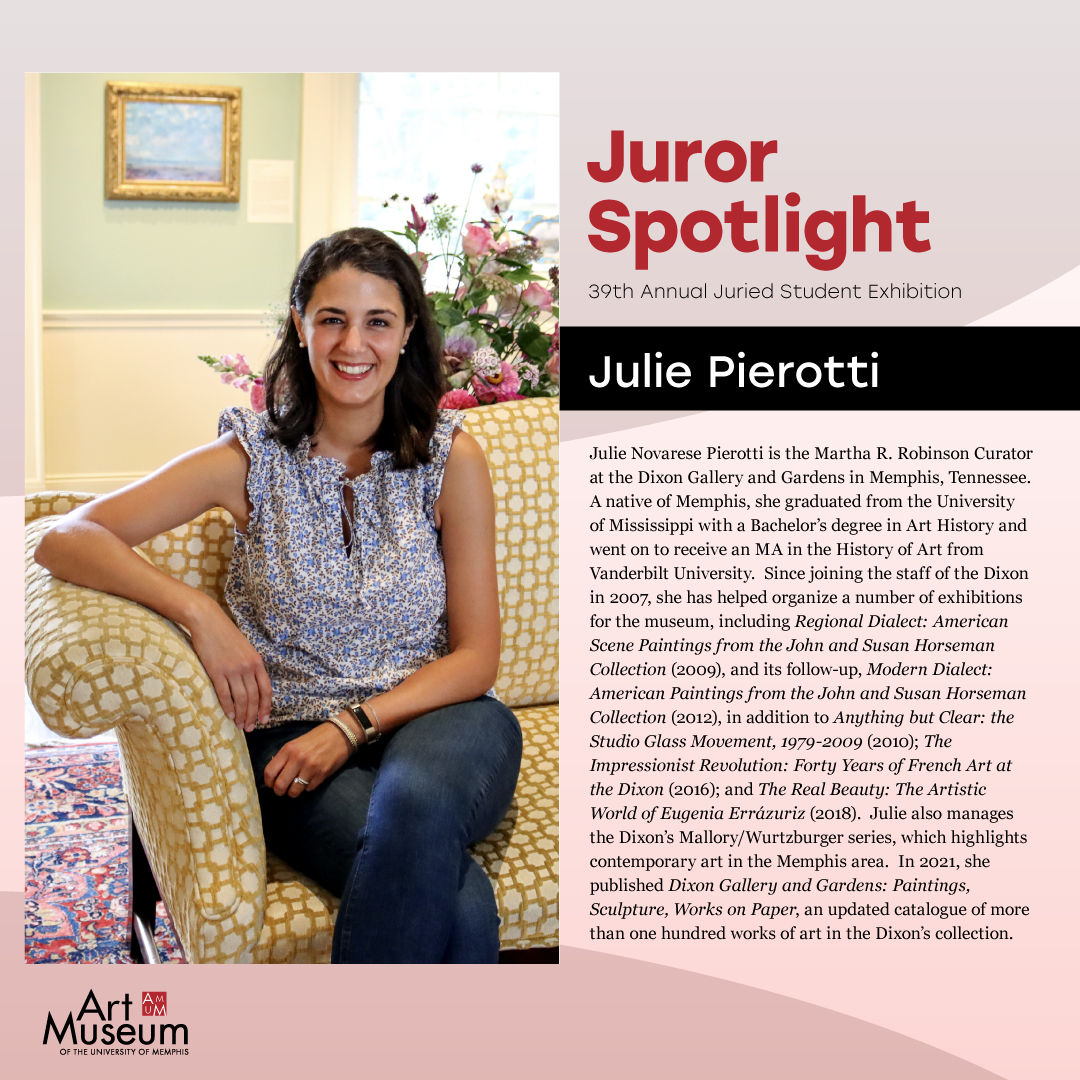 ---
Calendar:
| | |
| --- | --- |
| Nov 30 – Dec 19, 2021 | Open call for submissions |
| December 19, 2021 | 11:59pm entry deadline |
| January 5, 2022 | Acceptance notifications |
| January 18-24, 2022 | Artworks delivered to AMUM, 142 CFA Building, M-F, 9a-4:30p |
| February 11, 2022 | Exhibit opening reception & awards presentation |
| March 26, 2022 | Final day of exhibit |
| March 28-April 1, 2022 | Pick up artwork at AMUM, 142 CFA Building, M-F, 9a-4:30p |
---
Prospectus
The Art Museum of the University of Memphis is seeking entries for the 39th Annual Juried Student Exhibition. This competitive exhibition celebrates outstanding University of Memphis student artists. The exhibition provides students with an opportunity to gain professional experience as an artist by preparing work for exhibition and submitting it to a jury process. A qualified juror will select artwork and artistic merit awards.
Eligibility:
Open to all currently enrolled University of Memphis students
Artwork(s) must have been completed in the past twelve months and not previously exhibited at the University of Memphis
Submitted artwork(s) must be available to remain on view at AMUM for the duration of the exhibition
All media types are eligible, but AMUM cannot exhibit artworks that pose a risk to its collections. Examples include food, flora, fauna, fungus and open flames.
Guidelines:
Entries must be received by 11:59pm on December 19, 2021
Students may submit up to three original works of art
Submissions must include all requested information, including an artist statement and images of artwork
Label files submitted, including image files, with you first and last name, title of your work, and file type (i.e. JaneDoe_Untitled1_Image1)
The entrant is responsible for delivery and pick-up of their artwork from AMUM
Selected artworks must be delivered to AMUM between January 18, 2022 and January 24, 2022. Work that is not received by 5:00pm on January 24, 2022 will be disqualified from exhibition and awards.
Selected entries must be completely ready to install with appropriate mattes, frames with hanging devices and hardware, or other installation preparation. 3D works must be able to stand on their own or be mounted on a stand. Fiber pieces must have appropriate casings and hanging rods included. Students submitting a video installation must provide the necessary equipment to display their work and be present for installation upon request of AMUM staff. Work that is not ready to be hung or installed will be disqualified from the exhibition and awards.
Notices:
Please read the Terms and Conditions before submitting (Available in the application at ArtCall.org)
All selected artists will be required to complete a loan agreement with AMUM, which includes the terms and conditions
Images of selected works may be used at the sole discretion of AMUM for promotional purposes including but not limited to publicity, social media, website, invitations, or subsequent year's prospectus
Selected artworks must be picked up between March 28, 2022 and April 1, 2022. Artwork not retrieved from AMUM within thirty (30) days will be discarded or become the property of AMUM.
Questions:
Still have questions? Contact Kristy Griffin, AMUM Assistant Director at kkgrffn1@memphis.edu or call 901-678-3197.