AMUM is now open to the public Mondays-Saturdays, excluding official university holidays.
MASK/SOCIAL DISTANCING POLICY: Masks are required for all visitors. Please wear a mask at all times when indoors and practice social distancing.
---
Visit the Museum
Come visit AMUM! It's always free. Bring yourself for a quiet stroll through the galleries; come with family and friends, or book a guided tour for your organization What will you find?
• Mummies, statues, jewels, tools, among hundreds of fascinating objects in our ancient Egyptian gallery,
• Masks, warriors, ceremonial objects, and ornaments in our African gallery
• Prints and drawings and other works in our 20th and 21st century collections,
• Exhibitions by visiting artists, often with UofM and community collaborators,
Every day is a good day to visit AMUM, but Saturdays are especially pleasant, because the beautiful UofM campus is calm and parking in the Central lot is free.
(Please bring a mask and practice social distancing.)
Hours & Admission
AMUM is open Monday through Friday from 9 a.m. to 5 p.m. except on University holidays and between temporary exhibitions. For details concerning closing dates, contact AMUM at 901.678.2224. CONTACT EMAIL HERE
Admission is free.
On View
38th Annual Juried Student Online Exhibition more here
Sketching Europe: A Tour Through the Eyes of Memphian Samuel H. Crone more here
On view to the public May 3rd-Summer
AMUM will be open daily Monday-Friday, 9am-5pm (AMUM will be open on Saturdays starting May 15th.)
Tours
AMUM offers guided group tours of the Museum free of charge for groups of 10 or more. Tours may be scheduled Monday through Friday between 9 a.m. and 4 p.m. Tours last approximately one hour. To schedule a tour, call AMUM at 901.678.2224.
Tours should be booked two weeks prior to the requested tour date.
If a tour must be canceled, AMUM should be notified as soon as possible
To receive an Educator's Guide to the Egyptian Collection, e-mail the Institute of Egyptian Art and Archaeology.
Buses must park in the Connolly Parking lot accessible off Poplar Avenue near Deloach street. Bus drivers are encouraged to drop off students and chaperones before parking. Best place to drop off visitors is Central Avenue Parking lot. Bus drivers should note that the lot in which they must park is directly behind the Central lot, but only accessible off of Poplar.
Museum Safety and Preservation Rules:
Objects and cases should never be touched.
No food, beverages or smoking allowed.
Briefcases, shopping bags, umbrellas, backpacks, and other bulky items should be checked at the front desk.
Photography is prohibited always in Ancient Egyptian Collection (and anywhere not explicitly noted that it is allowed).
Notes should be taken with pencils only.
---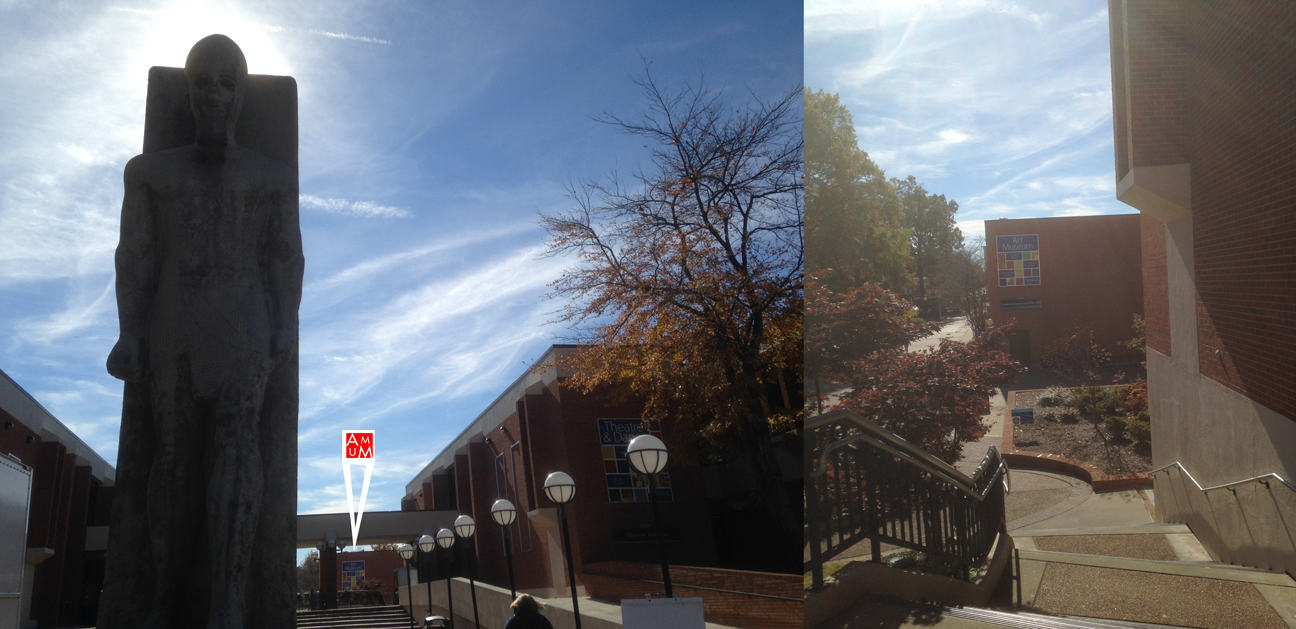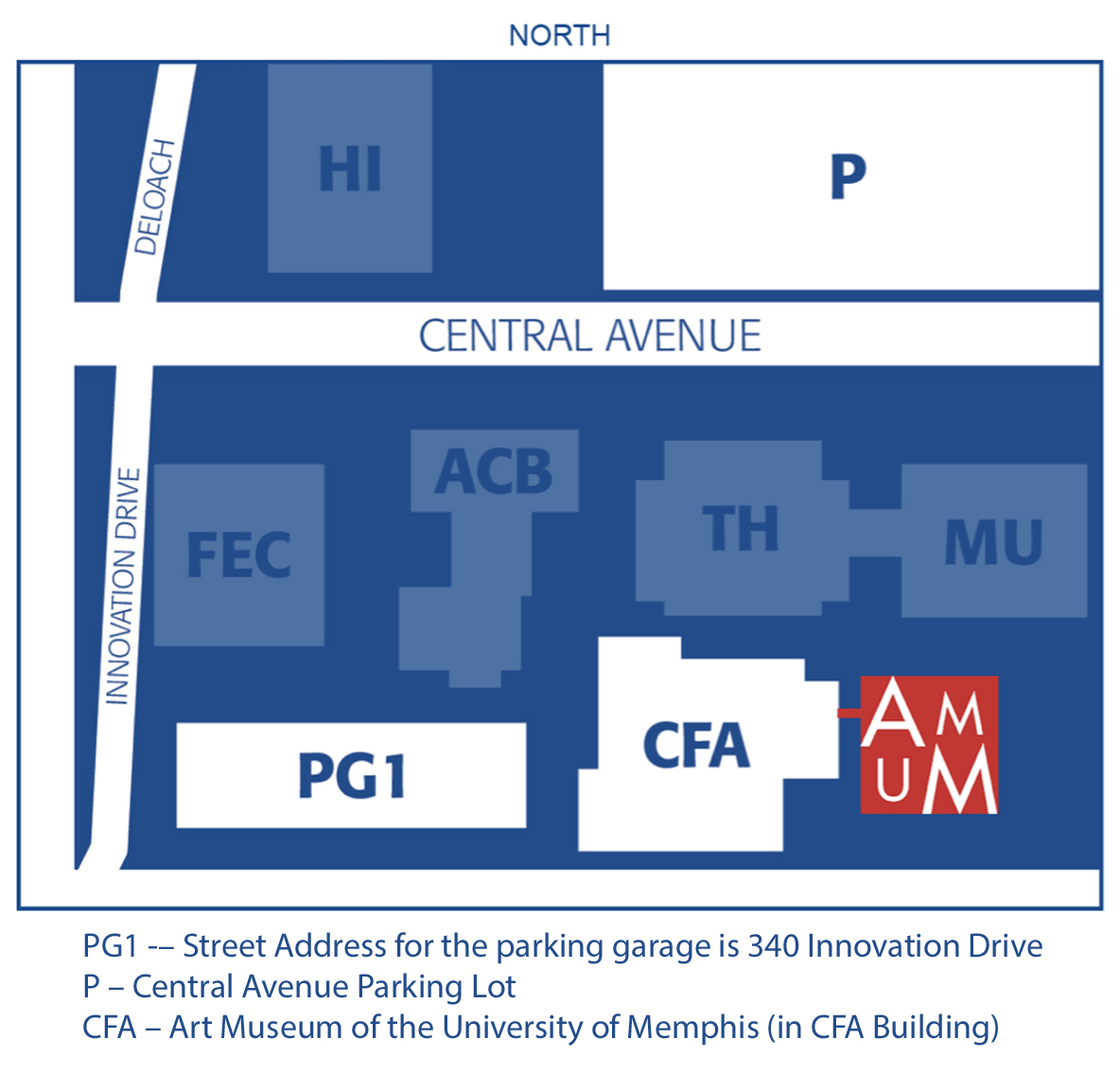 Disability Parking Access / Parking Services / Visitor Parking
Please note the following parking advise: Parking is free Fridays after 4:00pm and on weekends in the Central Avenue parking lot. The parking garage is three dollars per hour and incurs a fee up to 15 dollars per day.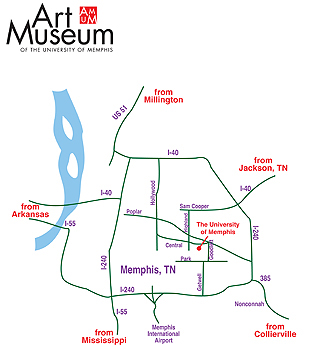 Please note that the live map feed above marks a driving route. However, many pedestrian walkways also lead to the Museum. Use the map by locating your current position in regard to considering the shortest and easiest direct walk once you have parked. Parking is free on Fridays after 4pm and all day Saturday. During the week you have the option of paying two dollars per hour in the parking garage off Innovation Drive directly behind the Museum or paying the meters in the Central Avenue Parking Lot. If you do not mind the exercise of a slightly more lengthy walk, then you have the added free option of parking on Deloach, which is the road that turns into Innovation Avenue the closer you get to the University. Disability Parking info here. The Art Museum of the University of Memphis is located inside the Communications Fine Arts (CFA) building.
Visitor Parking
Invited Visitor parking permits are available for University guests invited by a department and may be arranged through Parking & Transportation Services for the inviting department's distribution. Parking & Transportation Services is open from 7:00am – 6:00pm Monday through Thursday, and 7:00am – 4:30pm Friday.
Visitor parking permits are available at Parking & Transportation Services. A fee is charged for visitor parking permits. Visitors may also park in the Innovation Garage and Zach Curlin Garage without a permit. An hourly fee is charged for parking in the garages.
Mailing Address
3750 Norriswood Dr.
142 Communication & Fine Art Building
Memphis, TN 38152