August 2016 Commencement Speaker
2016 WILLARD R. SPARKS EMINENT FACULTY AWARD RECIPIENT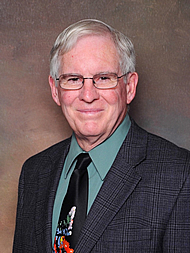 DR. ROY B. VAN ARSDALE
Professor of Geology – Department of Earth Sciences
Dr. Van Arsdale has been involved in earthquake related research for his 23 years at the University of Memphis. One of the principal goals of his research has been to assess intraplate seismic threats and in particular the New Madrid seismic zone of northwestern Tennessee and surrounding region. Sudden movement on a fault is responsible for generating earthquakes. In one study, he excavated trenches across the Reelfoot fault and documented a 500-year earthquake recurrence interval for large earthquakes on this fault that has subsequently been accepted as the New Madrid seismic zone earthquake recurrence interval. Seismic reflection studies and spatial distribution of earthquakes have allowed Dr. Van Arsdale and his students to model the subsurface structure of the Reelfoot fault system and how its movement caused regional uplift and subsidence like the Reelfoot Lake basin of northwestern Tennessee. Understanding the subsurface geometry of fault systems helps determine what areas will topographically rise, which will sink, and where the Mississippi River levees may fail during future earthquakes. In one paper he and his students attribute the relatively recent onset of New Madrid seismic zone earthquakes to vertical erosion of the Mississippi River Valley. Their earthquake induction model was subsequently supported when he co-authored a geophysical analysis in a Nature journal article.
Dr. Van Arsdale has also published on the origin of the Mississippi River valley. In a Scientific American article he and Dr. Randel Cox presented a geologic model for the formation of the Mississippi embayment and Mississippi River approximately 100 million years ago. He also published a book entitled, Adventures Through Deep Time: The Central Mississippi River Valley and Its Earthquakes, which remains the definitive work on the subject. More recently Dr. Van Arsdale, his students, and Department of Earth Science colleagues have documented that 3.1 million years ago the Mississippi River was 6 to 8 times bigger than it currently is and that its headwaters included much of southern Canada.
Dr. Van Arsdale has received funding for his research from the National Science Foundation, Nuclear Regulatory Commission, and United States Geological Survey. He has participated in two nationally televised programs that focused on the New Madrid seismic zone: one produced by the History Channel and the second by the National Geographic Society. Dr. Van Arsdale has also received the College of Arts and Sciences Meritorious Faculty Award (2003), Fellow of the Geological Society of America (2004), Dunavant Professorship (2005-2007), the College of Arts and Sciences Distinguished Research Award in the Sciences and Mathematics (2006), and a First Horizon Professorship (2008-2010). In 2008 he also served as the Chairman of the Southeastern Section of the Geological Society of America. Dr. Van Arsdale has consulted for a number of organizations including the US Army Corps of Engineers, US Geological Survey, and Geoscience Australia. He is also an Associate Editor of Engineering Geology and in 2012 was selected as a keynote speaker at the National Geological Congress of Brazil.
Dr. Van Arsdale continues to enjoy teaching at the undergraduate and graduate levels while maintaining his research. He has published 85 refereed journal articles and 108 abstracts. Many of these publications are with excellent graduate students that he has had the pleasure to supervise. With a number of research projects pending and the continued support of his wife Stephanie, Dr. Van Arsdale is optimistic that his research will continue.
Education:
1972, BA, Geology, Rutgers University, New Brunswick, New Jersey
1974, MS, Geology, University of Cincinnati, Cincinnati, Ohio
1979, Ph.D., Geology, University of Utah, Salt Lake City, Utah