December 2014 Commencement Speaker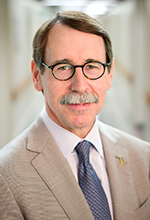 James R. Downing, M.D., is the CEO and President of St. Jude Children's Research Hospital. He is internationally recognized for his seminal contributions to understanding the genetic missteps driving childhood cancer.
Downing was instrumental in launching the St. Jude– Washington University Pediatric Cancer Genome Project, the world's largest project devoted to understanding childhood cancer. At the project's start in 2010, researchers planned to sequence the complete normal and cancer genomes of about 600 children with some of the least understood and most aggressive pediatric cancers. Project researchers exceeded the goal by sequencing 700 normal and cancer genomes. In doing so, they produced key discoveries in childhood leukemias, brain tumors, central nervous system tumors and eye tumors. The project is now in a second phase to dig deeper into the genomic landscape of childhood cancers. In addition, St. Jude has undertaken a major effort to translate genomics into clinical decision-making.
Downing has traveled the globe presenting his research and has received numerous honors including the Association for Molecular Pathology Award for Excellence in Molecular Diagnostics, the American Association for Cancer Research Team Science Award and the American Association for the Advancement of Science fellowship. In 2013, he was nominated by TIME magazine for its list of the 100 Most Influential People in the World. TIME also listed the Pediatric Cancer Genome Project among the top 100 new scientific discoveries. Most recently, Downing was elected to the Institute of Medicine, a prestigious branch of the National Academy of Sciences.
Joining St. Jude in 1986 as an assistant member in Pathology, Downing rose through the ranks to serve as chair of the department from 1997 to 2009. In 2004, he was appointed as the institution's executive vice president and scientific director and in 2011 as its deputy director.
Downing has been published in prestigious journals including New England Journal of Medicine, Nature, Science and Cell and holds membership in numerous academic and professional societies. He earned both his undergraduate and medical degrees at the University of Michigan and is a Detroit native. Downing has been supported throughout his career by his lovely wife, Mariea. They are the proud parents of three children and three grandchildren. Downing also is an avid cyclist.