December 2016 Commencement Speaker
Commencement Speaker & Honorary Degree Recipient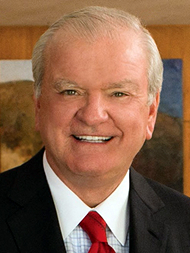 MR. DONALD E. GODWIN, Esq
Chairman & CEO of Godwin, Bowman and Martinez
Donald E. Godwin is considered one of the most respected and tenacious trial lawyers in Texas. For more than 40 years Don has tried significant jury cases in courts throughout Texas and across the United States. Board Certified in Civil Trial Law by the Texas Board of Legal Specialization, he has the ability to translate complex matters of law and fact into easily understandable language for courts and juries. Don's practice covers a broad range of areas with an emphasis on complex litigation, including oil and gas, environmental, fiduciary duties, will contests, major family law disputes and business torts. He has been the Lead Trial Lawyer for Halliburton in connection with all civil litigation and investigations concerning BP's Macondo well blowout in the Gulf of Mexico.
Don was the lead counsel for Halliburton in its asbestos and silica litigation. He negotiated the global settlement of Halliburton's approximately 382,000 asbestos claims throughout the United States that took him approximately one year to accomplish. Additionally, Don serves as trial counsel for Ray Hunt and Hunt Consolidated Company in matters related to the many companies owned by the Ray Hunt family, and in matters involving personal litigation. As well as being recognized as a leading trial lawyer in the United States, Don has also earned the reputation among corporate executives, their legal departments, and other highly visible individuals as a master negotiator where the risks are substantial and the future and successes of such clients are on the line.
Board Certified in Civil Trial Law by the Texas Board of Legal Specialization, and a member of the American Board of Trial Advocates (ABOTA), Mr. Godwin is one of the most widely respected attorneys in the nation. Reflecting the standard of long-term excellence established in his legal practice, he has been named to the "50 Lions of the Texas Bar" by Texas Lawbook; recognized in Chambers USA since 2014 in the area of General Commercial Litigation, selected to the Lawdragon 500 honoring the 500 leading lawyers in America, named among the Top 100 Lawyers in Texas by Thomson Reuters 8 times, and chosen among Thomson Reuters Texas Super Lawyers since the award was initiated in 2003. He has also been honored by selection on the list of The Best Lawyers in America since 2012 in the area of Commercial Litigation along with a variety of other honors. He practices commercial litigation, environmental litigation, energy/oil and gas litigation, wills, probate and estate planning and litigation, civil litigation, divorce litigation and eminent domain and zooming litigation.
He is Board Certified, Civil Trial Law, Texas Board of Legal Specialization, 1979, AV rated "Preeminent"TM Martindale-Hubbell and holds degrees from Southern Methodist University, J.D. and University of North Carolina, Wilmington, B.S. He is also a graduate of our University of Memphis with an M.S. in Accounting.