New Password Reset Process
Beginning July 12, 2021, all UofM account holders will be able to reset their passwords using either established security questions or a personal email address. In order to use your personal email address to reset your password, you must have a personal email address in Banner, which can be accessed in the Personal Information section of the myMemphis portal. For students, this section is located in the Student Pages tab within My Resources. For faculty and staff, access is available on the Employee tab.
How to Reset Your Password
To reset your password, visit iam.memphis.edu. Click the "Reset your password?" link to the right of the login fields.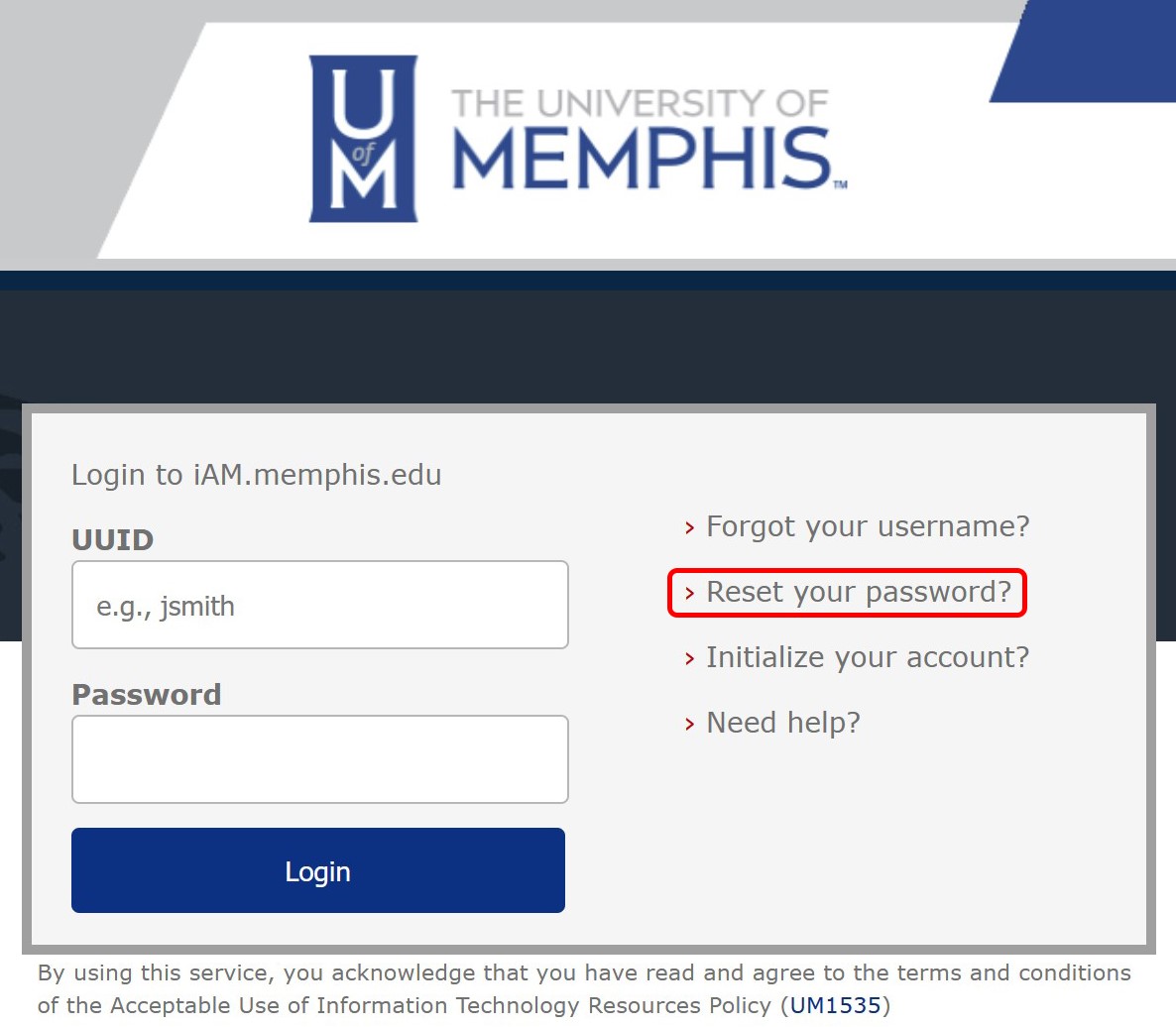 Before your password can be reset, you will first need to identify yourself, then verify your identity. Enter your first name, last name and birthday in the appropriate boxes, then click the "Continue" button.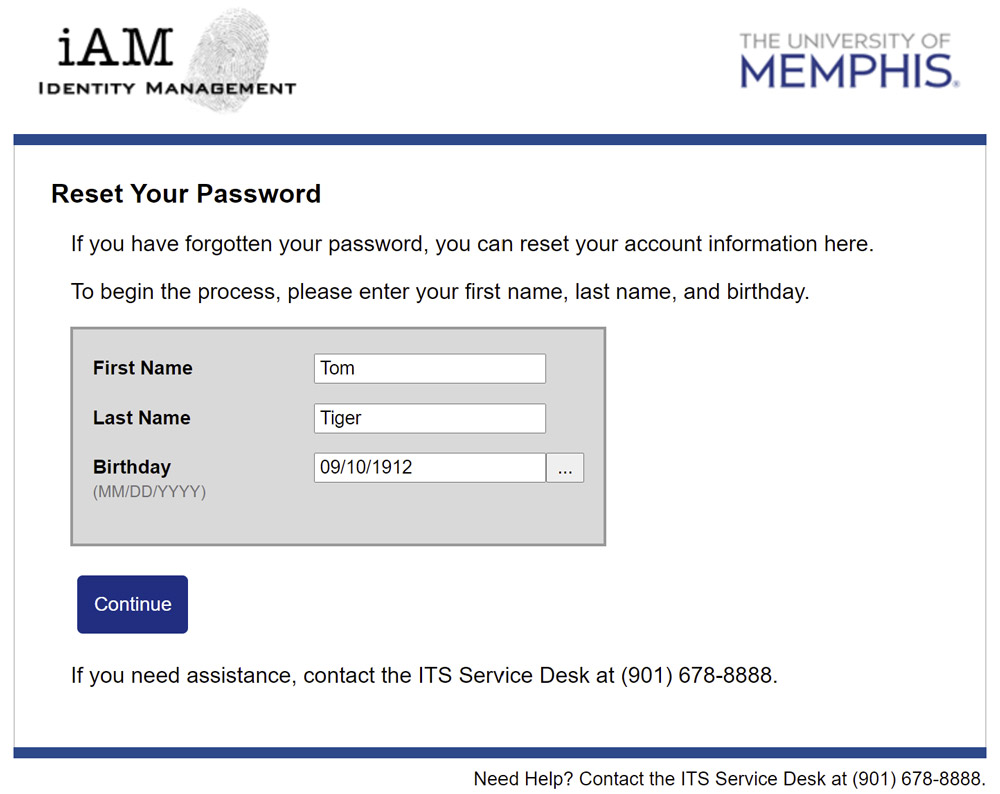 Next, you will need to authenticate using Duo. For more information about Duo, visit the Duo account security page.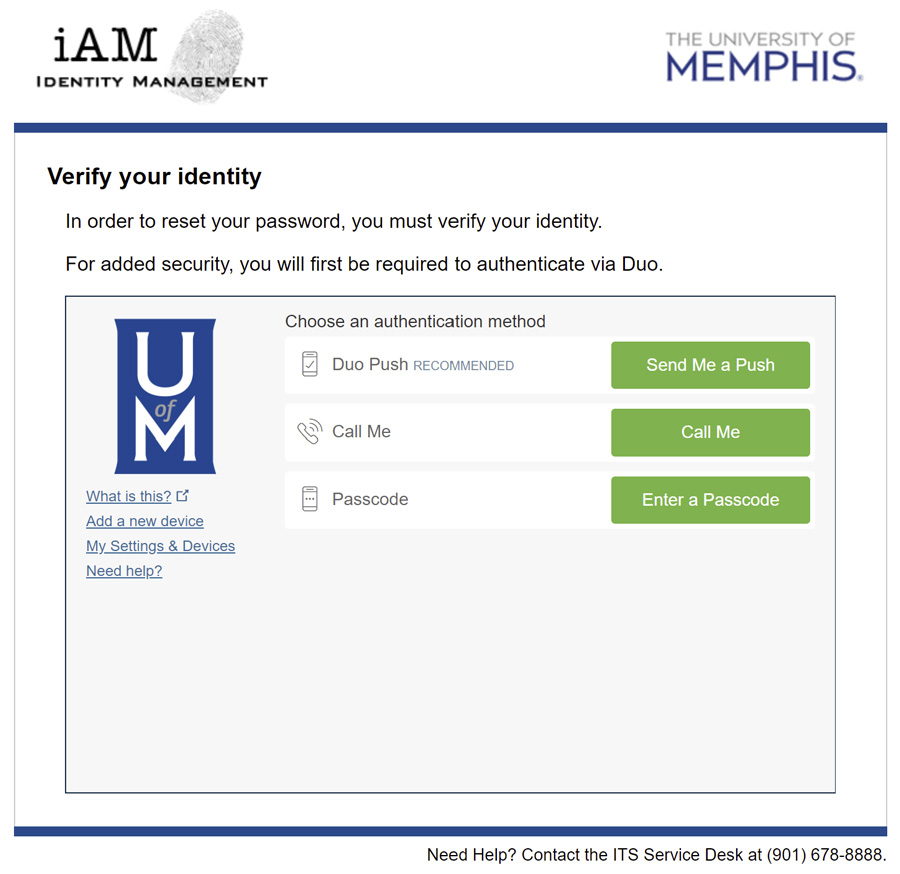 After authenticating via Duo, you will be given two options to verify your identity: personal email or security questions. Choose your preferred method by clicking the appropriate button.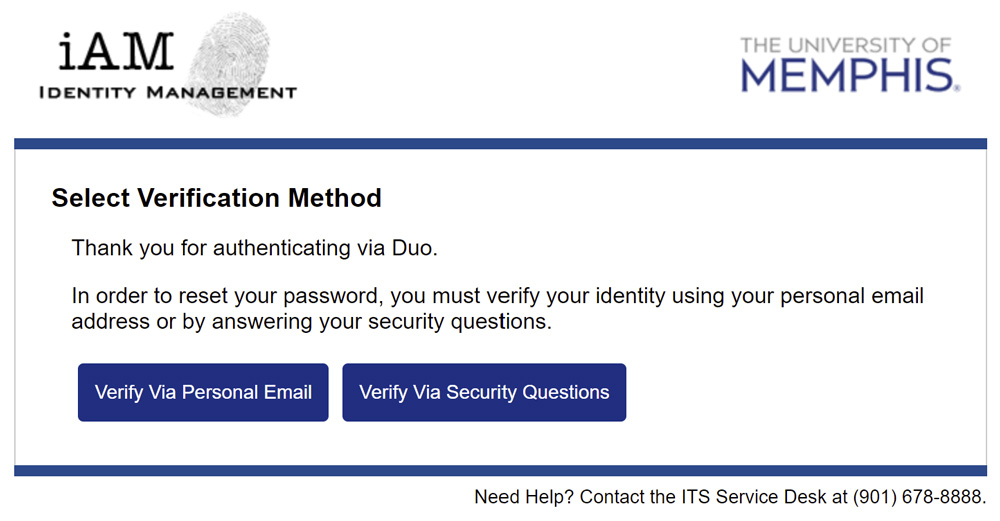 If you choose to verify via security questions, you will be prompted to enter the answers to the security questions you established during account creation. Answers must be entered exactly as they were originally input.
To verify via personal email, you'll need to select the email address to which you want your verification code to be sent. You must have a personal (not memphis.edu) email address registered in Banner to select this method.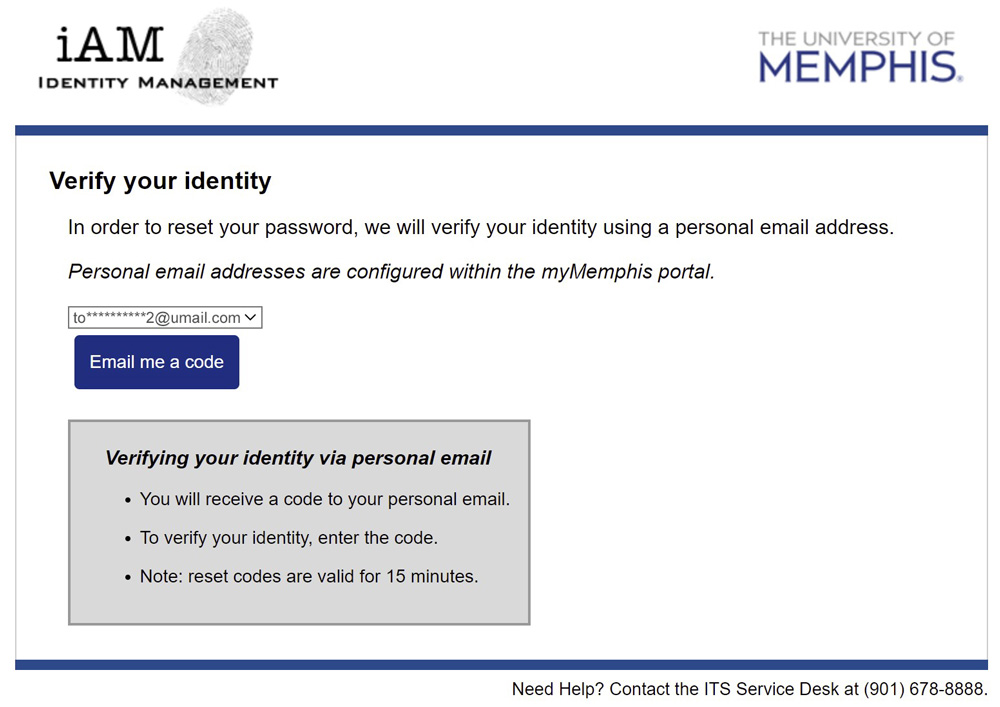 After selecting your email address, click the "Email me a code" button. You'll be directed to a page asking you to enter a security code.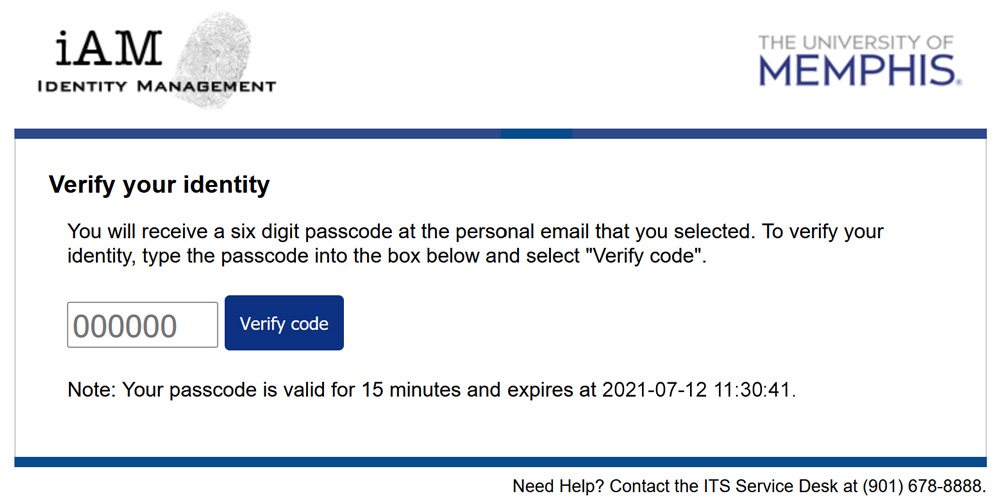 You should receive an email to your selected address containing a six-digit code. This code will expire in 15 minutes from the time of your request.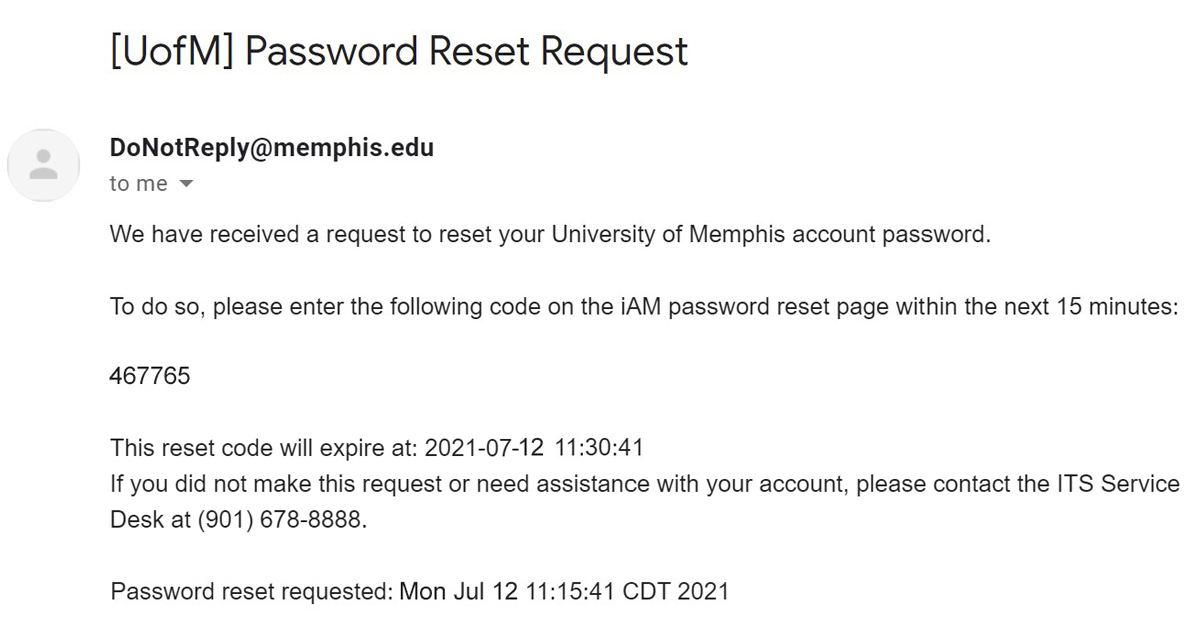 If you do not receive this email within five minutes, you may need to check your junk/spam folder or try the process again. If the email still does not appear, please contact the ITS Service Desk at 901.678.8888.
Return to the password reset page. Enter the six-digit code from your email in the text box, then click the "Verify code" button.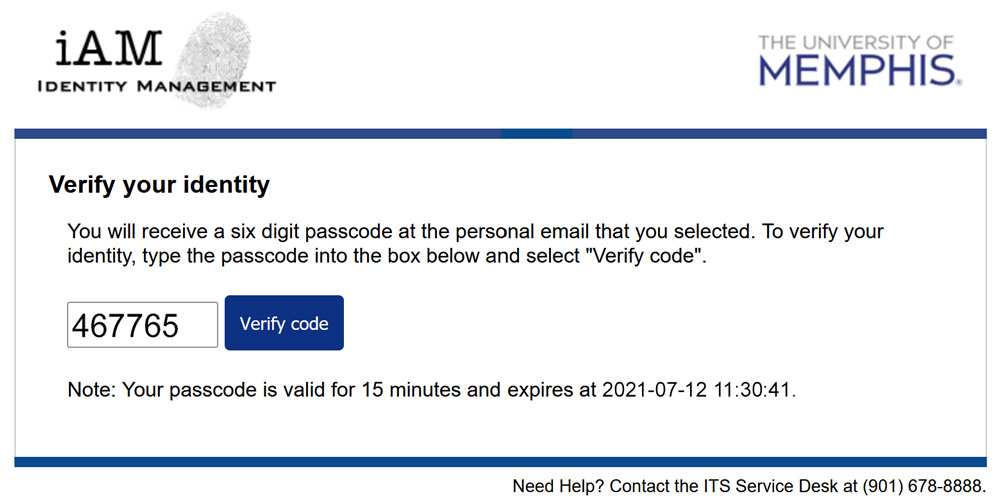 You are now able to choose a new password for your account. Enter a new password, then confirm it in the box below. Finally, click the "Change" button to set your new password.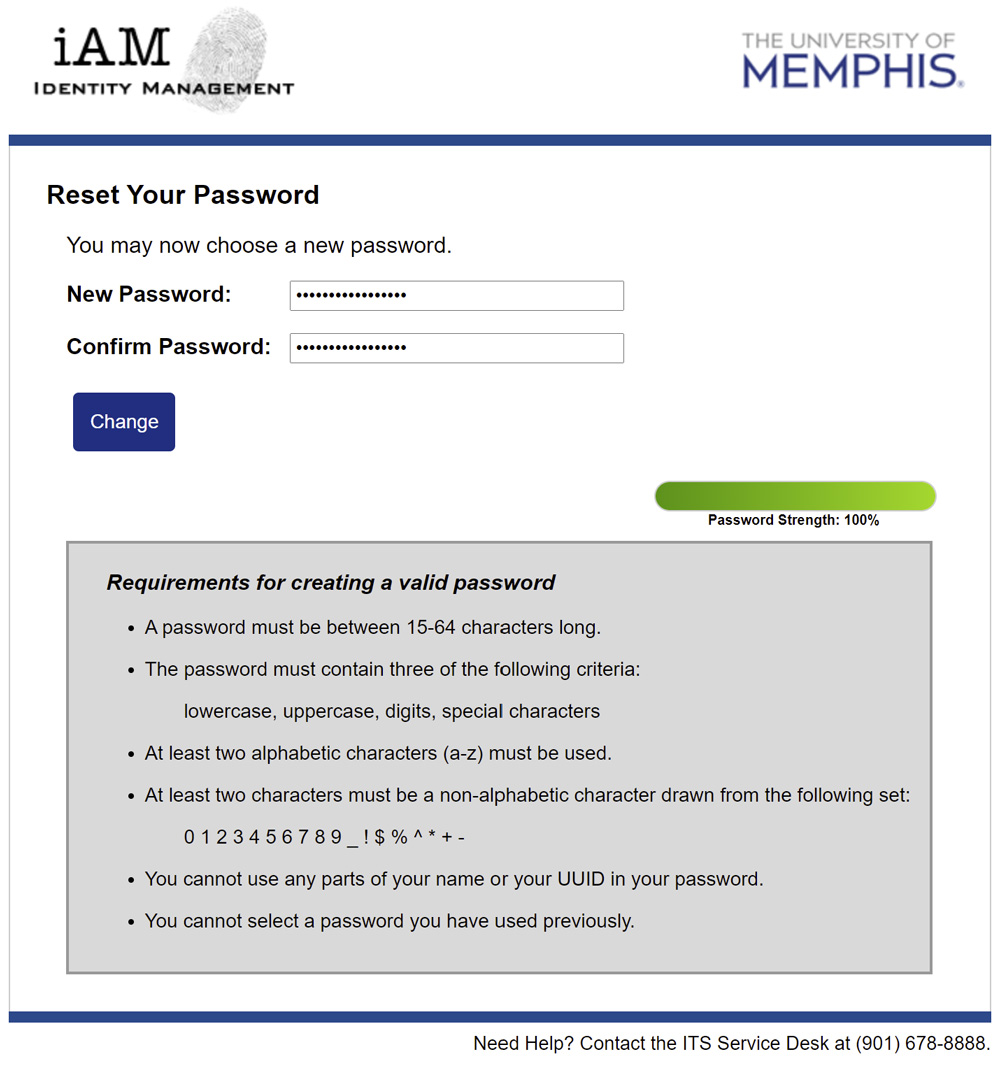 Passwords must meet the security requirements displayed on screen. For tips on choosing a secure password, visit the ITS Password Security webpage.