About Police Services
WHO ARE WE?
Since 1990, University of Memphis police officers have been state-certified by the Tennessee Peace Officers Standards and Training Commission (POST). We have 36 full-time, commissioned officers.
University police officers meet the same employment and training requirements as all other police officers and deputy sheriffs in Tennessee.
WHAT DO WE DO?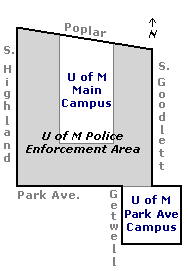 University of Memphis police officers are responsible for providing all police/law enforcement services to the University community. Our mission is to keep the University of Memphis as a safe place to learn, live and work.
While we usually limit our activities to the campus and "Enforcement Area," University officers have enforcement powers anywhere in the City of Memphis based on the mutual assistance agreement in effect with the Memphis Police Department. Our "Enforcement Area" is bounded by Highland on the west, Poplar on the north, Goodlett on the east, and Park Avenue on the south, and includes the South Campus and its border on Getwell.
Based upon its vision to SET THE STANDARD FOR SERVICE and its "STRIPES" values of Service-Trust-Respect-Integrity-Professionalism-Excellence-Support, the University of Memphis Police Services is committed to providing professional and quality police services to the University community, which includes students, faculty, staff, and visitors.