Education
As part of the mission of SETWC, we will be engaging regional education partners including K-12, technical programs, community colleges, and universities to:
Compile a list of transportation related education programs in the region,
Identify effective practices for recruiting students to transportation fields,
Identify gaps and areas of need for workforce demands,
Facilitate partnerships to address gaps, and
Align the transportation workforce pipeline efforts and programming to regional job needs and priorities.
Opportunities for involvement include joining our steering committee, participating in SETWC stakeholder meetings, and providing information about existing programs for inclusion in the SETWC compendium. For more information, or to get involved, contact Dr. Stephanie Ivey at stephanie.ivey@memphis.edu.
(All provided links open in a new window.)
---
T-STEM Academy at East High School
The Southeast Transportation Workforce Center (SETWC) was instrumental in launching and continues supporting a Transportation- STEM (T-STEM) focused blueprint through an exemplar high school in the Memphis area as one of the priority action items identified in the SETWC strategic plan. The vision is that this school and its collaborative partnerships will become a local, regional, and national example for preparing students for STEM careers, with particular focus on the transportation industry. The T-STEM model will serve as a platform for truly transformational educational experiences for students that prepare them to be successful in post-secondary career and educational endeavors.
One recent success with the T-STEM Academy is a fantastic partnership with Cummins, Inc. who, through their Technical Education for Communities Program, supported the development of a diesel technology lab!
Click HERE to see for yourself what this investment means to the students at T-STEM, as interviewed by WMC-TV!!
Click HERE to see GOODworks: Cummins TEC Program at East T-STEM Academy by cityCURRENT.
Earlier press:
Cummins, FedEx, UofM launching global tech program at East's T-STEM Academy, Memphis Business Journal, 1/2/18.
SCS, Cummins partner for technical education expansion at East T-STEM Academy, Commercial Appeal, 1/4/18.
Cummins Brings Its Global Technical Education Program to the U.S., Business Wire, 1/4/18.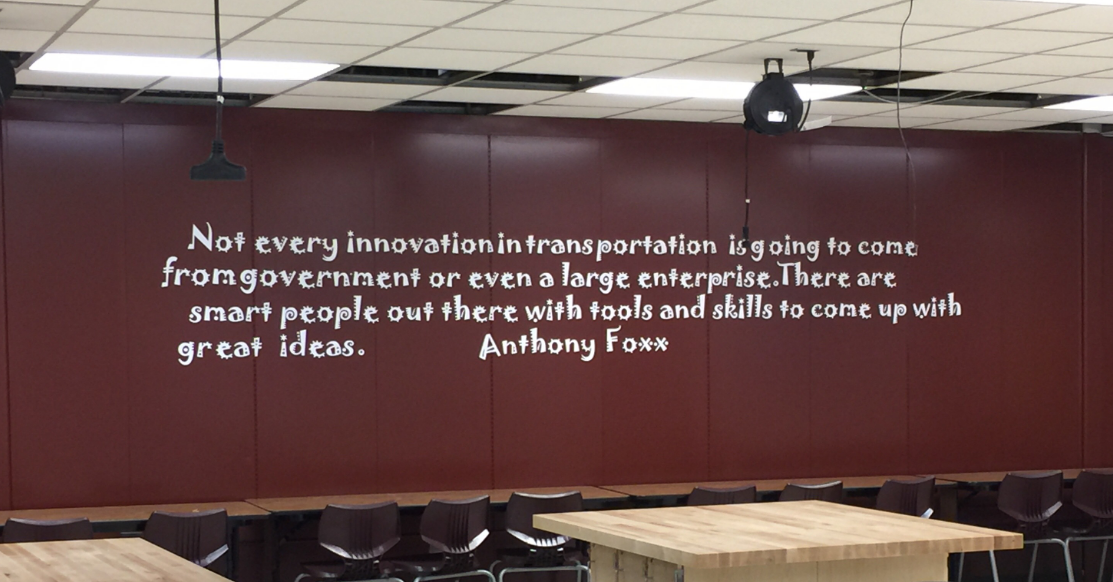 ---
Resources
For Teachers
SETWC Summer Transportation Academy Lesson Plans for High School Students
Agenda, lesson plans, and resources developed by SETWC staff for the week-long summer Transportation Academy for high school students.
2017 (2016 program repeated as Frosh Camp - files same as for 2016)
2018 Summer Transportation Academy

Frosh Camp - files same as for 2016
Level 2 Camp

2019 Summer Transportation Academy

Frosh Camp - files same as for 2016
Level 2 Camp
Engaging transportation activities for middle and high school students, all tied to STEM content and concepts!
National Employability Skills Framework
Central clearinghouse on resources for instruction and assessment for employability skills
Strengthening Skills Training & Career Pathways Across the Transportation Industry
Fact sheet and full report examining six subsectors in transportation including: trucking, highway construction and maintenance, transit and ground passenger transportation, rail, air, and maritime transportation
Transportation, Distribution, and Logistics (TDL) Competency Model
Collaboratively developed competency model highlighting personal, academic, workplace, industry, and sector competencies necessary for success in TDL careers
Heavy Highway Civil Construction Competency Model
Collaboratively developed competency model highlighting personal, academic, workplace, industry, and sector competencies necessary for success in highway civil construction careers
Transportation Lesson Plans (www.transportationcareers.org)
Resources developed through Career Clusters partnership between US Department of Transportation and National Association of State Directors of Career and Technical Education, including transportation careers modules, fully tested problem-based scenarios, and other materials to support integration of transportation topics in the classroom
Transportation Lesson Plans (from University of Memphis Transportation Engineering Careers program)
Standards-based lesson plans integrating science, technology, engineering, and math content in hands-on, problem-based format set within a transportation context
Go! Exploring the World of Transportation
Web resource containing career information, curriculum, articles, and comics related to transportation
---
For Students
Comprehensive, interactive web resource containing transportation career profiles, video interviews of transportation professionals, career exploration newsletter, and transportation-related scholarship and internship opportunities
US Department of Transportation Federal Highway Administration (FHWA) Careers
Resources highlighting FHWA careers, the online application process, and internship programs
US Department of Transportation Careers in Motion
Student Employment Initiative resources including internships, volunteer opportunities, descriptions of jobs by college major, and tips for getting prepared for a career with US DOT
O*NET OnLine Transportation, Distribution, and Logistics Career Cluster
Career resources including job categories, detailed work descriptions, and required skills, knowledge, education, and/or certifications for transportation career cluster occupations with links to job openings, apprenticeships, and training programs
Transportation fact sheets and professional profiles (STEM Spotlights) highlighting transportation career opportunities