About VMSS
Our staff is committed to helping you excel at every level. From day one, we help you integrate into the campus community. We answer questions you might have about college life. It's a new transition and a different experience from what you've known.
The VMSS Student Center is your home on the campus. It's the place where you can connect with others who've "been there" and who understand. It's where you can unwind and escape hectic hallways or find resources that fit your unique needs.
Looking for a Student Veteran Organization? We've got one! The SVO advocates on your behalf and promotes military-friendly policies. Joining the SVO allows you to continue that spirit of service with like-minded peers. Don't delay, get involved for fun events both on and off campus.
VMSS is one of two offices on campus dedicated to your success. VEBC (the office that processes GI Bills) and VMSS work to ensure that your experience at UofM is the best it can be!
Services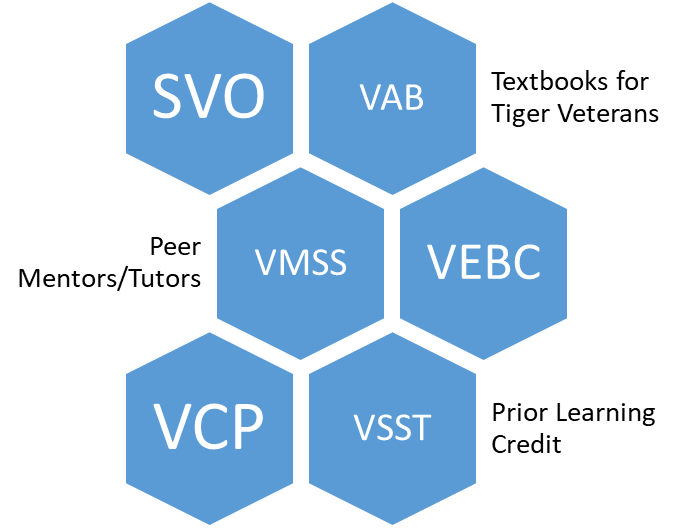 Legend: VMSS=Veterans & Military Student Services, SVO=Student Veterans Organization, VAB=Veterans Advisory Board, VEBC=Veterans Education Benefits and Certification, VSST=Veterans Student Success Team, VCP=Veterans Community Partners
Contact the VMSS
Veterans & Military Student Services
Office Hours: Monday - Friday, 8:00 am - 4:30 pm
499 University Street
University Center Suite 222
The University of Memphis
Memphis, TN 38152
Phone: 901.678.4269
FAX: 901.678.4207
Email: veterans@memphis.edu
Veterans Educational Benefits & Certification (VEBC)
Office Hours: Monday - Friday, 8:00 am - 4:30 pm
Registrar's Office
003 Wilder Tower (basement)
University of Memphis
Memphis, TN 38152-3520
Phone: 901.678.2996
FAX: 901.678.1425
Email: vetedbenefits@memphis.edu
Website: https://www.memphis.edu/registrar/vetedben