About VMSS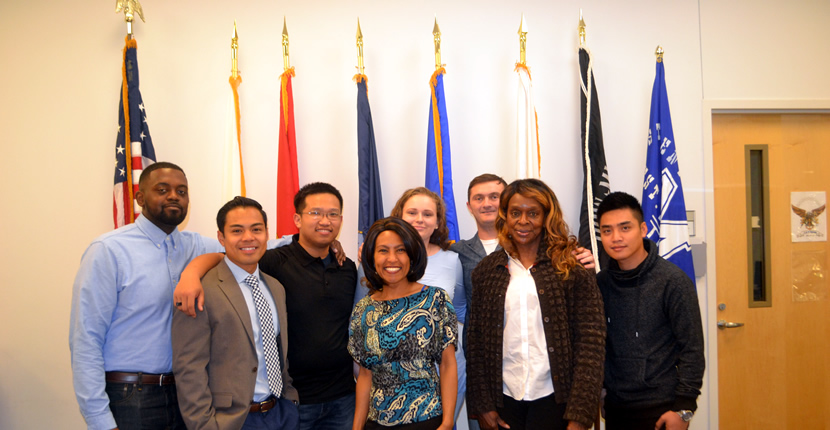 Mission of VMSS
To increase persistence and timely graduation of military-connected students through a model of support that cultivates camaraderie and inclusion, maximizes student access to resources, and fosters community alliances that promote career development.
Vision
To ensure a smooth and seamless transition from "boots" to books in a post-secondary setting. The Veterans and Military Student Services Department will provide resources and opportunities for transitioning students to gain the skills and confidence needed to navigate university life. Students will experience quality engagement opportunities and build camaraderie with other service members and dependents through enriching and meaningful activities and programs. Students will also receive both on campus and off campus support that will that will contribute to both academic and personal success, including guidance on how to best prepare for the workforce.
Goals
To cultivate academic and personal success among veterans, military students and their dependents through collaborative on campus partnerships. The Veterans and Military Student Services Department (VMSS), in conjunction with the Veterans Educational Benefits and Certification (VEBC), Disability Resources for Students (DRS), Veterans Student Success Team (VSST), and the Student Veteran Organization (SVO) partner to create an efficient, streamlined approach so that students can graduate in a timely manner and be adequately prepared for professional success.
Services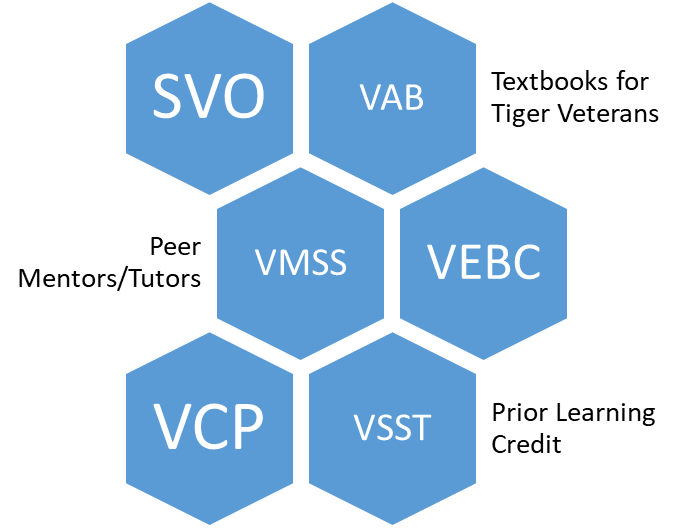 Legend: VMSS=Veterans and Military Student Services, SVO=Student Veterans Organization, VAB=Veterans Advisory Board, VEBC=Veterans Education Benefits and Certification, VSST=Veterans Student Success Team, VCP=Veterans Community Partners
Contact the VMSS
Veterans and Military Student Services
Office Hours: Monday - Friday, 8:30 am - 5:00 pm
499 University Street
University Center Suite 222
The University of Memphis
Memphis, TN 38152
Phone: 901.678.4269
FAX: 901.678.4207
Email: veterans@memphis.edu
Veterans Educational Benefits & Certification (VEBC)
Office Hours: Monday - Friday, 8:00 am - 4:30 pm
Registrar's Office
003 Wilder Tower (basement)
University of Memphis
Memphis, TN 38152-3520
Phone: 901.678.2996
FAX: 901.678.1425
Email: vetedbenefits@memphis.edu
Website: https://www.memphis.edu/registrar/vetedben