Veterans News & Events
Welcome to the UofM Veterans and Military Student Services news and events page!


In the Spotlight

On April 18, 2109, the UofM Veterans and Military Student Services celebrated the grand accomplishments of student veterans who graduated in the Spring and Summer terms of 2019.
This event also marked the Student Veteran Organization's first ever, "SVO New Member Induction" in which all new members received certificates and a formal welcome to the student organization.
Our News & Events
VMSS Launches the Textbooks for Tiger Veterans Lending Library
Starting in the Fall 2019 semester, UofM veterans and military-connected students will be able to borrow textbooks housed at the University Libraries in the reserves section. The Veterans and Military Student Services Department (VMSS) and University Libraries have collaborated to offer students a resource that helps defray the cost of textbooks. Recognizing an increase in the number of student veterans seeking textbook resources last year, VMSS Coordinator, Marcallina James (MJ) and Graduate Assistant, Sydnie Roberts revived the book lending program started by the UofM Student Veteran Organization in 2016.
Read more about this exciting launch!
---
UofM Awarded Gold Status on Top Military-Friendly Schools for 2019 - 2020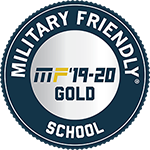 Read more about our GOLD status award!
---
Financial Aid Notice
The Financial Aid Office administers federal, state and institutional aid programs to qualified students. Have you applied for FAFSA yet? Did you know that you may be eligible for Federal Student Aid, VA educational benefits AND additional scholarships?

Learn more about financial aid, scholarships and VA educational benefits!

---
VMSS Recognition Events
---
UofM Named a Top 10 Military Friendly School for Fifth Straight Year
The University of Memphis has been named to the Military Friendly Schools List for the fifth consecutive year by Victory Media, originator of the Military Friendly group of education and career resources for veterans and their families. The UofM was ranked gold status among Tier 2 research institutions. The list honors the top colleges, universities and trade schools that are doing the most to embrace military service members and veterans as students and ensure their success on campus.