VMSS Staff
The staff of the Veterans & Military Student Services is eager to meet and assist student veterans, military and their dependents.
Veterans and Military Services Coordinator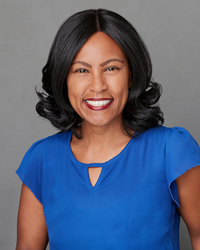 Marcallina S. James - "MJ"
U.S. Navy Veteran
Contact: 901.678.4269 / msjames@memphis.edu
Marcallina James (MJ), joined the Veterans & Military Student Services team September 2017. Marcallina is a U.S. Navy veteran who served during Operation Desert Storm.
As the Veterans and Military Services Coordinator, James works collaboratively with campus staff, faculty and administrators in coordinating programs for students including: orientation, social programs, recognition events, advising and campus engagement. In addition, James functions as an advisor for the Student Veterans Organization (SVO).
Following her military service, James immediately set out to obtain a post-secondary degree. She enrolled in TRIO-Veterans Upward Bound (VUB), a free college readiness program designed to support veterans as they transitioned from military to college. She earned a Bachelor of Arts in English from Augsburg University in Minneapolis, MN.
Having a heart for military service members and higher education, James eventually secured a position as the advisor and later Assistant Director of the VUB program. In these roles, she found an opportunity to help other veterans gain the benefits of academic transition support that would eventually lead to professional success.
James has had over twenty years of professional experiences including work in education, mass media, human services and self-employment. Being a veteran and career changer has inspired her to engage in work that helps adult-learners "re-invent" themselves through education and the attainment of a new vocation.
Although "MJ" is a Minnesota native, she now considers Memphis to be her home. In her spare time, James enjoys cooking, creative writing and serving on the Board of Catholic Charities-St. Sebastian's Veterans Services.
VMSS Support Staff
| | |
| --- | --- |
| Sydnie Roberts | GA-Transition Specialist |
| Zoe Allen | Student Worker |
| Dawn Bursi | Student Worker |
| Azhar Baig | Student Worker |
| Rogers Prewitt | Student Worker |