IEAA News and Information
The Institute of Egyptian Art and Archaeology is a Tennessee Center of Excellence. It is a component of the Department of Art at The University of Memphis, in Memphis, Tennessee (USA). The IEAA is dedicated to the study of the art, history and culture of ancient Egypt through teaching, research, exhibition, and community education.
Remembering Honey Scheidt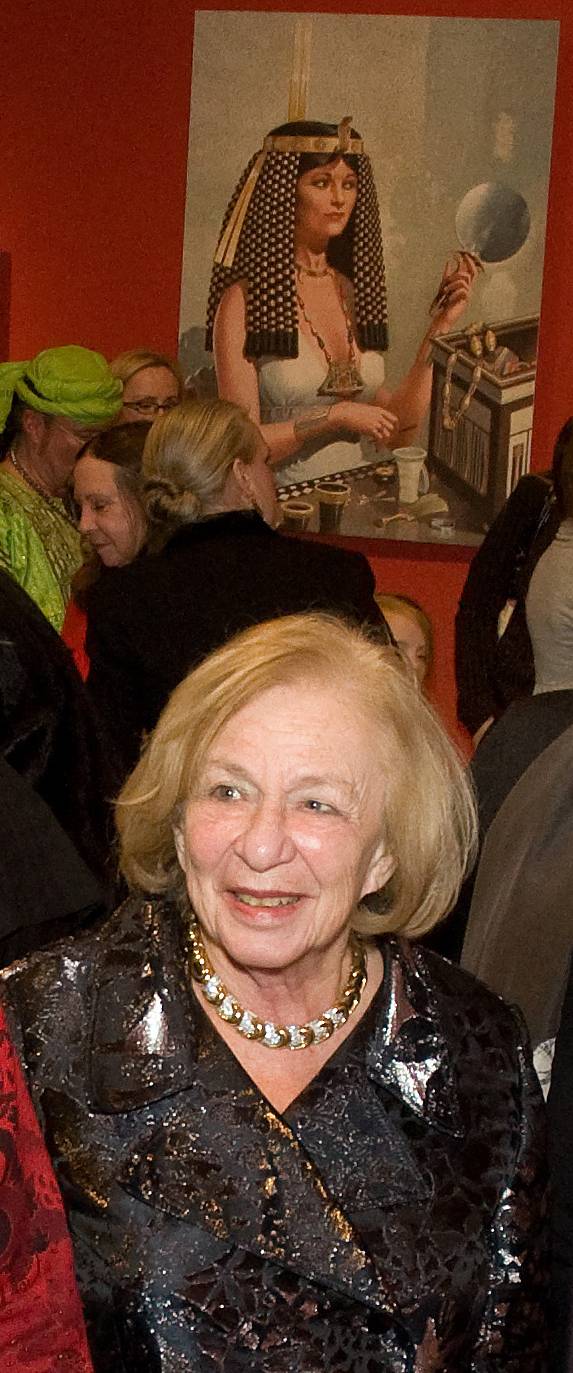 The IEAA family of faculty and students mourns the loss this year of two champions for the arts in Memphis, Rudi Scheidt and Honey Scheidt. While the dynamic couple sponsored many cultural programs in the city, it was Honey whose heart was captured by ancient Egypt and who was instrumental in bringing the blockbuster exhibit, "Ramses the Great," to Memphis in 1987. From then onward, Rudi and Honey were staunch supporters of Egyptology, generously funding such projects as transporting the coffin of PadiAtum, now in the university's Art Museum, from Little Rock to Memphis. It was also Honey who maintained an academic interest in ancient Egypt as well as a museological one. We were always honored to see her in attendance at IEAA-sponsored public lectures and events. We will remember our dear friends Rudi and Honey

(forever and ever).
Photo credit: Honey Scheidt in 2011 at the opening of the IEAA co-sponsored exhibit, "Relics, Replicas & Revivals," at the Tennessee State Museum, Nashville. The exhibit received a Tennessee Association of Museums award in 2012.

The Egyptian Gallery is
CLOSED.
The Egyptian gallery will reopen later this spring. Please check back for updates!
Read Important Guidelines Before Your Visit HERE
Virtual Exhibition of Egyptian Artifacts in 3D!

Dr. Joshua Roberson, assistant professor of Art History, is working on a project to develop new skills and techniques for creating three dimensional (3D) images for research and teaching. He is compiling a pilot sample using artifacts in the IEAA collection. The images can be manipulated by the viewer to see all sides of an object.

Click here to see six more 3D images of IEAA antiquities on Sketchfab.

Art History Student Wins University of Memphis Award!
Cannon Fairbairn, M.A. student in Art History, received 2nd place honors in the University of Memphis's 2020 Student Research Forum for her presentation, "Communicating Power Through Iconography: A Suckling Scene from the Temple of Seti I at Abydos." She also presented a poster on her research at the 2020 annual meeting of the American Research Center in Egypt. Congratulations Cannon!
(Line Drawing by Auguste Mariette, 1869)


Art History Students Create Videos of Egyptian Artifacts.
University of Memphis graduate students in Art History create videos of objects in the IEAA's Egyptian collection. As part of a class assignment under the guidance of Dr. Lorelei Corcoran, three students each selected, researched and produced a short video on an ancient Egyptian object. Watch these videos on the University of Memphis' Youtube page or in Collections Videos.
Check back for more updates throughout the next coming months!
Department of Art has undergraduate Art History concentration in Egyptian Art.
The new concentration gives undergraduate students the opportunity to study various aspects of ancient Egyptian culture, focusing primarily on its art, language and literature. The University of Memphis is one of only a handful of U.S. universities with undergraduate degree programs in Egyptology.
For information about the undergraduate concentration in Egyptian art, click here.

Events and Programs for Fall 2020
Our Fall 2020 events are pre-recorded video presentations.
For more information about these events visit the IEAA Events page, or select highlighted text in one of the events below.
Fourth Annual IEAA Alumnae/Alumni Lecture
Join us on Friday, October 23, 2020, for a video presentation by Dr. Kevin Johnson, Chair of the History, Global & Political Studies Department and Associate Professor of History at Taylor University in Upland, Indiana. Dr. Johnson received his PhD from the Department of History at the University of Memphis in 2012 and his MA in Art History, Egyptian Art and Archaeology concentration, from the same institution. Dr. Johnson will update us on his research piecing together the scattered fragments of the impressive limestone sarcophagus of Menna, mayor of Herakleopolis Magna (ancient Nen-neswt, also Hut-nen-neswt) in the New Kingdom. Two of the panels from this coffin are in the Egyptian collection of the University of Memphis.
To view the video, select the link: https://youtu.be/wklEvy7eiDk

Fifteenth Annual William J. Murnane Memorial Lecture
Please reserve the evening of Friday, November 6, 2020, for a video presentation by Dr. W. Raymond Johnson, director of the Epigraphic Survey of the Oriental Institute of the University of Chicago and an internationally known and respected Egyptologist. In recent years, new archaeological material has emerged that sheds light on the significance of Tutankhamun's reign and enriches our knowledge of his life, the luxurious court in which he lived, his extraordinary building activities, and the circumstances of his death. In his presentation, entitled "Tutankhamun's Life, Death, and Afterlife: New Evidence from Thebes," Dr. Johnson will examine some of these new discoveries from Thebes and share stories with us about that golden moment in Egyptian history.
To view the video, select the link: https://youtu.be/JuHCL88qpFw