2020 News and Events
Fall 2020 Open House
Friday, August 28, 2020, 1 - 2pm
Via Zoom; for details RSVP to Prof. Latta.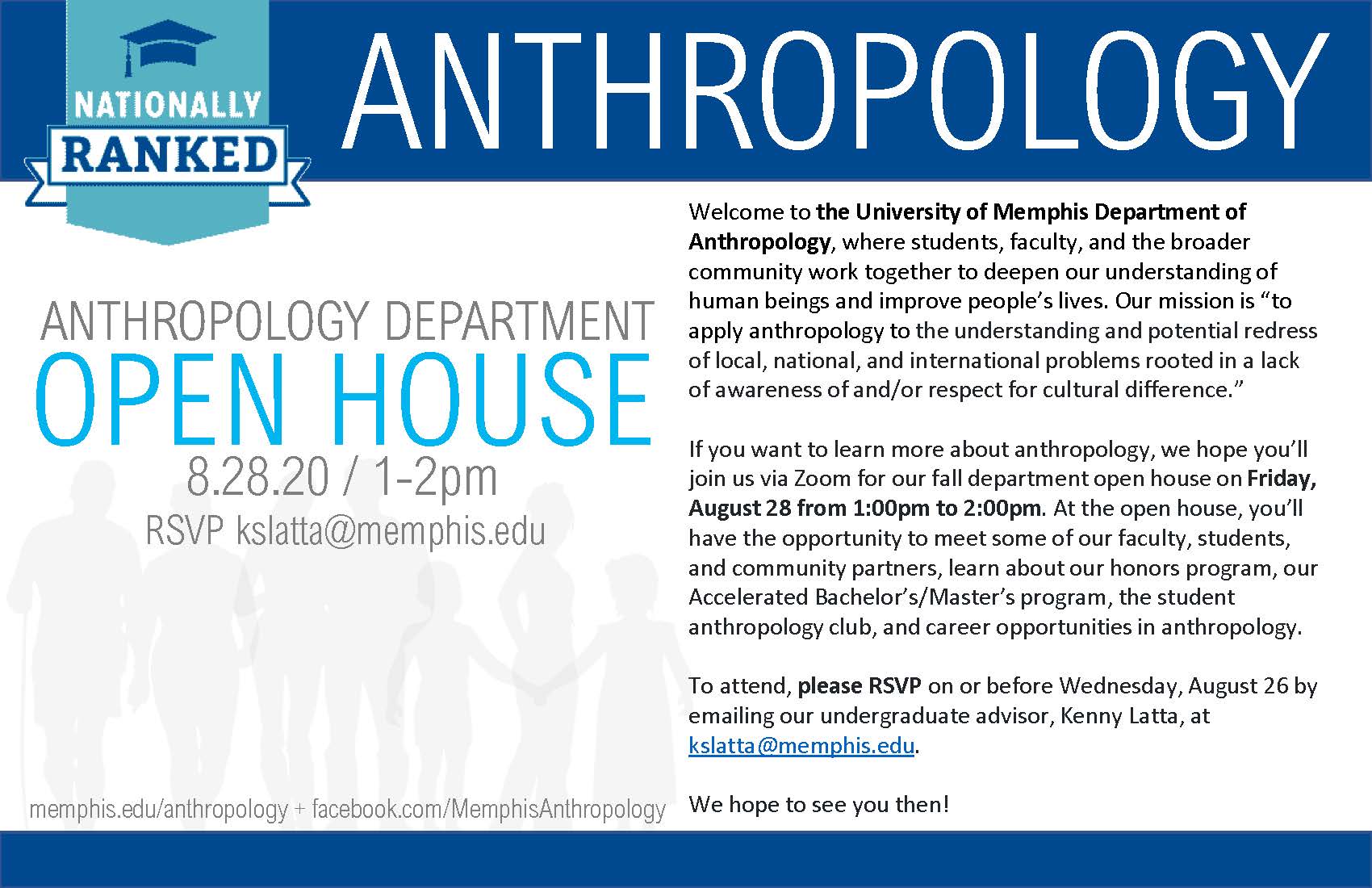 Anthropology Day 2020 Film Double Feature
Noon - 5pm, Thursday, 2/20/20, in the McWherter Library 2nd Floor Commons Room.
Follow this link for the full schedule and more details.
The Laura Bassi Scholarship
The Laura Bassi Scholarship was established by Editing Press in 2018 with the aim of providing editorial assistance to postgraduates and junior academics whose research focuses on neglected topics of study, broadly construed, within their disciplines. The scholarships are open to every discipline and are awarded thrice per annum: December, April, and August. All currently enrolled master's and doctoral candidates are eligible to apply, as are academics in the first five years of their employment. There are no institutional, departmental, or national restrictions.
Deadline
Spring 2020
Deadline: 25 March 2020
Results: 15 April 2020
How to Apply
Applicants are required to submit a completed application form along with their CV using the application portal on the Editing Press website by the relevant deadline. For more information about the Scholarship, including the application form, previous awardees, and a brief description of the remarkable figure of Laura Bassi, see: https://editing.press/bassi
Colloquium Series, Spring 2020 (Cancelled)
The UoM Anthropology Department Colloquium Series includes lectures, film screenings, brown bag discussions, and informal talks by scholars at the UofM and throughout the world. Events are held semiannually, or more frequently when opportunity allows. This Spring we are pleased to announce that Dr. Carwil Bjork-James from Vanderbilt University will be visiting April 16-18, with his main lecture in the afternoon of Friday the 17th. We will post more details as the time approaches.
Dr. Bjork-James is an Assistant Professor of Anthropology at Vanderbilt, where his work focuses on Social Movements, Indigenous Rights, and Political Anthropology.