News and Events
Want to stay up to date on the department? Like our Facebook page, follow us on twitter, and view our past and current newsletters!
Brown Bag Lunch: The Anthropology of Walls
Friday, March 22, 12—1pm, Manning Hall 322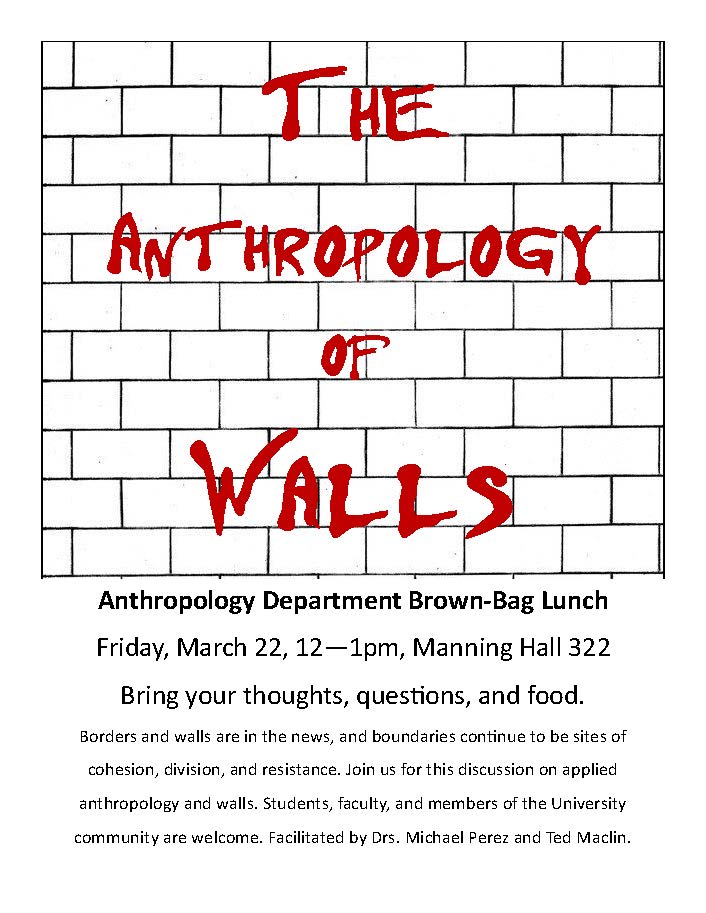 Bring your thoughts, questions, and food!
Borders and walls are in the news, and boundaries continue to be sites of cohesion, division, and resistance. Join us for this discussion on applied anthropology and walls. Students, faculty, and members of the University community are welcome. Facilitated by Drs. Michael Perez and Ted Maclin.
CSAS Annual Meeting: April 18 - 20, 2019
The University of Memphis Anthropology Department will be hosting the Annual Meeting of the Central States Anthropological Society.
Faculty, students, independent scholars, and practitioners are invited to invited to attend to see papers, posters, organized sessions, workshops, and roundtables in all fields and subfields of anthropology, both academic and applied. The 98th annual CSAS conference is student-friendly and features a paper competition for both undergraduate and graduate students. It also offers an opportunity for anthropologists from throughout the Midwest, from institutions large and small, to meet, talk, and network in a welcoming and professional environment.
For more information, see the official conference website.
Distinguished Lecture: Vince Diaz, Associate Professor of American Indian Studies, University of Minnesota Twin Cities