News and Events
Want to stay up to date on the department? Like our Facebook page, follow us on twitter, and view our past and current newsletters!

---
Environmental Justice Symposium
Monday, November 5, 6 - 7:30pm
The Struggle for Environmental Justice in Memphis and Shelby County: Then & Now
Please join us for an evening of reflection and inspiration to keep the movement for environmental justice alive and pressing forward.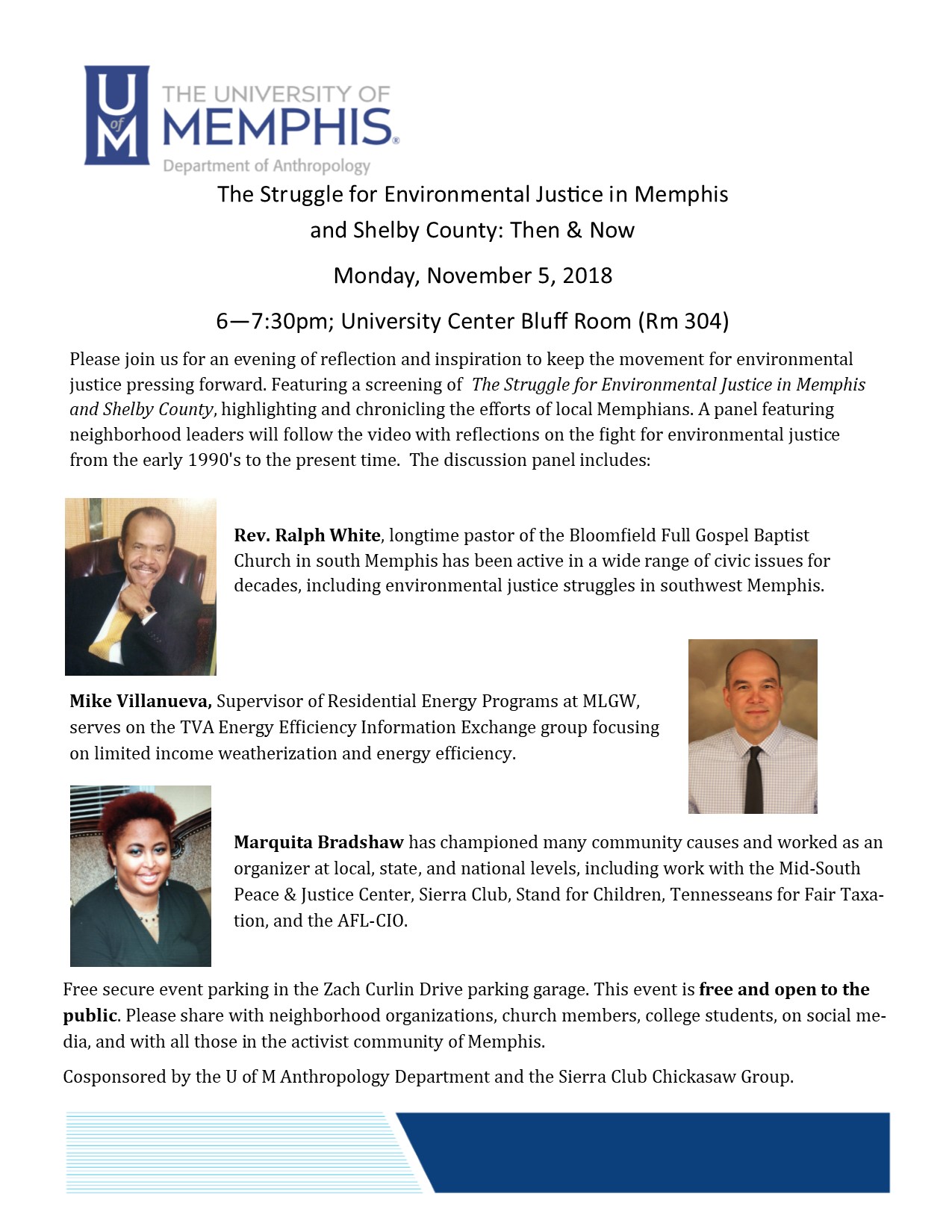 On November 5, 2018 the University of Memphis Anthropology Department is hosting the screening of a (brief) locally produced video entitled, The Struggle for EJ in Memphis and Shelby County, highlighting and chronicling the Environmental Justice (EJ) campaigns and efforts of local Memphians. In addition, a panel featuring neighborhood leaders will follow the video with reflections on the fight for environmental justice from the early 1990's to the present time. University of Memphis graduate students have created a digital (and paper) timeline featuring numerous environmental justice struggles that occurred here in the Memphis area that will also be introduced.
This event is co-sponsored by the Anthropology Department of the University of Memphis and the Sierra Club Chickasaw Group. The University of Memphis is offering free secure parking in the Zach Curlin Drive high-rise parking lot. This event is free and open to the public.
Please share with neighborhood organizations, church members, college students, on social media, and with all those in the activist community of Memphis. Click here for a printable PDF of the event flyer.
---
Coming in 2019!
The University of Memphis Anthropology Department will be hosting the Annual Meeting of the Central States Anthropological Society.
Faculty, students, independent scholars, and practitioners are invited to invited to attend to see papers, posters, organized sessions, workshops, and roundtables in all fields and subfields of anthropology, both academic and applied. The 98th annual CSAS conference is student-friendly and features a paper competition for both undergraduate and graduate students. It also offers an opportunity for anthropologists from throughout the Midwest, from institutions large and small, to meet, talk, and network in a welcoming and professional environment.
Distinguished Lecture: Vince Diaz, Associate Professor of American Indian Studies, University of Minnesota Twin Cities