May 2014 Commencement Speaker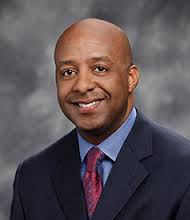 Marvin Ellison
Executive vice president of U.S. stores for The Home Depot
Marvin Ellison is the executive vice president of U.S. stores for The Home Depot. He is responsible for driving alignment and execution across the Company's retail divisions and overseeing operations of more than 1,972 stores in the United States, Guam, Puerto Rico and the U.S. Virgin Islands.
Marvin has nearly 30 years of retail experience and has served in a variety of operational roles at The Home Depot since joining the Company in 2002. Before his promotion to EVP of U.S. stores in August of 2008, Marvin was president of the Northern Division of The Home Depot. He was responsible for the sales and operations of more than 650 stores in 21 Midwest and Northeastern states and led a team of more than 110,000 associates.
Previously, Marvin served as senior vice president of global logistics for the Company. His team oversaw all domestic distribution, transportation, store and appliance delivery, import distribution and international logistics throughout the United States, Canada, Mexico, China and more than 35 other countries. Prior to his role in Global Logistics, Marvin was the vice president of loss prevention.
Before joining The Home Depot, Marvin spent 15 years with Target Stores in a variety of operational roles.
Marvin serves on the board of directors for H&R Block and the Atlanta Police Foundation.
Marvin is actively involved in philanthropic efforts including inner-city school renovations, as well as mentoring programs aimed at developing inner-city youth.
Marvin earned a business administration degree in marketing from the University of Memphis and a Master of Business Administration from Emory University.