Silicon Valley Startup Licenses Patent for Adaptive Multi-Factor Authentication System
Posted on 2019-12-02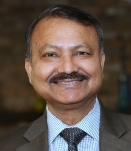 The University of Memphis Research Foundation has signed an agreement to license a U.S. patent for an Adaptive Multi-factor Authentication System invented and developed by a team led by Dr. Dipankar Dasgupta, professor of Computer Science and director of the Center for Information Assurance.
The patent is licensed to i2Chain, a San Francisco-area cybersecurity startup, which plans to evolve adaptive authentication for its own applications as well as offer the technology as a service to other identity providers.
"Digitalization and new privacy laws are forcing companies to enact creative and proven solutions to secure their identity and information," said Ajay Jotwani, co-founder and CEO of i2Chain. "This invention allows us to improve the identity defense as well as build research collaboration with Dr. Dasgupta and the Center for Information Assurance at the UofM."
For more information please see the full press release.