University Libraries Overview
The University Libraries are significant resources for both The University of Memphis and the Mid-South region. While the primary mission of The University Libraries is to serve the University community, library services are extended to students and faculty in other colleges and universities in the Memphis area, local and regional corporations, governmental agencies, and adult citizens of the community, including the libraries' support group, the Friends of the Libraries. Individuals not associated with The University of Memphis can request a Library Privileges Card at the McWherter Library Circulation Desk.
Ned R. McWherter- 3785 Norriswood Ave, Memphis, TN 38111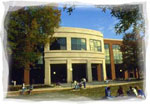 The Ned R. McWherter Library is located west of Zach Curlin Drive and south of Norriswood Avenue. Constructed under earthquake-resistant building codes, the McWherter Library was designed to provide state-of-the-art access to information technology and to be fully accessible to the disabled. It has 725 network connections throughout the building, including those in study carrels, group study rooms and the Learning Commons. Wireless connectivity is provided throughout the building on all floors. The building's distinctive feature is the domed rotunda, copper-covered on the outside and centered with an oculus that floods the interior glass walls and grand staircase with natural light and spotlights the compass rose inlay of the granite floor four stories below. The University seal in the center of the eight-point compass contains a date which is changed each year, allowing University graduates to make souvenir rubbings.

Restrooms, elevators, and public copiers are centrally located on each floor. There are public phones in the library which allow free local and toll-free calls. These phones are located on the 1st floor in the elevator lobby, and on the 2nd, 3rd & 4th floors near the men's restrooms.

Branch Libraries

The University Libraries includes the McWherter Library and three branch libraries: Health Sciences, Lambuth Campus (Jackson, TN), and Music. The Music Library is located on the Main Campus; the Health Sciences Library is located in the Community Health Building at 4055 North Park Loop. For additional information see Hours and Locations pages.