Bradly Knox
MA GRADUATE STUDENT, DEPARTMENT OF COMMUNICATION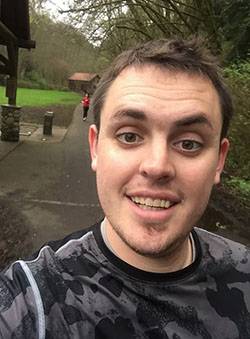 About
Bradly is originally from Everett, Washington (Greater Seattle Area), where he completed high school, joined the Navy, attended community college and eventually a bachelor's at University of Washington. He holds a dual major in Communication and Linguistics and after his bachelor's he worked in the private security sector before attending University of Memphis for his Masters
Education
Bachelor of Arts in Communication, University of Washington, Seattle, WA
Bachelor of Arts in Linguistics, University of Washington, Seattle, WA
Experience
Undergraduate Researcher at Department of Linguistics in Sociolinguistics Lab
Undergraduate Researcher at Department of Communication (University of Washington) for Dr. Richard Kielbowicz
Undergraduate Researcher at Department of Psychology for Institute for Learning and Brain Sciences for Dr. Andrew Meltzoff
Undergraduate (Independent) Researcher at Department of Communication (advised by: Dr. Leach Ceccarelli)
Work Study: Video Transcriptionist at Department of Education for LIFE Research Center for Dr. Andrew Shouse
Honors and Awards
University of Washington, Department of Communication, Departmental Funding for Research Presentation: $500.00
Research
Surveillance and security studies
Applied rhetoric, communication, and discourse analysis
Anticorruption and corruption
Publications
Knox, B. A. (2014, May 9). The visual rhetoric of lady justice: Understanding jurisprudence through 'metonymic tokens.' Student Pulse. 6(5). http://www.inquiriesjournal.com/articles/896/the-visual-rhetoric-
Knox, B. A. (2016, March 31). Vetting corrupted acts: Anti-corruption training for security professionals (abstract). Security Industry Specialists, Inc. Newsletter.
Presentations
Knox, B. A. (2014, February 15). Understanding jurisprudence through 'metonymic tokens' of lady justice. Western States Communication Association. Anaheim, CA
Teaching
No official course numbers taught; however, my background sheds light on a diverse volunteering and tutoring. I mentored high school students as a Dream Project Mentor. I volunteered as a English language facilitator for ESL students.