TIGUrS Urban Garden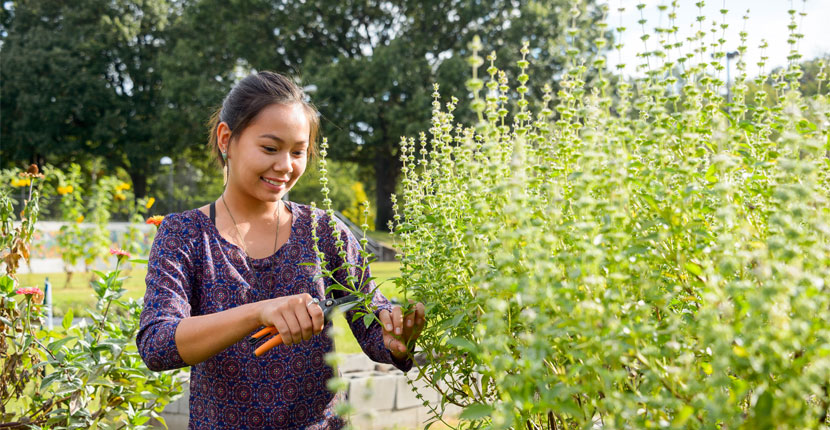 GROW & EAT FREE ORGANIC FOODS - EARN VALUED VOLUNTEER HOURS - STUDY IN NATURE'S SOLITUDE
Annually funded by student Green Fees, the TIGUrS (Tigers Initiative for Gardens in Urban Settings) Garden shares with students, volunteers, campus staff and the community the benefits and techniques that make for a healthy gardening and green space experience. Since the summer of 2009, the award winning* TIGUrS Garden, located on the University of Memphis Main Campus next to the Elma Roane Fieldhouse, has served as an ever-evolving model for organic, sustainability-focused gardening within the confines of restrictive urban conditions. TIGUrS has proven that environmentally responsible food production, urban beautification and stress-reducing greenspace are well within the reach of the urban communities.
*Winner of the 2012 Tennessee Governor's Environmental Stewardship Award
What's growing in our garden?
TIGUrS gardens are located around campus, including the main Oasis Garden located beside the Elma Roane Fieldhouse, as well as Satellite Gardens located in front of Jones Hall, McCord Hall and Physical Plant Motor Pool.
Typically available items include:
VEGETABLE & FRUIT
Tomato - Beefsteak, Rainbow Cherry, Yellow Pear
Squash - Yellow Crookneck, White Scalloped, Zucchini, Spaghetti
Peppers - Sweet Purple Beauty, Banana, Jalapeno, Habanero
Eggplant - Black Beauty Globe, Gretel White
Watermelon - Sweet Baby, Moon and Star, Yellow Belly
Potato - Yukon Gold, New Small Red
Sweet Potato - Beauregard, O Henry
Bean - Edamame, Scarlet Runner
Swiss Chard - Magenta, Bright
Cucumber - Armenian, Burpless Hybrid
Artichoke - Green Globe
Peas - Black Eyed
Jerusalem Artichoke (Sunchoke)
Okra
Kohlrabi
Bitter Gourd
Carrots
Corn
Sunflower
Cantaloupe
Beet
Apple
Peach
Strawberry
HERB
Basil - Genovese, Purple Ruffle, Large Italian Leaf, Spicy Globe
Mint - Spearmint, Peppermint, Lemon Balm, Apple Balm
Cilantro
Thyme
Rosemary
Dill
Lavender
Sage
Parsley
Turmeric
Ginger
FLOWER & ORNAMENTAL
Nasturtium
Zinnia
Borage
Merigold
Catnip
White Cherry
Milkweed
Volunteer
EARN VALUED VOLUNTEER AND SERVICE HOURS
Volunteers are essential at the TIGUrS Garden, helping to create a better garden and a better community. Share your interest, energy, knowledge and passion in the garden. Group and individuals are welcome. We encourage your participation as a green volunteer to help further sustainable practices on our campus while gaining skills that follow you forth into whatever community you call home.
Contact us
For more information about the garden or job opportunities, please contact Art Johnson:
art.johnson@memphis.edu
901.678.4201