*Mobile users » Click to HERE to see MENU
Got news?
ESMS faculty awarded grant for running shoe research
May 1, 2023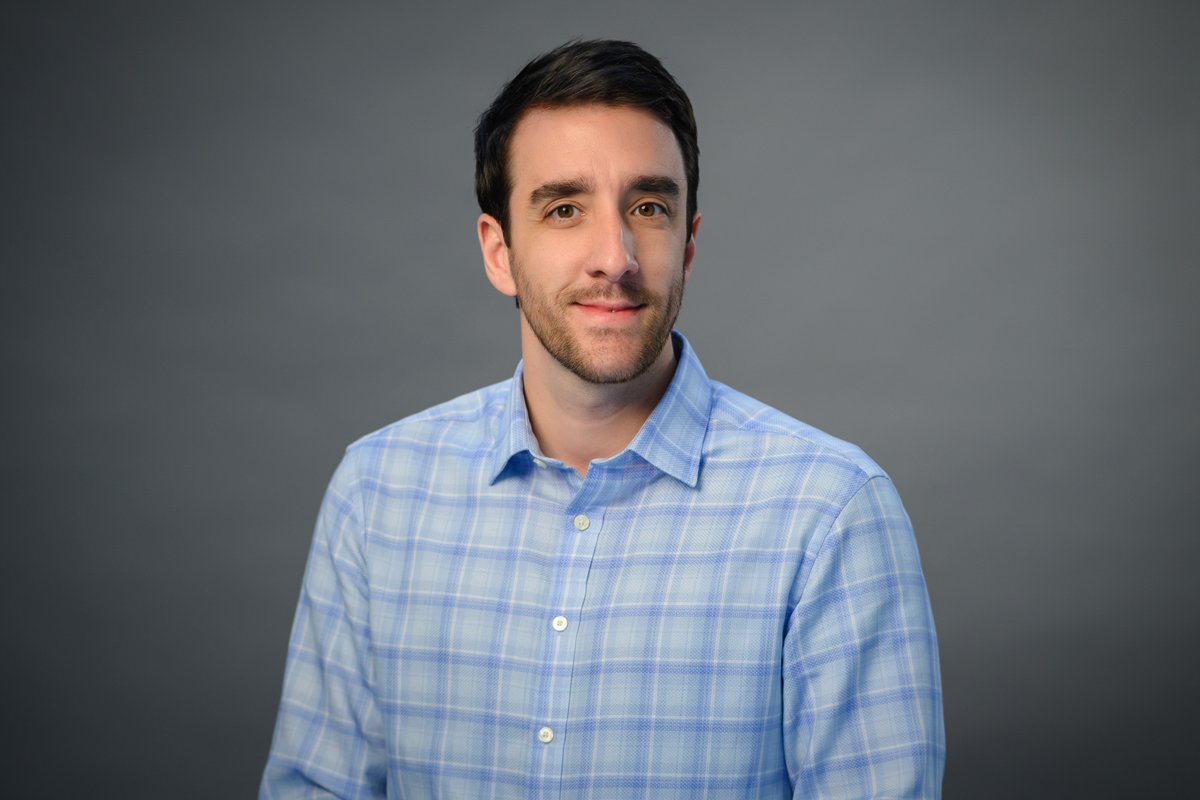 Dr. Max Paquette obtained research funding from New Balance to study how shoes affect training load and muscle soreness in distance runners. Sam Lyons, student in our Applied Physiology & Neuromechanics doctoral program, will be assisting on the project.
---
Methodist Le Bonheur Healthcare employees gain certifications through CHS
April 22, 2023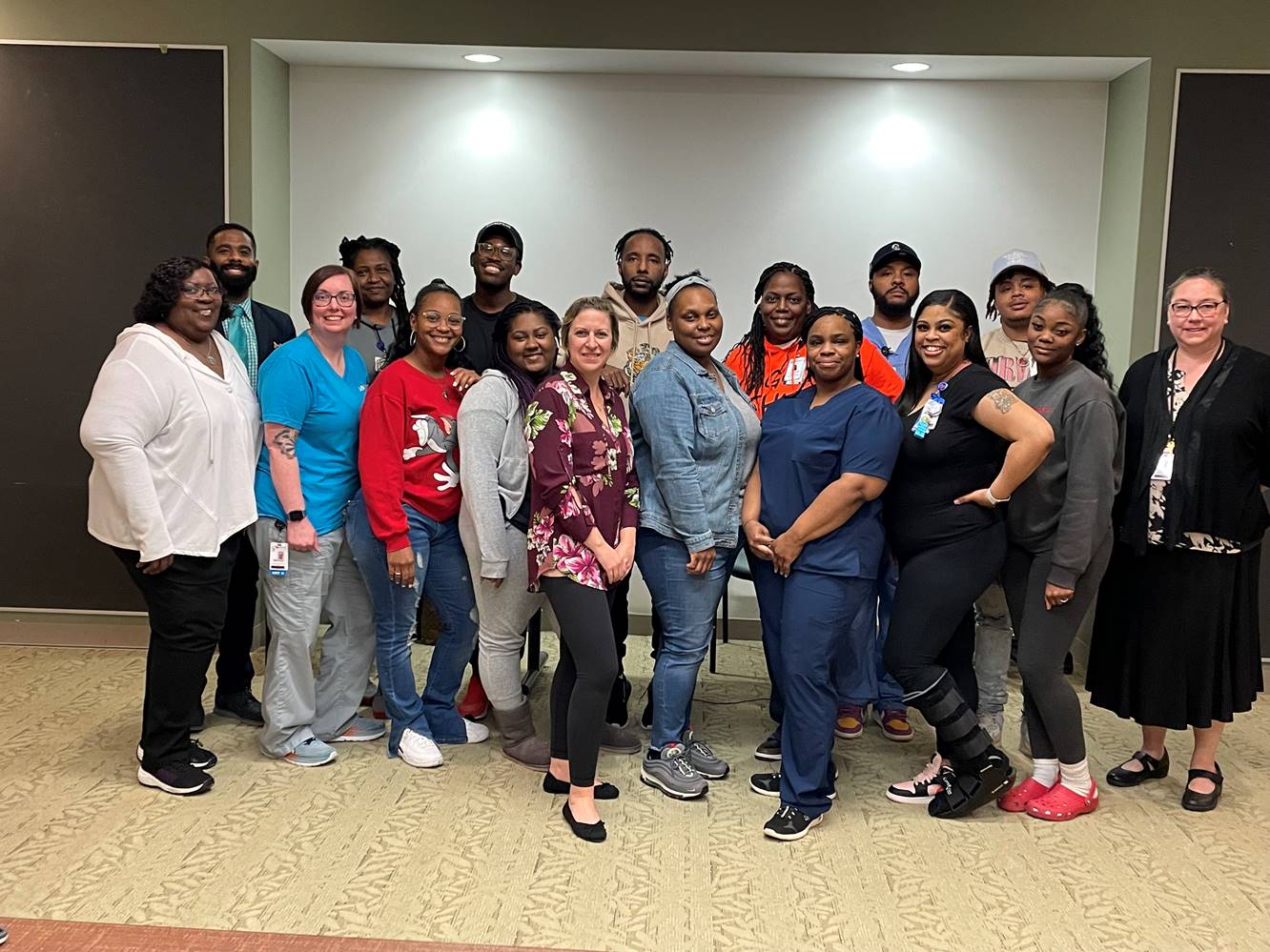 Since launching the Methodist Le Bonheur Healthcare Associate Advancement Program (MAAP), 60 employees have completed specialized certification programs or earned bachelor's degrees with little or no out-of-pocket expense.
MAAP, in partnership with the University of Memphis, offers current Methodist Le Bonheur employees opportunities to affordably pursue higher education degrees and certificate options on their own schedule. Recently 15 Methodist Le Bonheur employees completed a 15-month certification program through the College of Health Sciences to become surgical technologists in operating rooms across the six-hospital healthcare system.
---
2023 President's Leadership Awards & Honors Assembly
April 20, 2023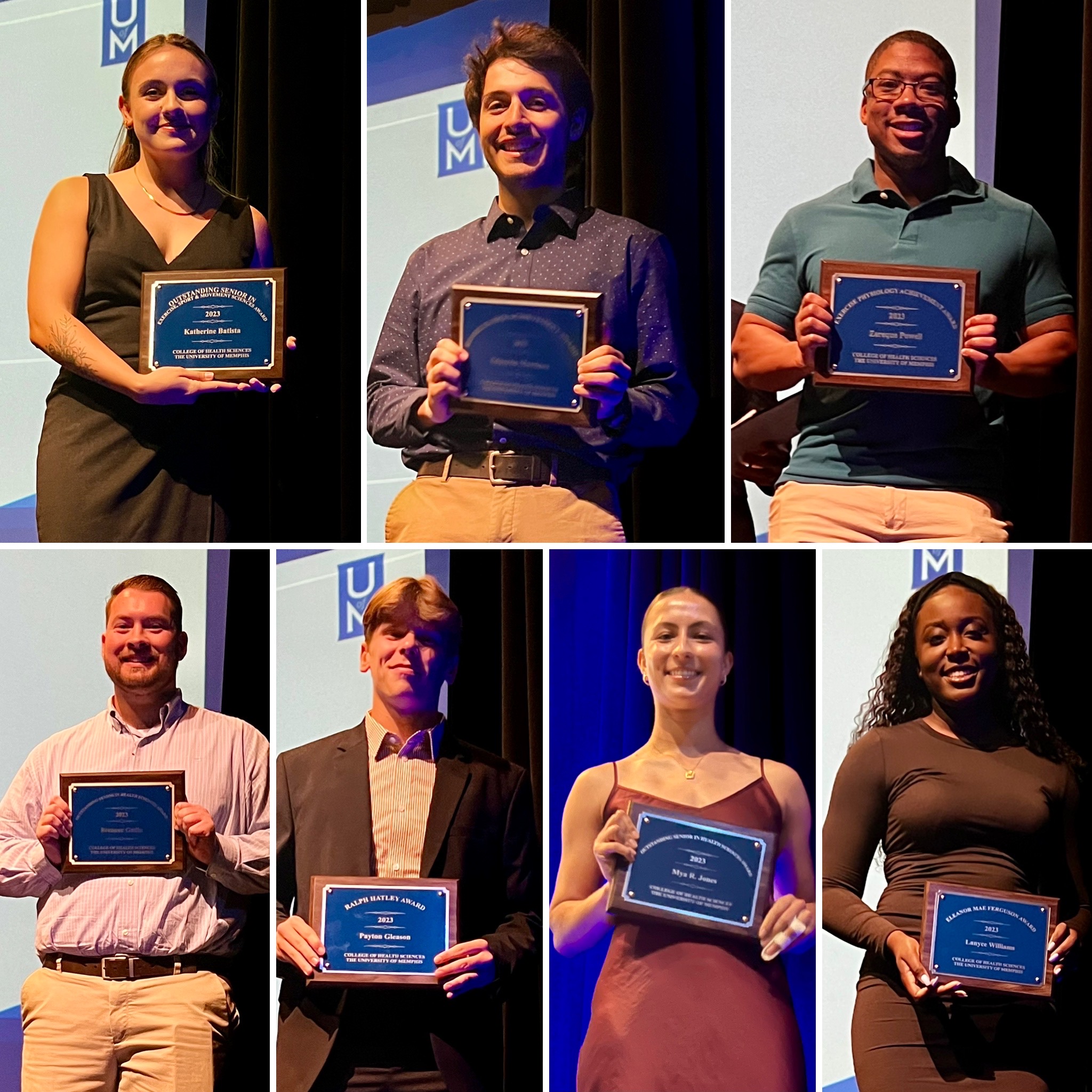 Congratulations to our 2023 President's Leadership Awards & Honors Assembly winners!
Katherine Batista - Outstanding Senior in Exercise, Sport & Movement Sciences Award
Eduardo Martinez - Biomechanics Achievement Award
Zereque Powell - Exercise Physiology Achievement Award
Brennan Gatlin - Outstanding Senior in Health Sciences
Payton Gleason - Ralph Hatley Award
Mya R. Jones - Outstanding Senior in Health Sciences
Lanyce Williams - Eleanor Mae Ferguson Award
Not Pictured
Kathryn Antonopulos - Outstanding Dietetics Student Award
Camelta Barnes - Outstanding Nutrition Graduate Student Award
Monique Woog - Outstanding Senior in Exercise, Sport & Movement Sciences Award
Joshua Worth - Outstanding Senior in Health Sciences
Student Leadership and Involvement Awards
Madison Edmonson, Healthcare Leadership - 20 Under 30, Distinguished Service, Outstanding Contribution to Campus Life and Outstanding Service Award
Sugey Sanchez Angel, Health Sciences - Outstanding Contribution to Campus Life, Outstanding Leadership Award
Each spring, Student Leadership & Involvement in conjunction with Student Academic Success, the Commencement Office, and the Office of the President hosts the President's Leadership Awards & Honors Assembly. This reception honors the University of Memphis' finest and brightest student leaders and organizations for their leadership roles and service.
---
College faculty recognized as "Most Valuable Professor"
April 7, 2023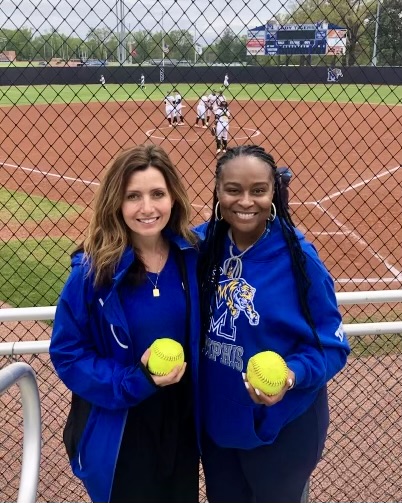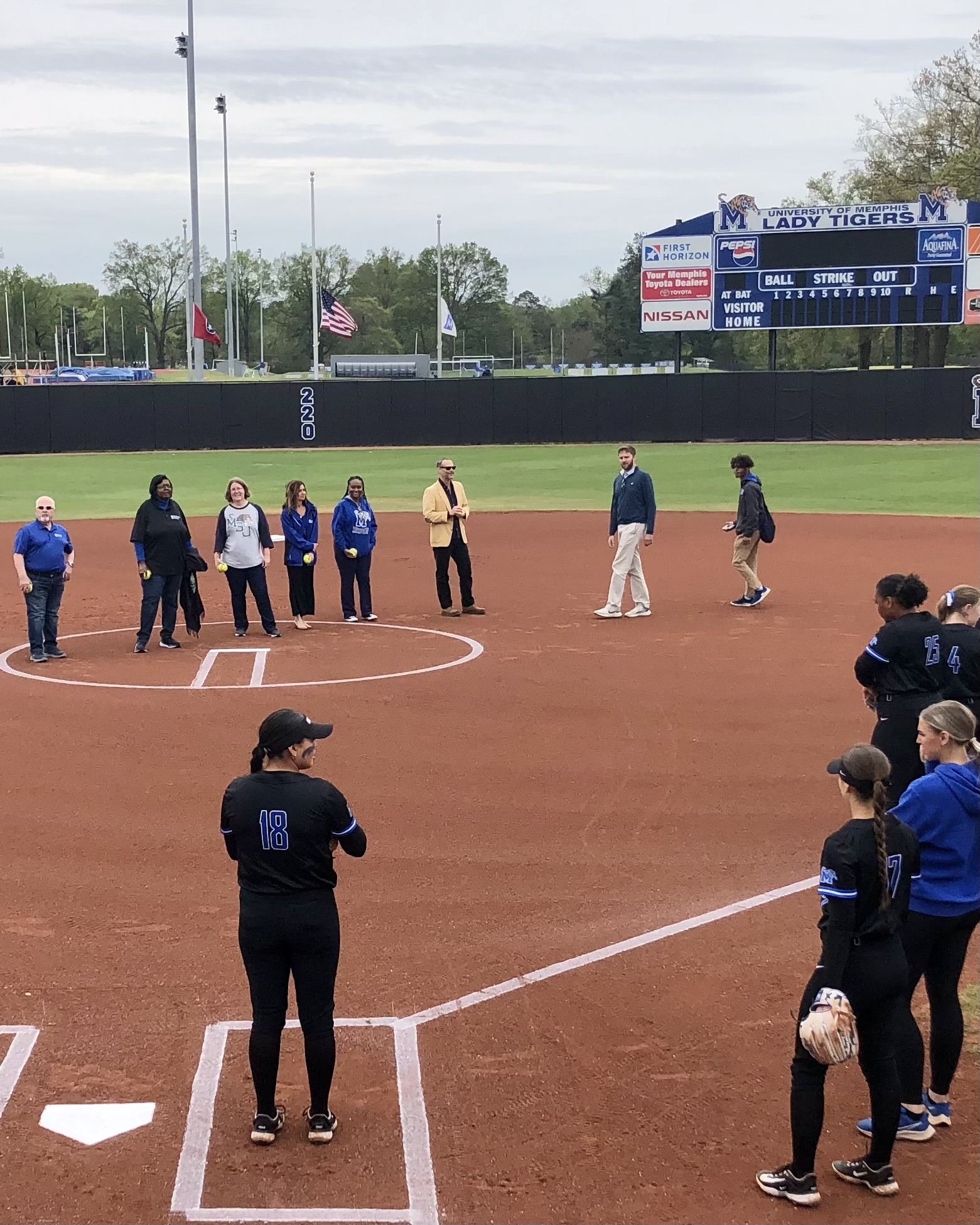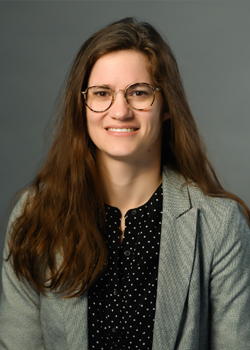 Cheri Kilmurray, Kathy Walker and Katie Dillon have been named "Most Valuable Professor" and were recognized at a Memphis Tigers Softball game for their outstanding efforts and constructive influence on the student-athletes, as nominated by their students.
---
ESMS student wins Memphis Grizzlies art contest
April 4, 2023
Exercise, Sport & Movement Sciences (ESMS) graduate student Zoë Simpson won Slim & Husky's Pizza Beeria's Fan Art Contest for the Memphis Grizzlies.
"As a native Memphian and a ride-or-die Grizzlies fan, I jumped on the opportunity to use my art to show my love for both my city and our team," said Simpson.
"It was especially meaningful to win because as an ESMS master's student at the University of Memphis, my dream is to work in the NBA in biomechanics. So, being able to walk on the Grizzlies court was like a piece of my dream came true! I put on for my city!"
Simpson's winning artwork was featured on the fan appreciation poster given to all fans at the final home game last night at the FedExForum.
---
Dietetic interns learn about local WIC program
March 16, 2023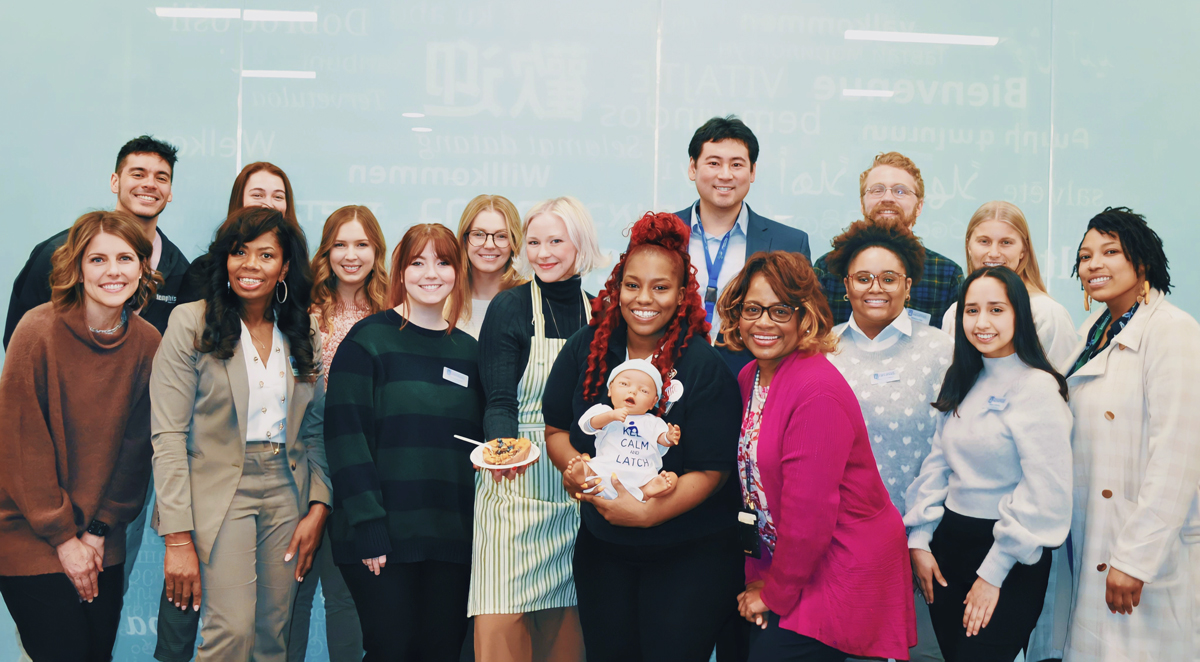 Dietetic interns attended a tour and presentation at the Shelby County Women, Infants and Children's (WIC) new Baby Café in honor of National Nutrition Month. Interns learned more about WIC, their team, services provided and how they can be a resource to the public as future dietitians. UofM MS/DI alumnae, Edward Han and Amy Schiller, welcomed and hosted the group by sharing insight to the day in the life as a WIC registered dietitian.
---
College hosts Mid-South Biomechanics Conference
February 20, 2023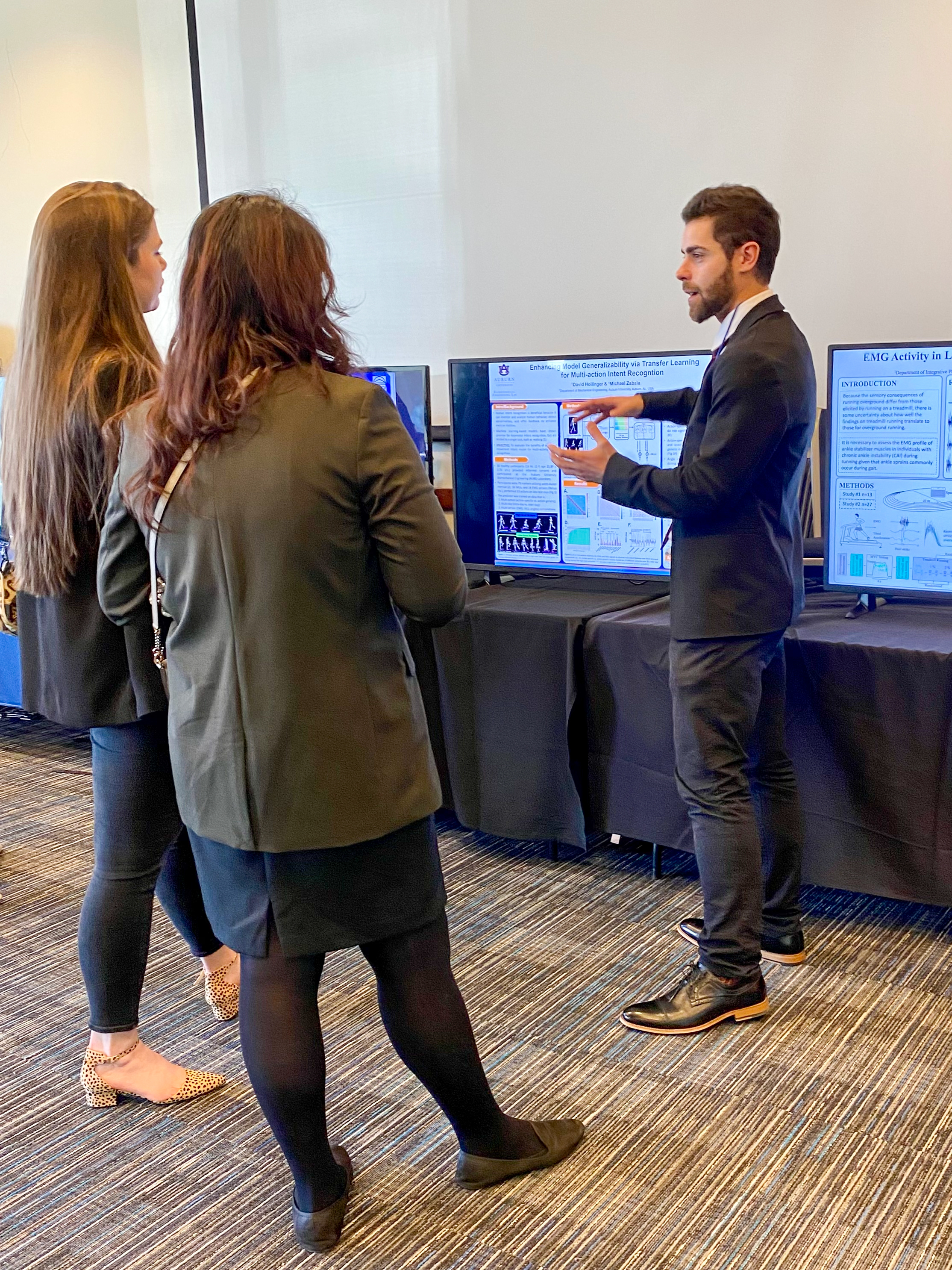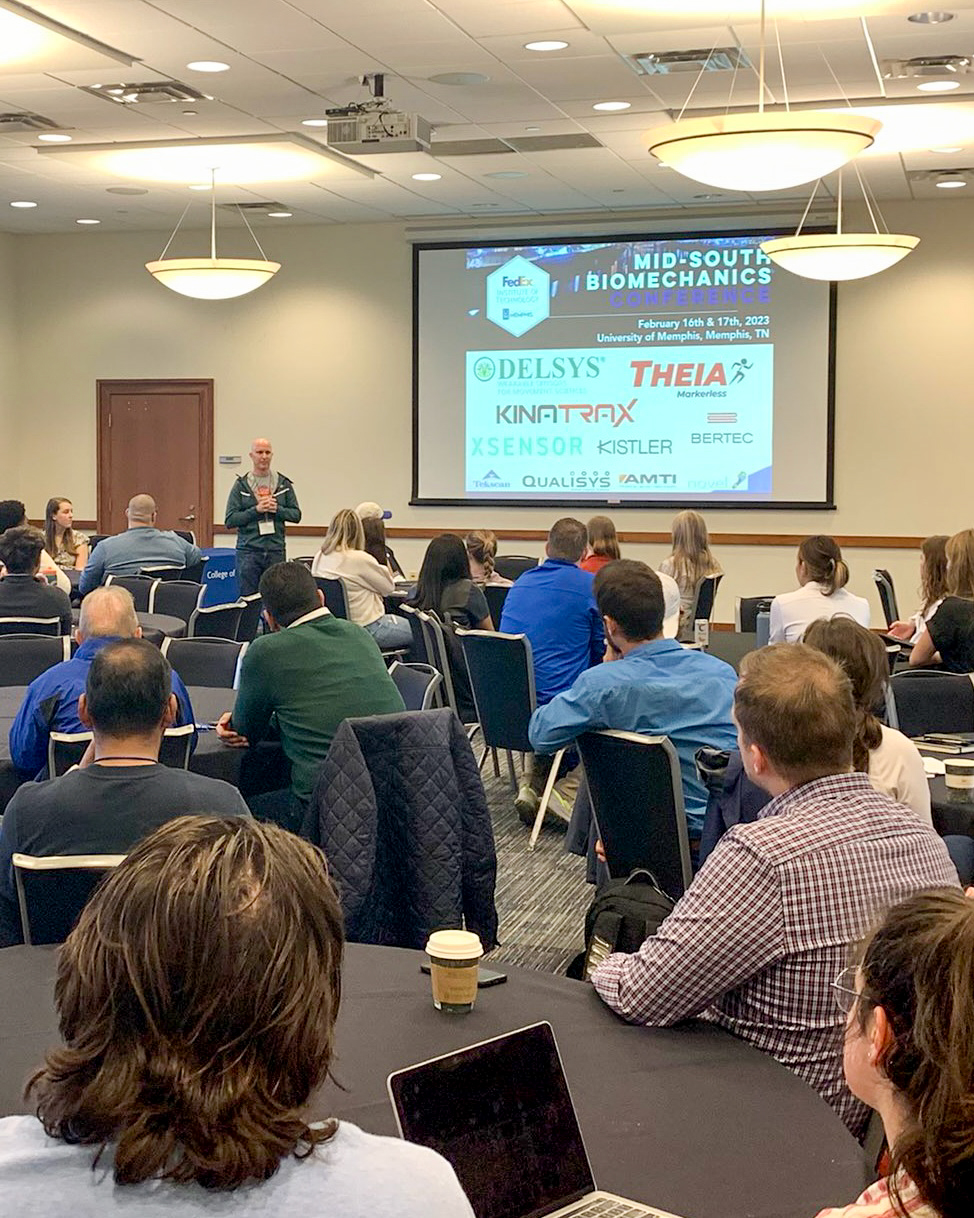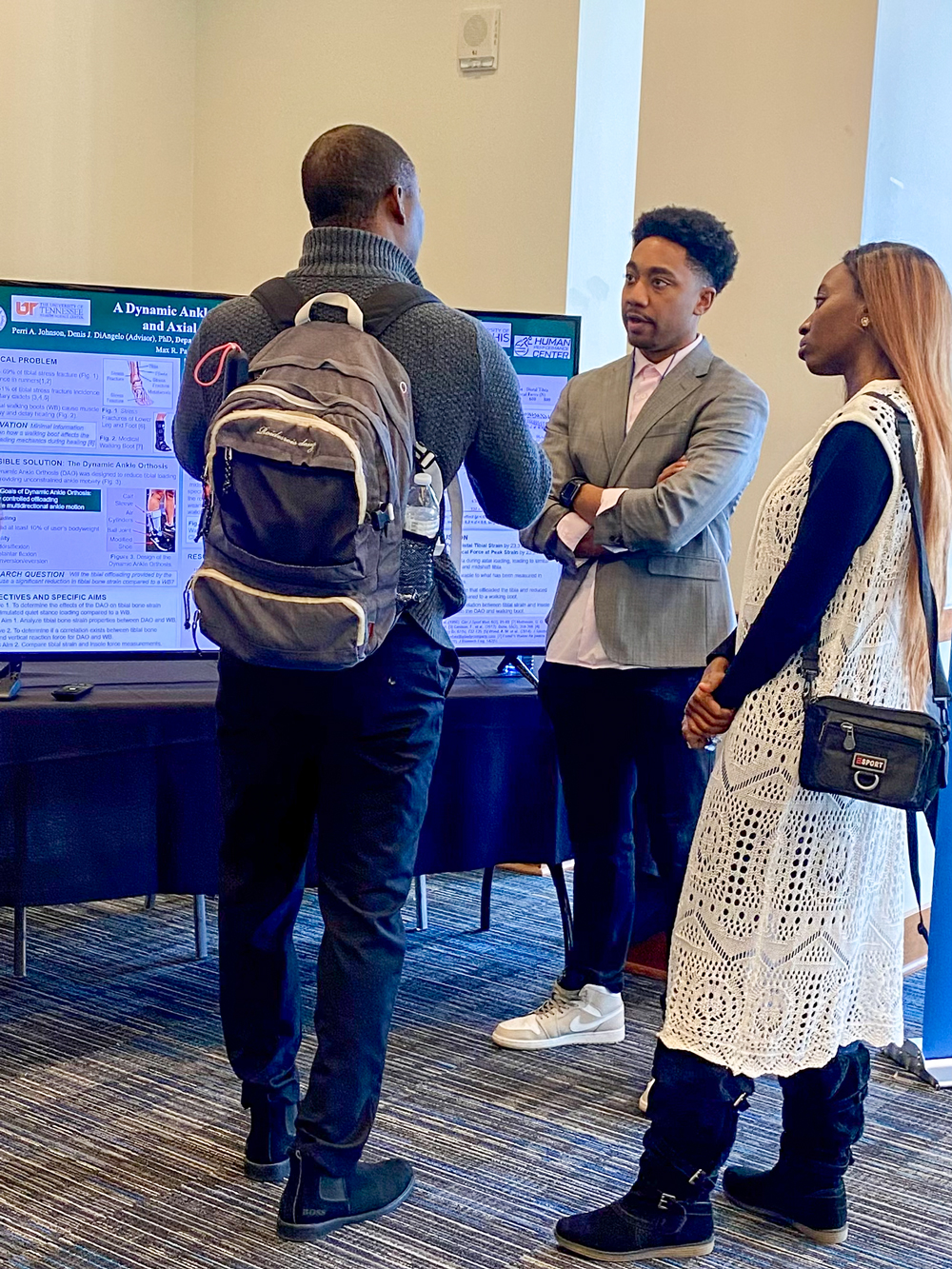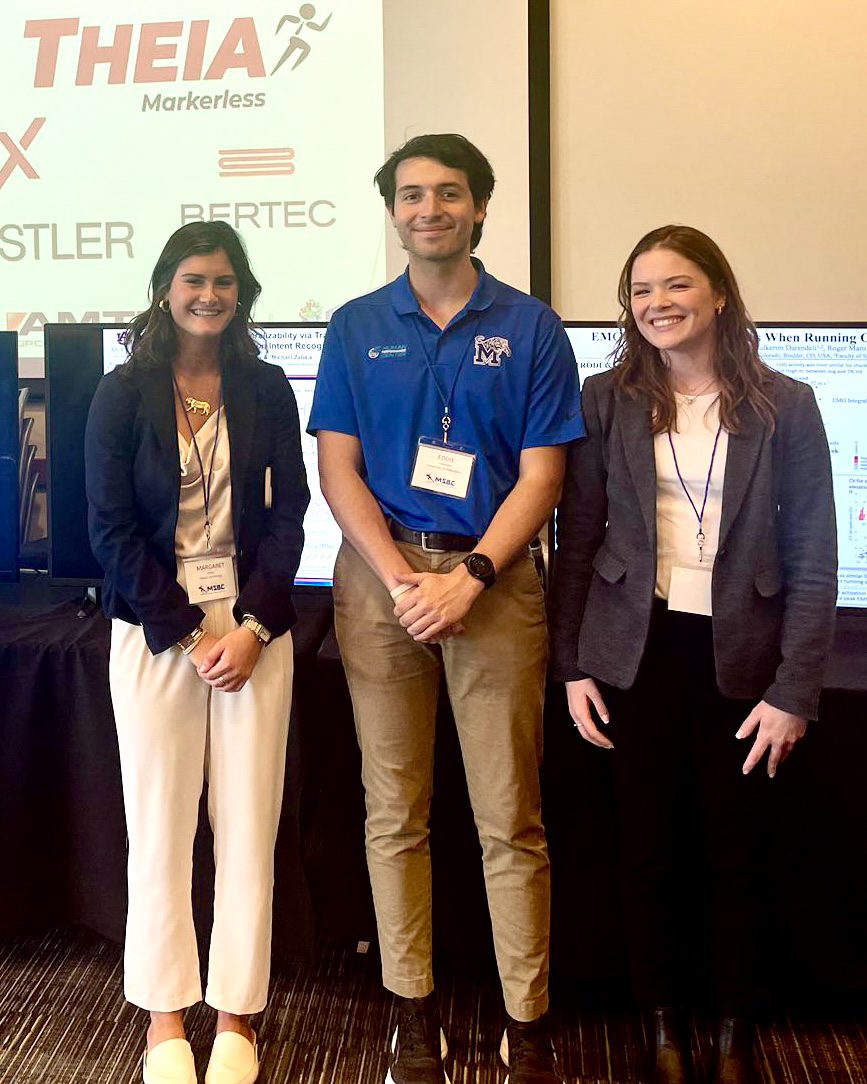 The College of Health Sciences hosted almost 100 individuals from 21 institutions at the fifth annual Mid-South Biomechanics Conference at the University of Memphis. This event gave students from across the country an opportunity to network and share their research in biomechanics and movement sciences.
Exercise, Sport & Movement Sciences student Eddie Martinez was among the student award winners with his research, "The influence of 'super shoes' on running economy and joint mechanics in competitive female runners."
---
College dean and CNDSR featured in Memphis Business Journal
February 15, 2023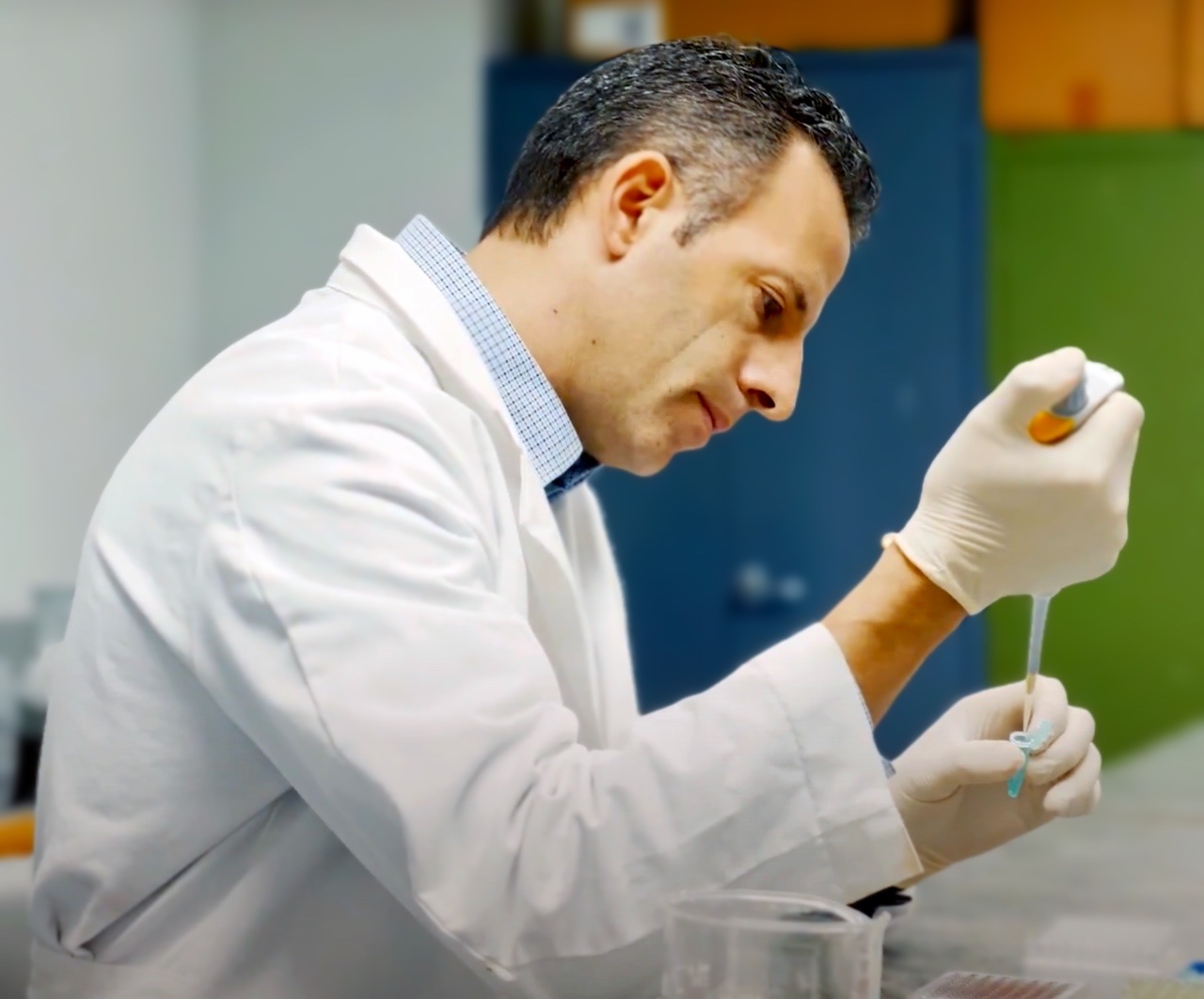 "For more than three decades, Richard Bloomer, Ph.D., has focused on nutrition and exercise. He's done a significant amount of both cardio and weight training over the years, and his interest in wellness has been mixed with an interest in products people often tie to it: dietary supplements."
Read about Dean Richard Bloomer and our Center for Nutraceutical and Dietary Supplement Research (CNDSR) in the Memphis Business Journal.
---
ESMS associate professor featured on podcast
January 19, 2023
Exercise, Sport & Movement Sciences (ESMS) Associate Professor, Dr. Max Paquette, was a featured guest on the Runchatlive Podcast as part of the new GAIT ANALYSIS SERIES. Paquette talks about — identifying the goal/objective of a gait analysis, identifying important variables/metrics that have mechanistic ties to the goal/objective, considering the validity & reliability of instruments used to perform gait analysis, planning how to act on/implement the results of the analysis.
---
Surg Tech program featured in industry newsletter
December 19, 2022
The College of Health Sciences Surgical Technology Program was featured in the Accreditation Review Council on Education in Surgical Technology and Surgical Assisting (ARC/STSA) newsletter.
Program Director Janine Scott said, "Going through the initial accreditation process of a brand new program that I designed was a journey that will forever be a part of who I am. I wasn't looking for a program director position, but when the opportunity presented itself to create and start a brand new program, I knew I couldn't turn it down. The work and time that was put in to achieve this accreditation was well worth the end result. The students benefit greatly knowing the program is up to the highest standard and that they are now able to sit for the certification exam."
The program is offered in collaboration with Methodist Le Bonheur Healthcare to offer associates higher education degree and certificate options as part of MAAP: MLH Associate Advancement Program.
---
ESMS faculty nominated for teaching award
December 14, 2022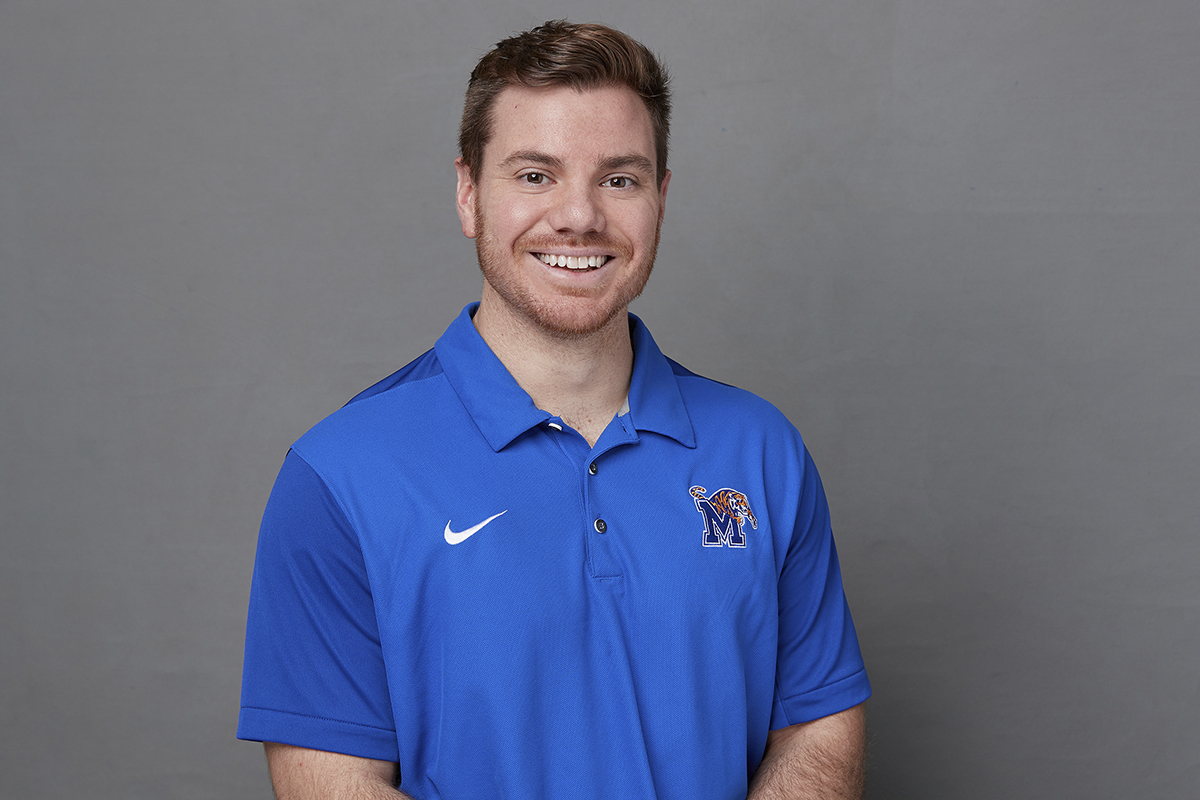 Alex Carnall, Assistant Professor of Teaching for our Exercise, Sport & Movement Science program, was nominated for the 2023 Alumni Association Distinguished Teaching Award.
Students, faculty and alumni submit nominations for this award. Up to four faculty members are honored annually for their dedication to high-quality teaching.
---
Fall '22 Commencement
December 11, 2022
Congratulations to our Fall 2022 graduates!
---
ESMS student awarded first place at research symposium
December 1, 2022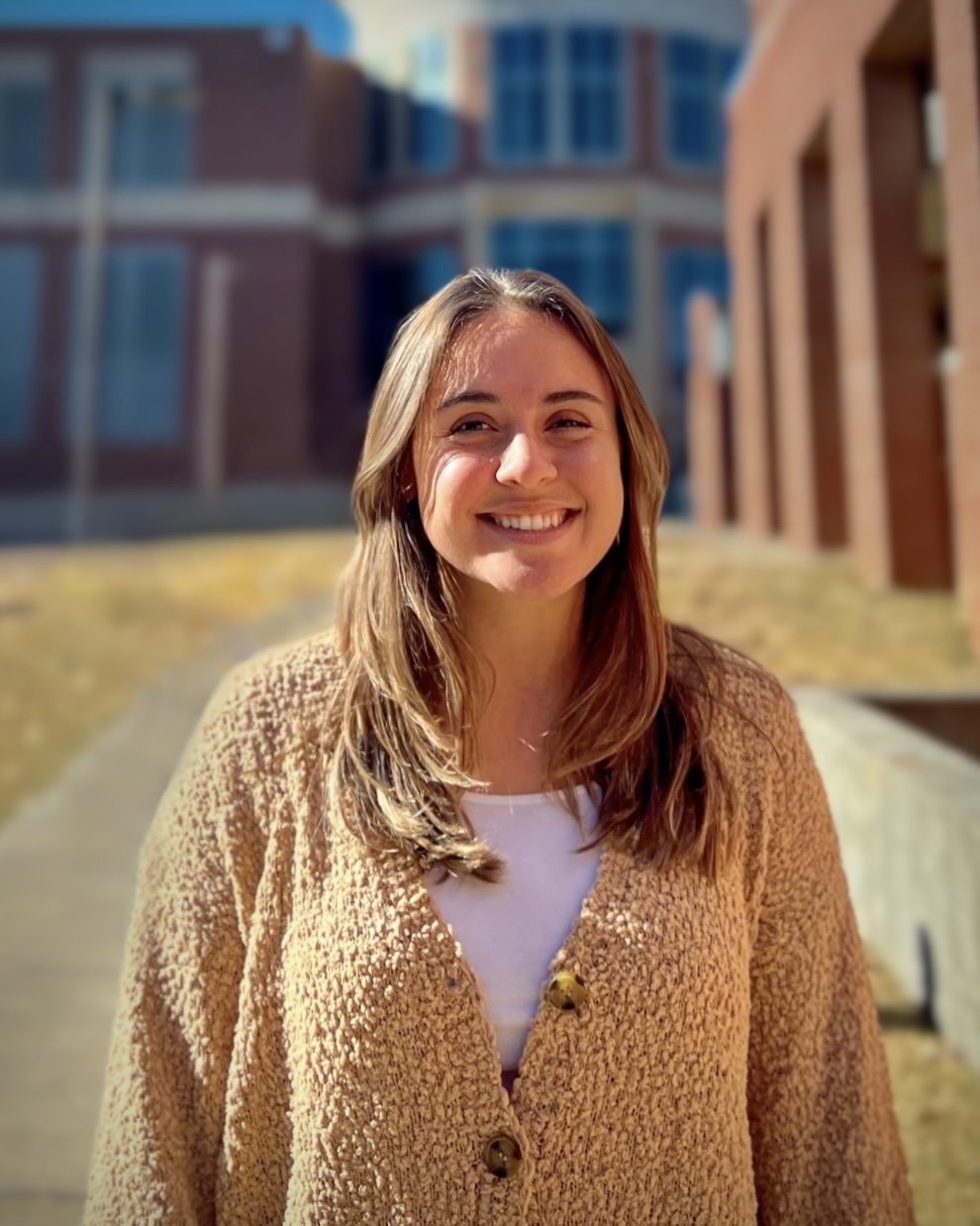 Katherine Batista, Exercise, Sport & Movement Sciences senior, placed first in the Health and Life Sciences category at the 2022 University of Memphis Works in Progress Symposium Awards (WIPS) .
Katherine's research was about what biomechanical variables are predictors of metabolic power in well-trained male distance runners. Her study sought to understand what biomechanical variables were correlated with metabolic power and running economy in high caliber runners.
The WIPS provide undergraduates with an opportunity to share their research with peers as well as professors. Undergraduates who have conducted original research, scholarly, or creative projects under the guidance of a faculty mentor are invited to submit an application to WIPS. This symposium also welcomes presentations by students who are just beginning projects, and affords students the opportunity to present the background, rationale, plans and preliminary results from a project that is ongoing, rather than complete.
---
Student Spotlight
November 28, 2022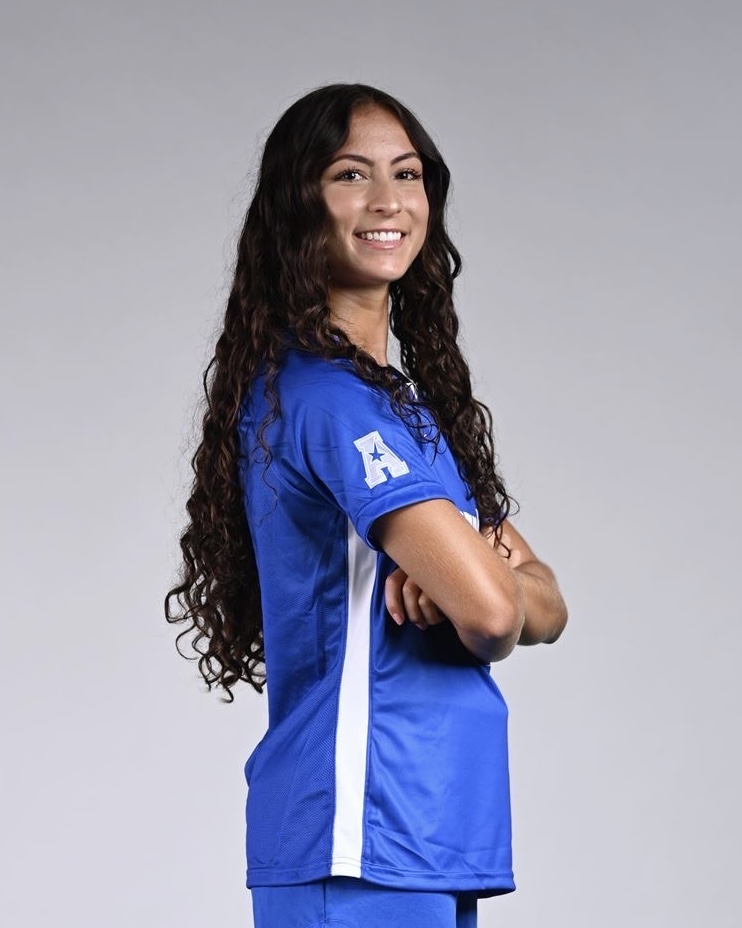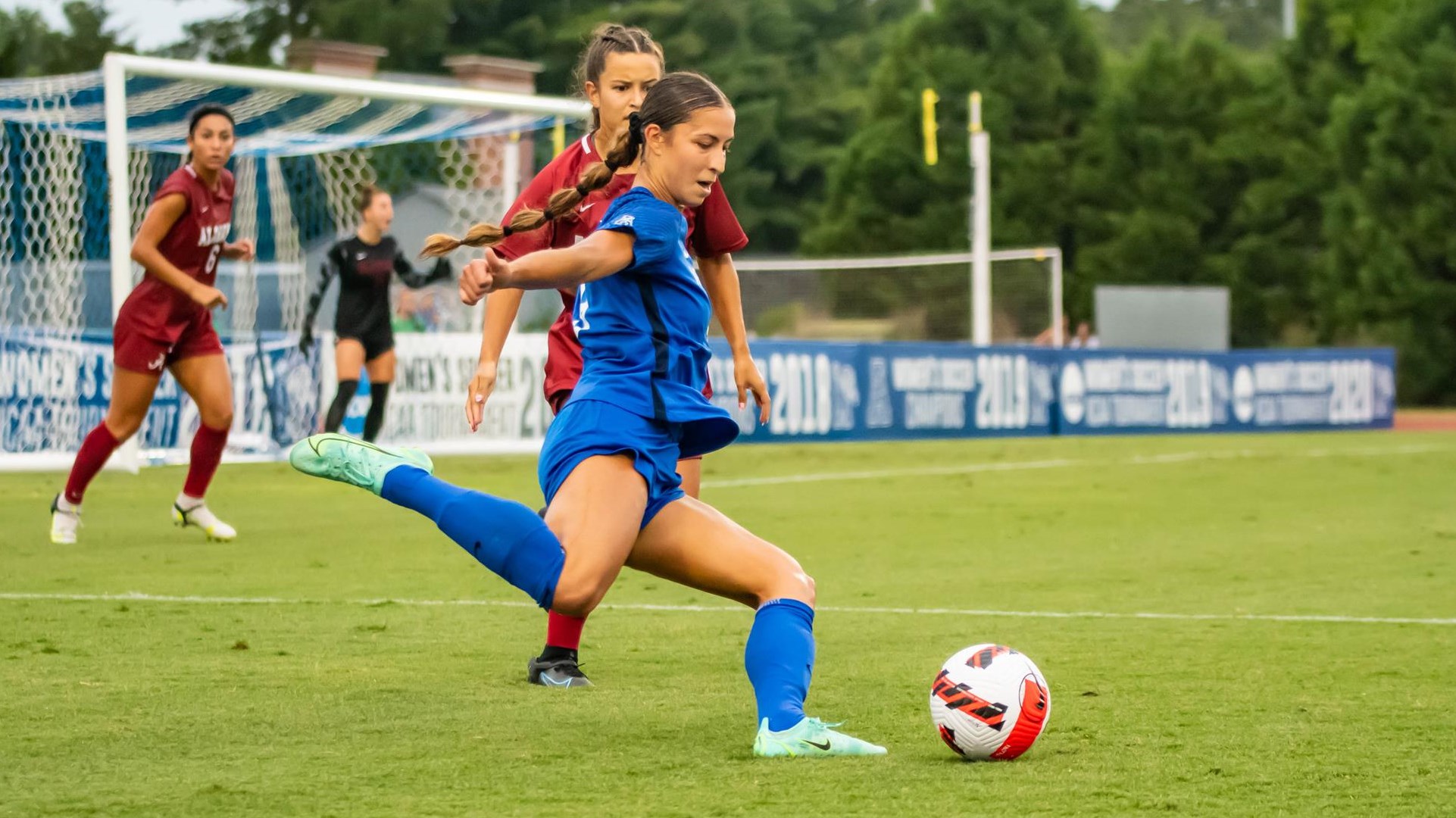 Mya Jones
Senior, Health Sciences
Mya Jones is a forward/midfielder for the Memphis Tigers Women's Soccer team. The team recently won the AAC conference, with Mya assisting in the winning goal, making history in the NCAA tournament. She was also named for this year's AAC All-Conference First Team.
"I really like how much the professors in the College of Health Sciences want to help you succeed and guide you into your desired career path," said Jones. Upon graduating in the spring, she hopes to play professional soccer in America or Europe and later attend medical school.
---
PETE/Sport Coaching students featured in local news
November 21, 2022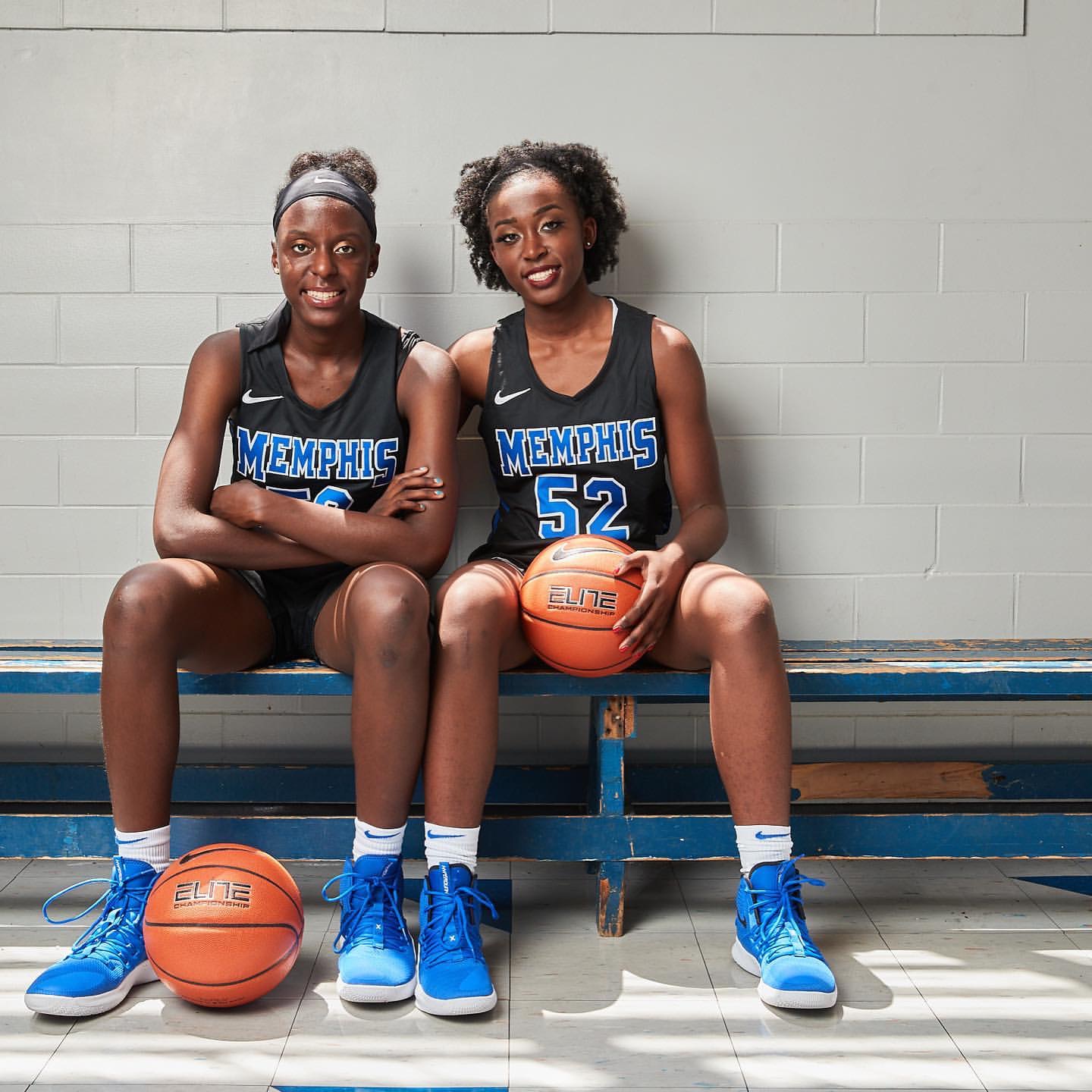 Lanetta Williams, Sport Coaching senior, and her twin sister Lanyce Williams, Physical Education Teacher Education (PETE) senior, were featured on ABC24 to talk about their journeys as Memphis Tigers Women's Basketball players.
"It was always a package deal," Lanetta said.
"If it ain't broke, don't fix it," Lanyce added. "So, we thought why not stay together? It's the main thing we were striving for. The main thing was we sign somewhere, we got the school we both wanted. Then the next step was to get on the floor together."
The twin tandem would only share a court three times, as Lanyce battled persistent knee injuries and a heart condition. But, the twins continue to share the court as Lanyce transitioned to undergraduate assistant coach.
---
Faculty and staff reach career milestones
November 15, 2022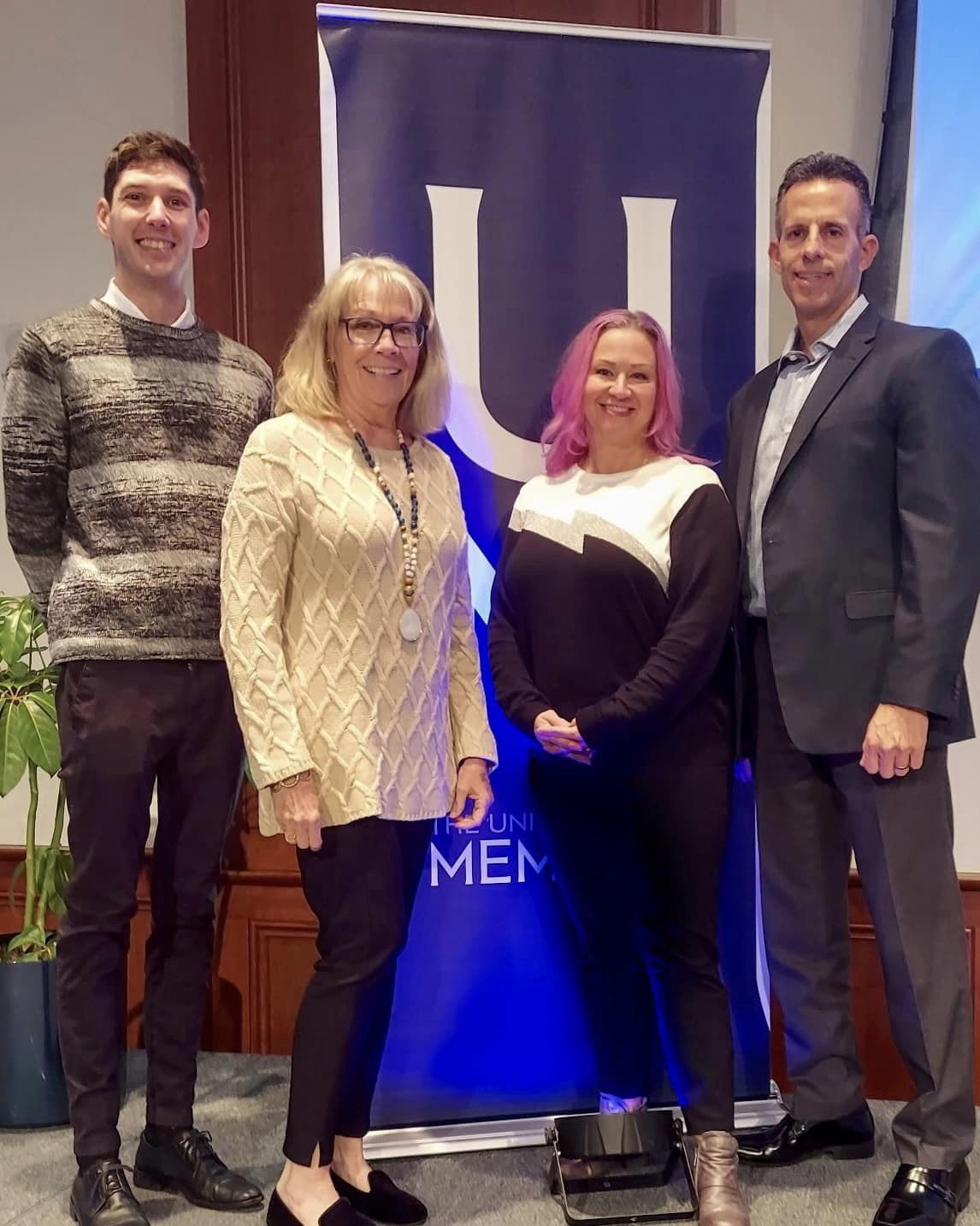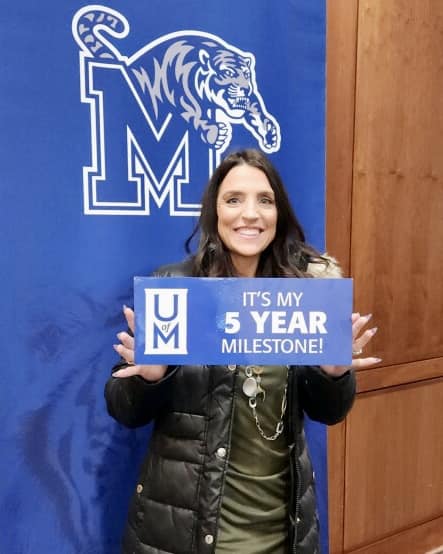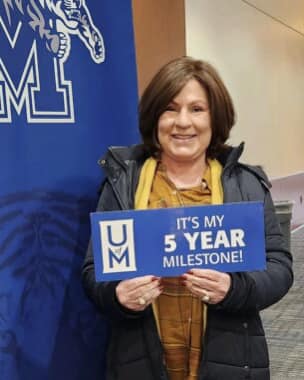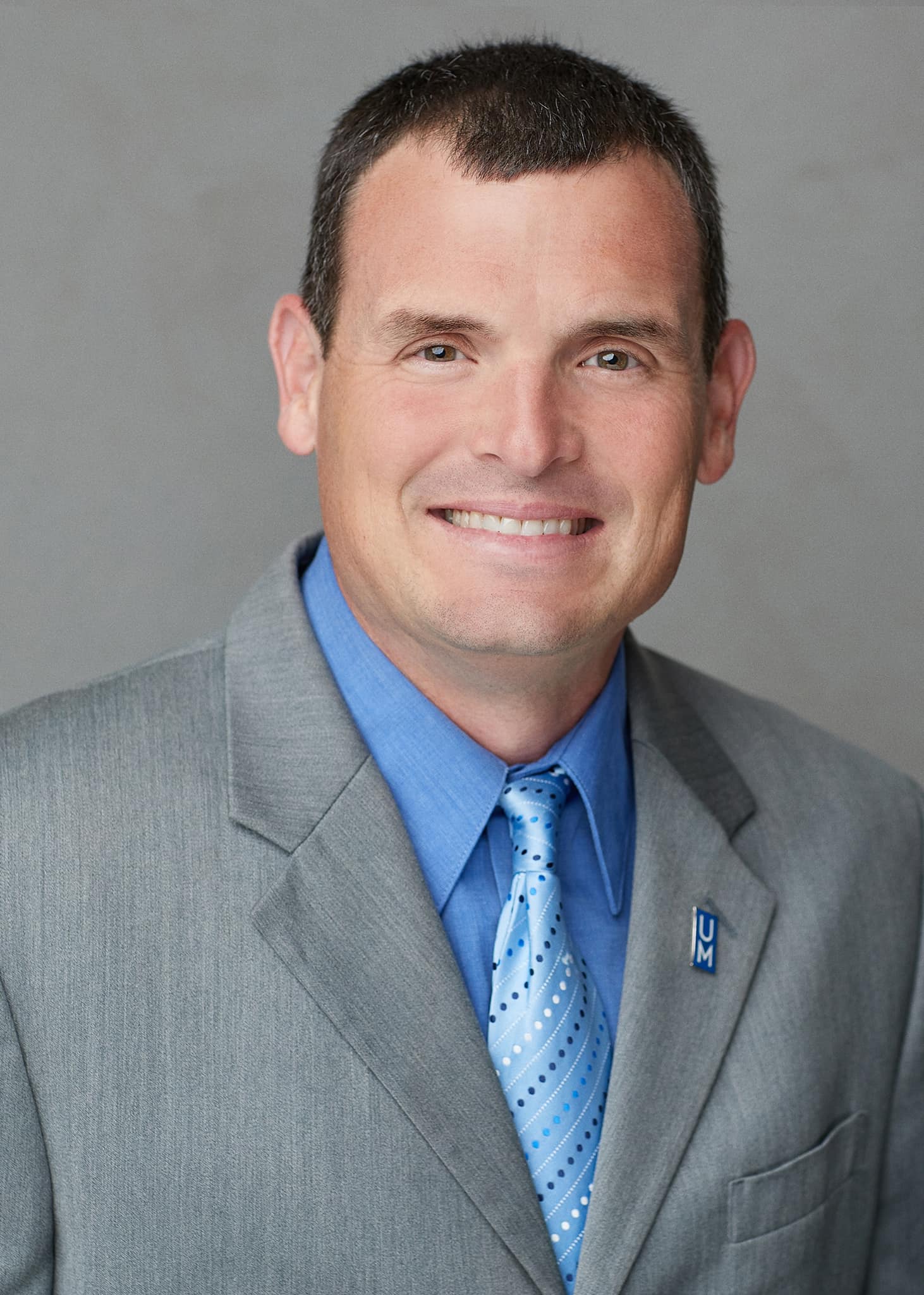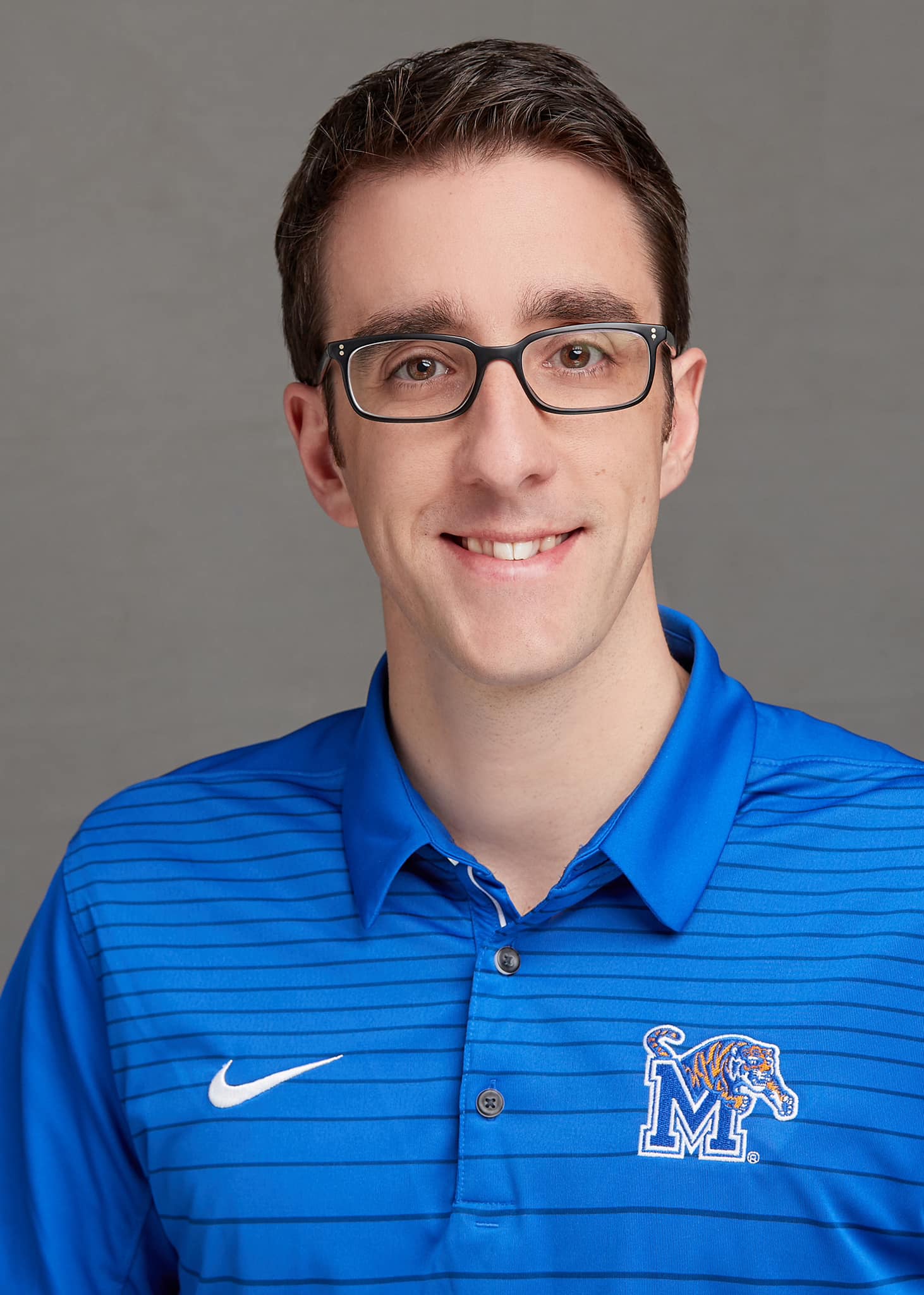 Several of our faculty and staff were recognized at the Career Milestone Awards for their years of service to the University of Memphis.
Congratulations!
Terra Smith, 25 years
Carol Irwin, 15 years
Todd Layne, 10 years
Max Paquette, 10 years
Micheal J. Clinton, Jr., 5 years
Angie Johnson, 5 years
Carol Mahalitc, 5 years
Tracy Shipp, 5 years
---
Faculty Spotlight
November 13, 2022
<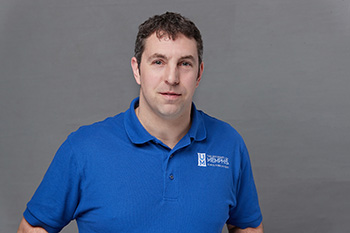 Dr. Douglas Powell, associate professor for Exercise, Sport & Movement Sciences, recently shared three biomechanics presentations at Angelo State University in San Angelo, Texas. The presentations identified the relationship of biomechanics and exercise physiology at the research level and career options in biomechanics.
Powell said, "The presentations went very well. We were able to effectively present our research, share the variety of careers in which biomechanics plays a significant role and demonstrate low-cost research tools to the primarily undergraduate university of Angelo State University.
---
Graduate Student Spotlight
November 10, 2022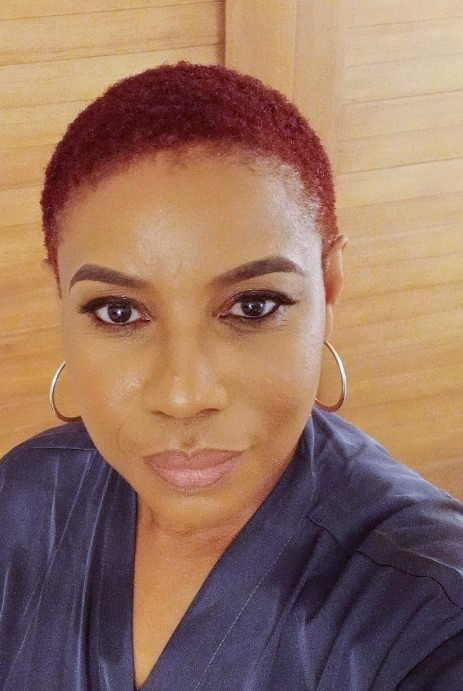 Camelta Barnes, Environmental Nutrition graduate student, is recognized for the Student Spotlight of Exceptional College of Health Sciences students. Camelta earned her Bachelor of Science in Food and Nutrition from Fontboone University in St. Louis two decades ago. She started our Environmental Nutrition program in spring of 2022.
She is a senior public health nutritionist, and head of the Department of Nutrition unit in the Ministry of Health & Wellness in Nassau, Bahamas. Her responsibilities are dietary interventions, program planning and policy development.
Camelta said, "Thus far, I have enjoyed the Environmental Nutrition program immensely. As an international student, I was pleased to find that some of the courses included a little of the global aspect. I truly enjoyed learning about the different cultural values (Food and Culture course) and how they can be applied to my work in nutrition, but also in my personal life. All of the courses have been great thus far, challenging but great."
She hopes to gain a position, or even contract work, in food systems and learn their connection to diet and the environment. Camelta would also like to join academia and teach nutrition-sensitive courses to agriculture or environmental students.
---
Dietary supplement research center facilitates important research under CHS dean
November 7, 2022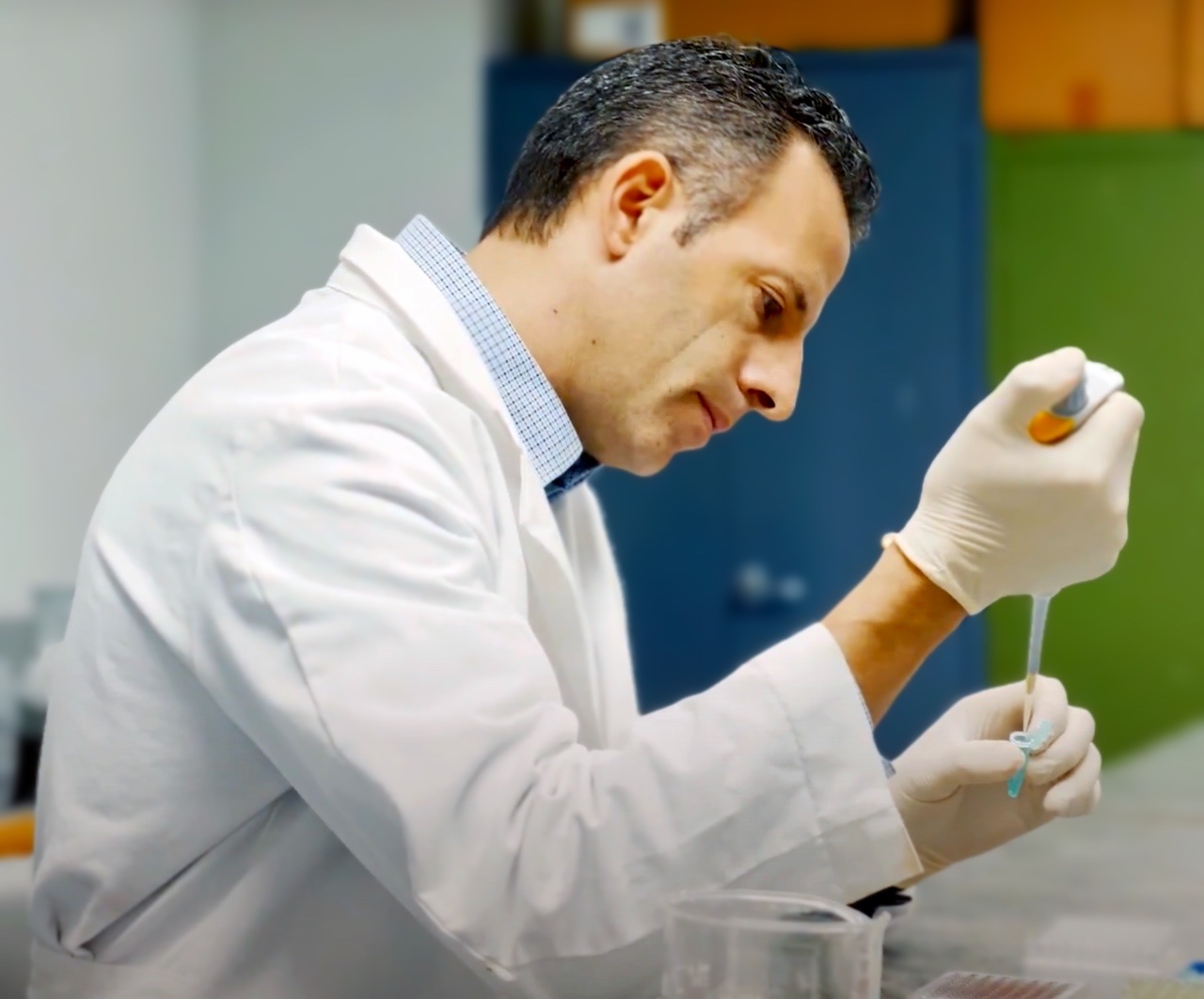 Dietary supplements are big business, with the global market valued at $152 billion in 2021, and an expected compound annual growth rate of 8.9% from 2022 to 2030. The Council for Responsible Nutrition noted recently that a staggering 80% of Americans are now using dietary supplements. Despite what some well-meaning health professionals might say, for many products, there are efficacy data to support the claims being made.
Like pharmaceutical companies, supplement companies typically work directly with Contract Research Organizations (CROs) to have their products evaluated. After spending close to 15 years researching dietary supplements, Dr. Richard Bloomer believed that he and his team could provide a service that rivaled that of most CROs, and in the process allow for graduate and undergraduate student training in this novel area of research.
In response, he founded the Center for Nutraceutical and Dietary Supplement Research within the College of Health Sciences.
---
ESMS alumna featured in Canadian news
November 1, 2022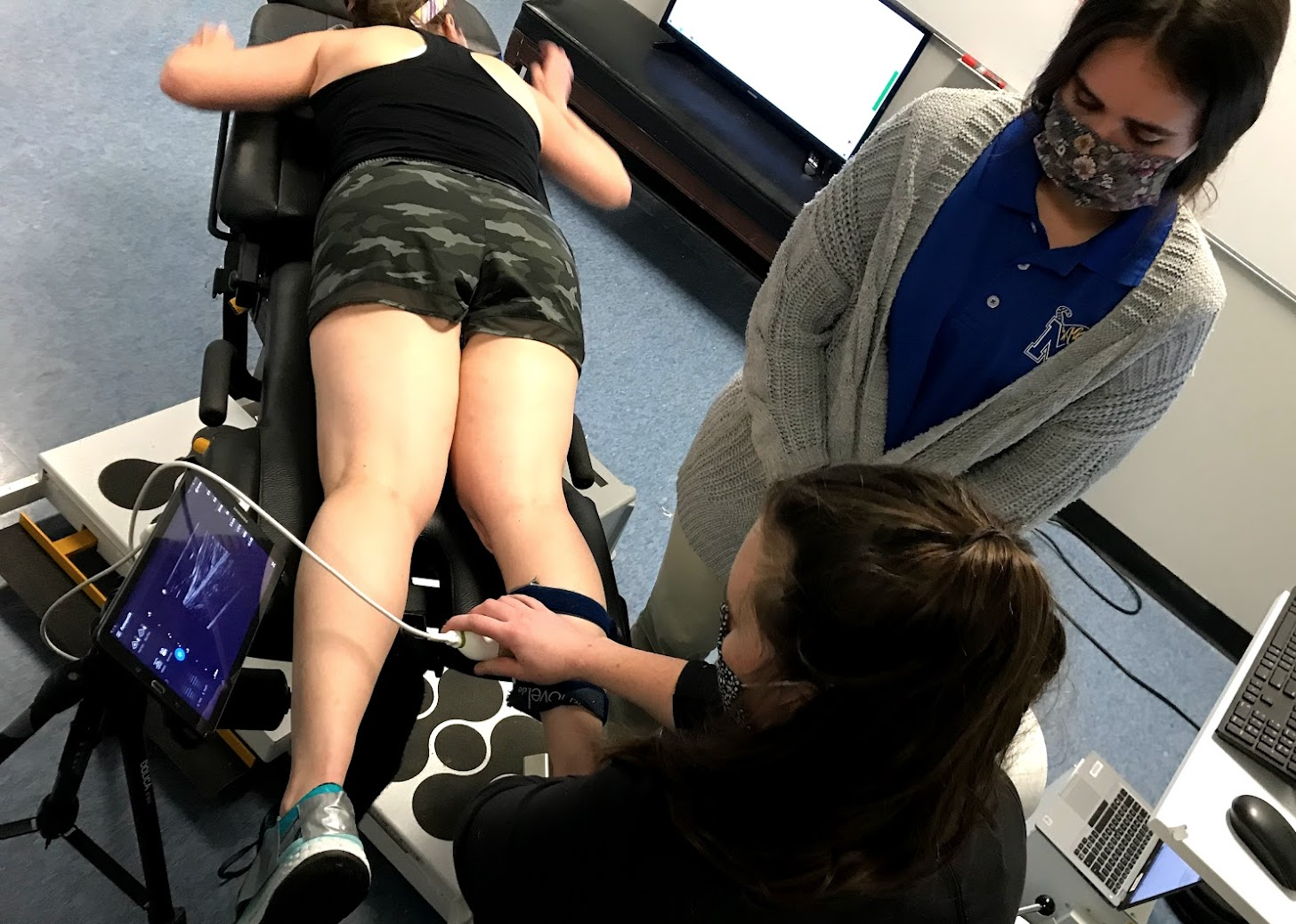 Zoey Kearns, Exercise, Sport & Movement Sciences (ESMS) alumna, had her thesis project featured in the Globe and Mail, one of Canada's largest news platforms.
Kearns' thesis addressed how ankles are the new key joint runners need to focus on for maximum performance. She conducted a ten-week research analysis, consisting of three different strength-training approached to improve the ankle strength of a runner.
---
Graduate student shares research at national conference
October 24, 2022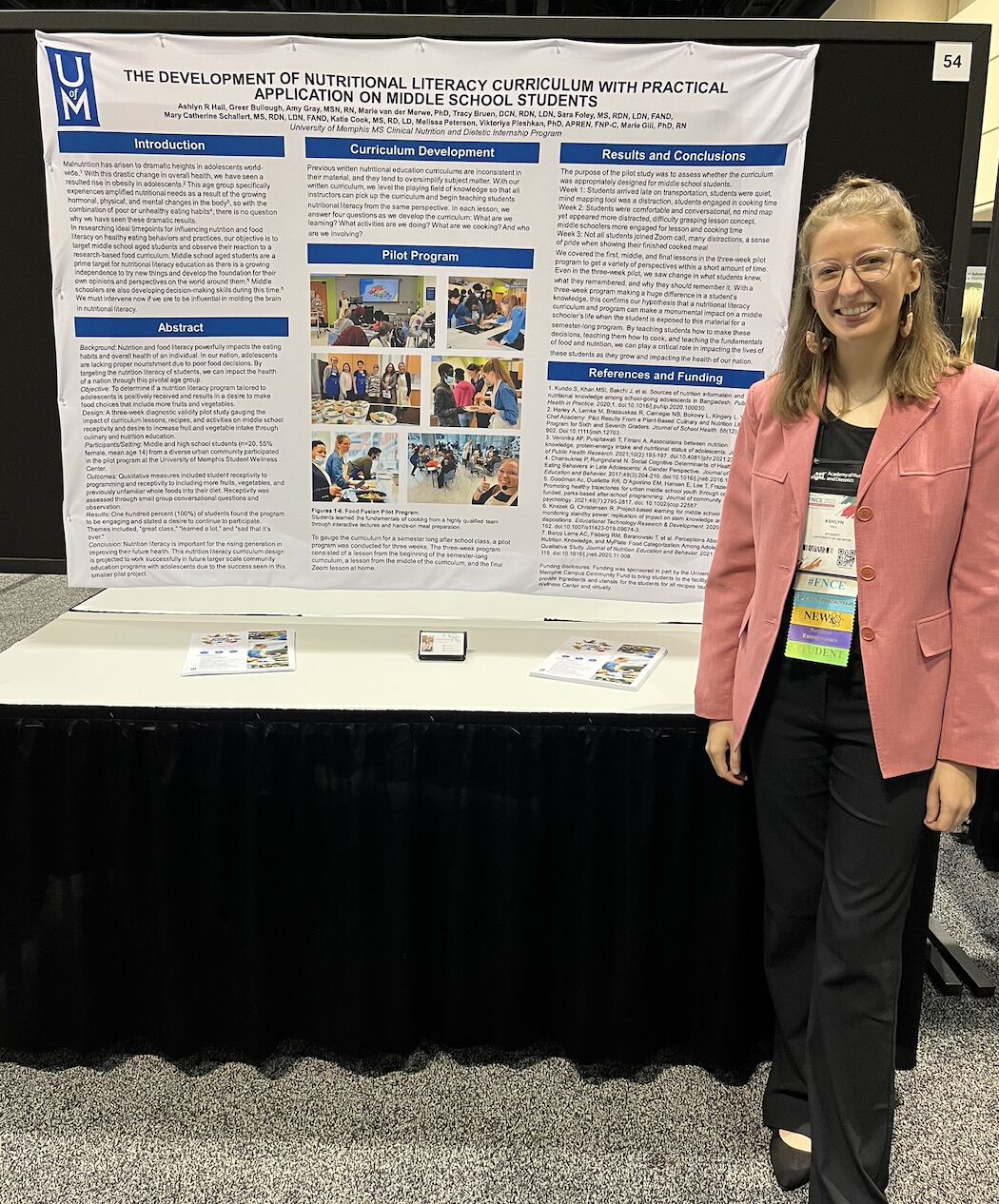 Clinical Nutrition graduate student, Ashlyn Hall, shared her Food Fusion pilot program research project at the Food & Nutrition Conference & Expo (FNCE) in Orlando, Fla. By sharing nutritional knowledge alongside hands-on cooking through this after-school program, she demonstrates how we can impact the habits of middle school students. The habits that are formed in middle school years can impact a lifetime of healthy decisions.
---
Clinical assistant professor speaks at Health Care Summit
October 23, 2022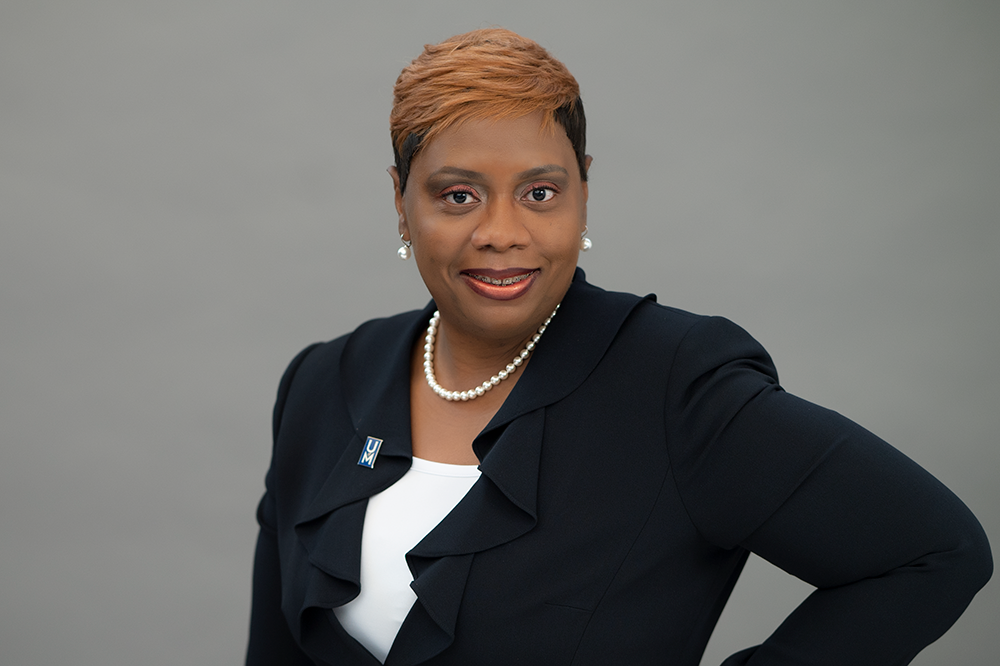 College of Health Sciences Clinical Assistant Professor, Dr. Shemeka Hamlin-Palmer, was selected to speak at the 2022 Value-Based Health Care Summit in Dallas, Texas.
Palmer said, "I will discuss the healthcare delivery models providers, including hospitals and physicians, are paid based on patient's health outcomes. I will also discuss the advantages of value-based healthcare for patients and providers. I hope to expand knowledge, improve skills and introduce new theories that will be beneficial in attendees' professional development."
The Business Research Intelligence Network (BRIN) hosts the event to educate and inform attendees on the innovative opportunities in health care.
Palmer will be addressing barriers to patient care, giving insight into the various contracts including shared risk, bundled payments and global risk.
---
Nutrition faculty receive grant for study of link between obesity, cancer
October 6, 2022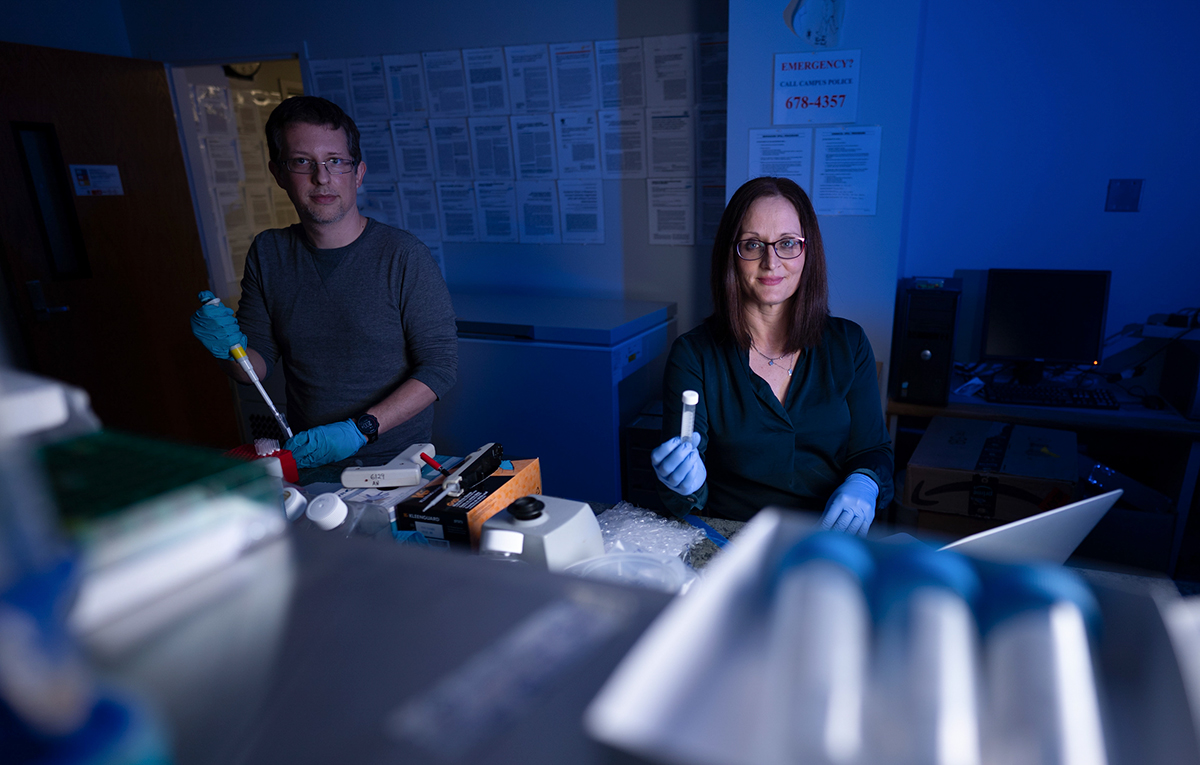 Drs. Marie van der Merwe and Brandt Pence are co-investigators on a University of Tennessee Health Science Center-led $5.2M grant for a study that will fill critical gaps in knowledge around obesity-mediated cancer risk. The UofM group will receive just over $1 million in grant funds to conduct research for the study.
Obesity has been linked to an increased risk of and a worse prognosis for several types of cancer. A number of related factors contribute to obesity's pro-tumor effects, including suppression of the immune system (immunosuppression). The underlying mechanics that control how and to what extent obesity-mediated immunosuppression increases cancer risk remains an untapped niche in cancer research.
The team hypothesizes that obesity changes the gut microbiome, which can impact the immune system's ability to keep watch on the start of cancer, potentially through microbially-derived metabolites. In this project, the team will study patients undergoing bariatric surgery to follow metabolic and immune changes with weight loss over time.
---
PETE Student Spotlight
October 5, 2022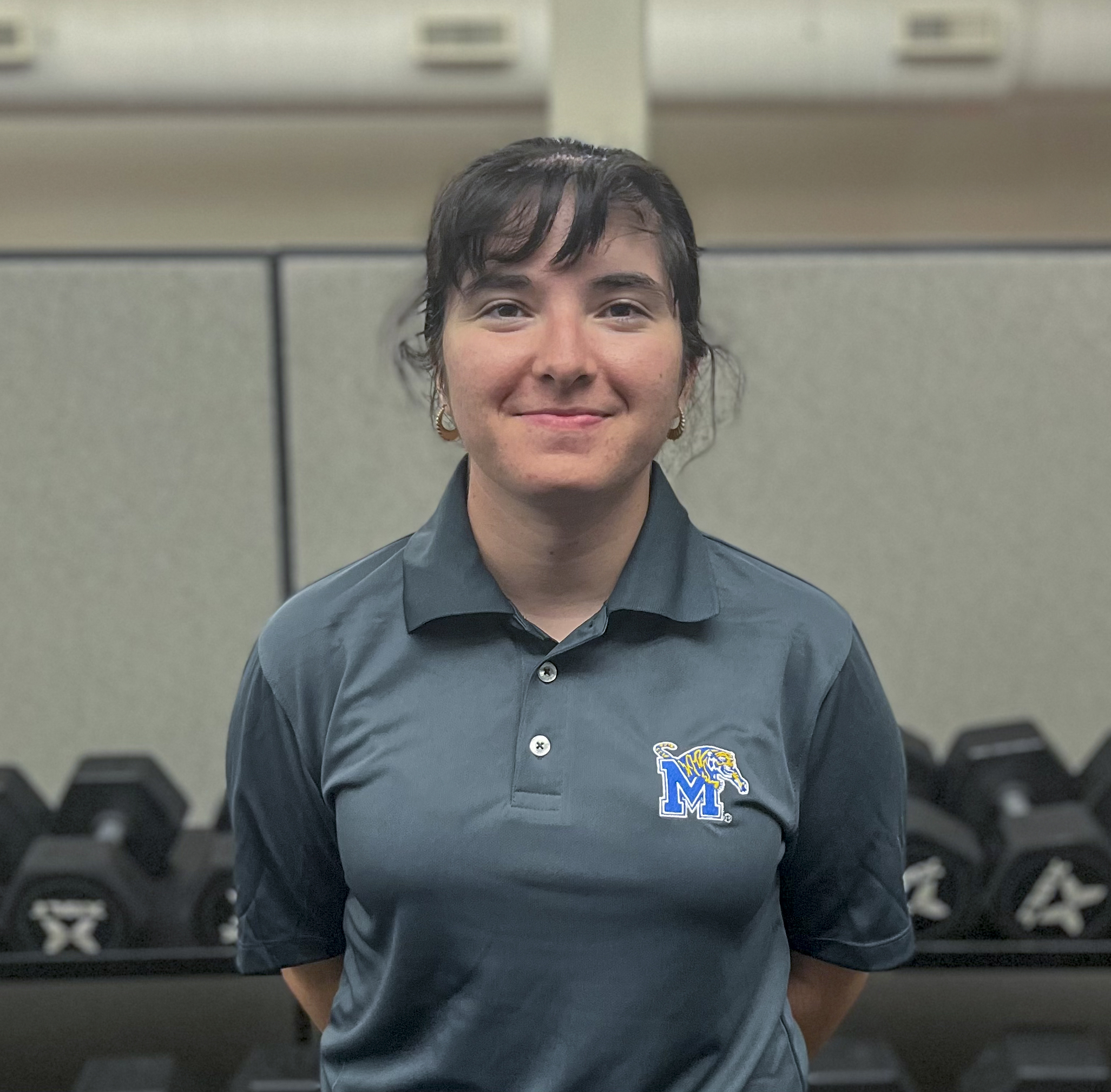 Rosalba (Rose) Perez-Levya, Physical Education Teacher Education (PETE) senior, is recognized for the Student Spotlight of Exceptional University of Memphis College of Health Sciences students.
Rose joined the PETE program her junior year and instantly fell in love. She likes that it allows you the ability to break boundaries, think creatively and explore new activities.
"Rose is a tremendous student who goes above and beyond what is expected of her. She is a highly organized, personable and courteous student who is always willing to help the PETE faculty and her fellow students. The UofM community is better when Rose is around!" said Becky Bocz, PETE Assistant Professor of Teaching.
Rose is the president of the PETE Majors Club and upon graduating this spring, she will be continue her education in the PETE graduate program at the UofM.
---
ESMS associate professor recognized for advising excellence
September 30, 2022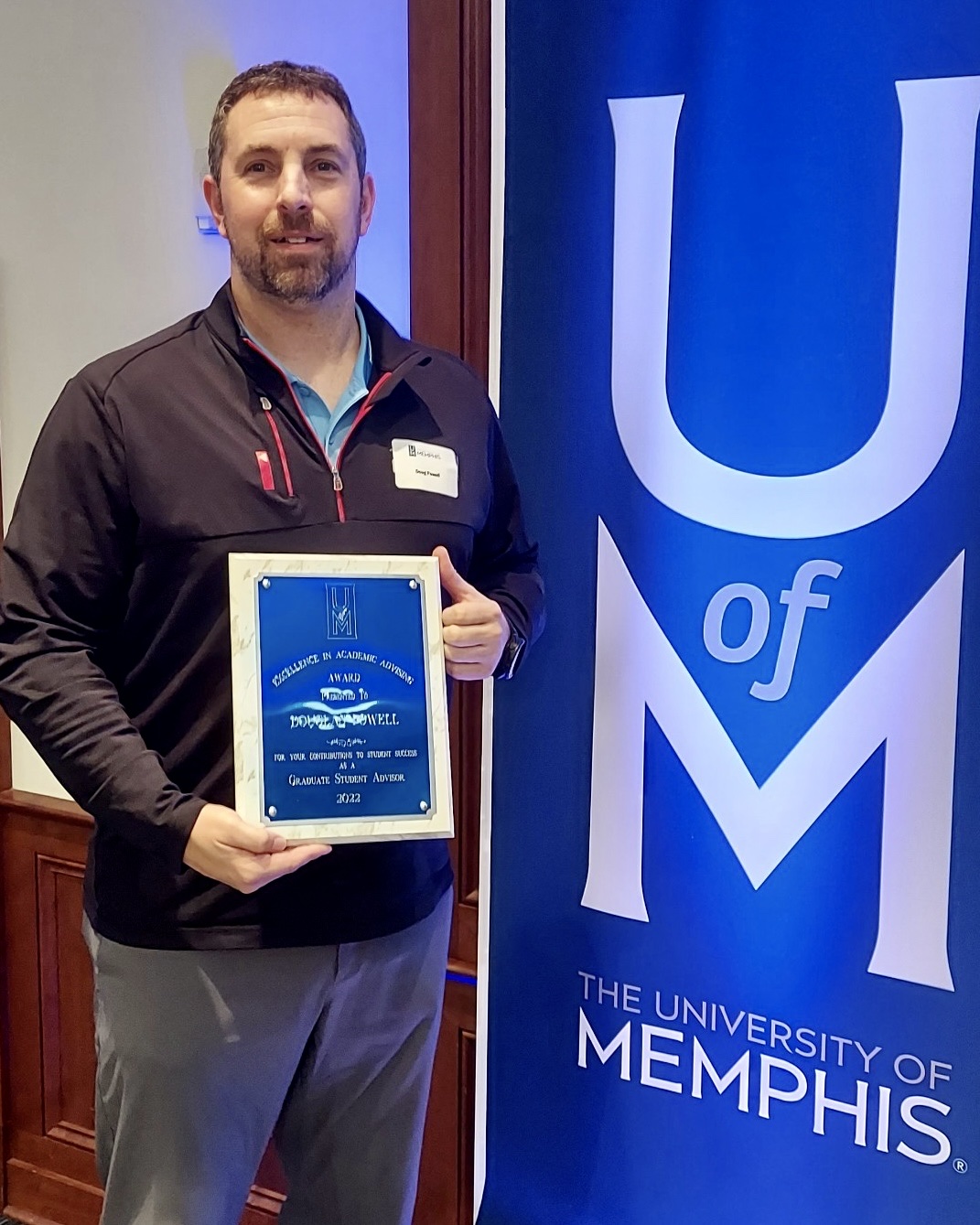 Exercise, Sport and Movement Sciences (ESMS) associate professor, Dr. Douglas Powell, was awarded the 2022 Excellence in Academic Advising Award for Graduate Student Advisor at the University of Memphis.
Dr. Powell has advised graduate students at the UofM since 2016. Through his mentorship and guidance, these students have completed graduate degrees and moved on to the next stage of their career or education. He understands the importance of education and uses his platform as an advisor and professor to reach out to undergraduate students about their career goals, and how furthering their education through a graduate program could advance their career aspirations.
An alumni said, "Dr. Powell's door is always open to students, literally and metaphorically. He is always present and welcoming to all students that may need assistance or support in their academic journey. Dr. Powell is a fantastic graduate student advisor and his service to me and my fellow graduate students should be commended and awarded."
The UofM Division of Student Academic Success awards six different categories of advisors to show appreciation and celebrate their academic efforts on campus. Their efforts are responsible for last year's record-breaking increase in retention, persistence and graduation rates.
---
Surgical Technology program receives accreditation
September 19, 2022
The College of Health Sciences Surgical Technology program is now accredited through the Commission on Accreditation of Allied Health Education Programs (CAAHEP).
The program coordinated by Janine Scott, in partnership with Methodist Le Bonheur Healthcare (MLH), offers a 15-month Surgical Technology program. This is a part of the University of Memphis MLH Associate Advancement Program (MAAP). The curriculum is offered through a combination of online and in-lab/in-class learning, broken into five terms of three months each. During the initial two terms (months one-six), you complete online coursework in Anatomy & Physiology, Medical Terminology, Microbiology, Pharmacology and related topics.
"This was a long process and took nearly two years to accomplish due to the timeline of how the program is designed and when the accrediting boards meet each year. We essentially went through two different accrediting boards before getting the accreditation." said Scott.
In Tennessee, it is required to graduate from an accredited program for this profession in order to get hired on as a surgical technologist. You also cannot sit for the national certification exam without graduating from an accredited program.
Receiving this accreditation will allow students in this program to advance after completing the curriculum.
---
PETE faculty recognized as MVPs (Most Valuable Professor)
September 9, 2022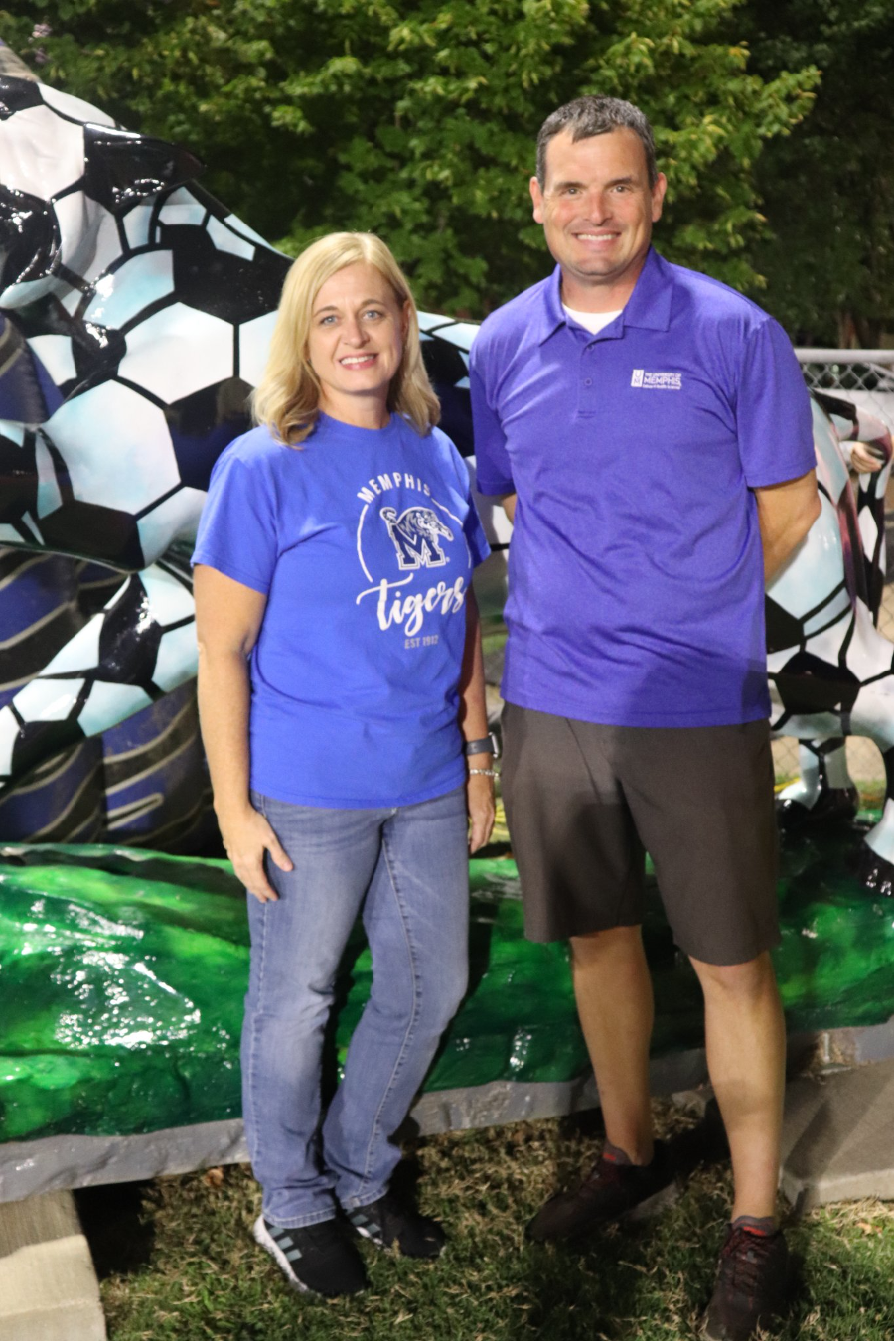 Physical Education Teacher Education Assistant Professor of Teaching Becky Bocz and Associate Professor Toddy Layne received Memphis Tigers Athletics' Most Valuable Professor award, nominated by two Women's Soccer players.
In response to player Bryana Buttar's selection, Bocz said, "I feel deeply honored to receive this recognition from my student. As a college professor you are never sure how you may impact your students, but I do my best to build relationships and connect with them. I know having an understanding of the challenges they are facing, their busy schedules, family life, as well as other things that may be occurring outside of college is essential for me to be the best teacher for them."
Layne, who was selected by Kimberley Smitt, said "It was a great honor to be recognized by a student."
---
Associate professor awarded grant for aging study
August 31, 2022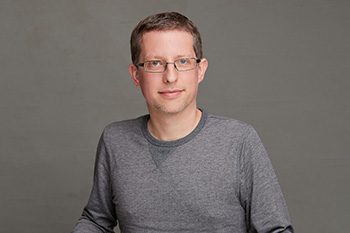 College of Health Sciences (CHS) Associate Professor Dr. Brandt Pence and collaborators received $414,136 from the National Institute on Aging of the National Institute of Health for their project, "Mitochondrial Determinants of Monocyte Dysfunction in Aging." Dr. Pence is Principal Investigator with Co-Investigators Yufeng Zhang (UofM CHS), Aaryani Sajja (UofM Biomedical Engineering) and Amandeep Bajwa (UTHSC Surgery).
The study is aimed at determining why aging causes declines in immune function. They are looking at the mitochondria, which are functionally reduced in aging, and how that might affect inflammation responses. They are also testing a mitochondrial transplant therapy to see if they can improve mitochondrial and immune function in immune cells from older adults.
---
2021-22 College of Health Sciences MVP
August 19, 2022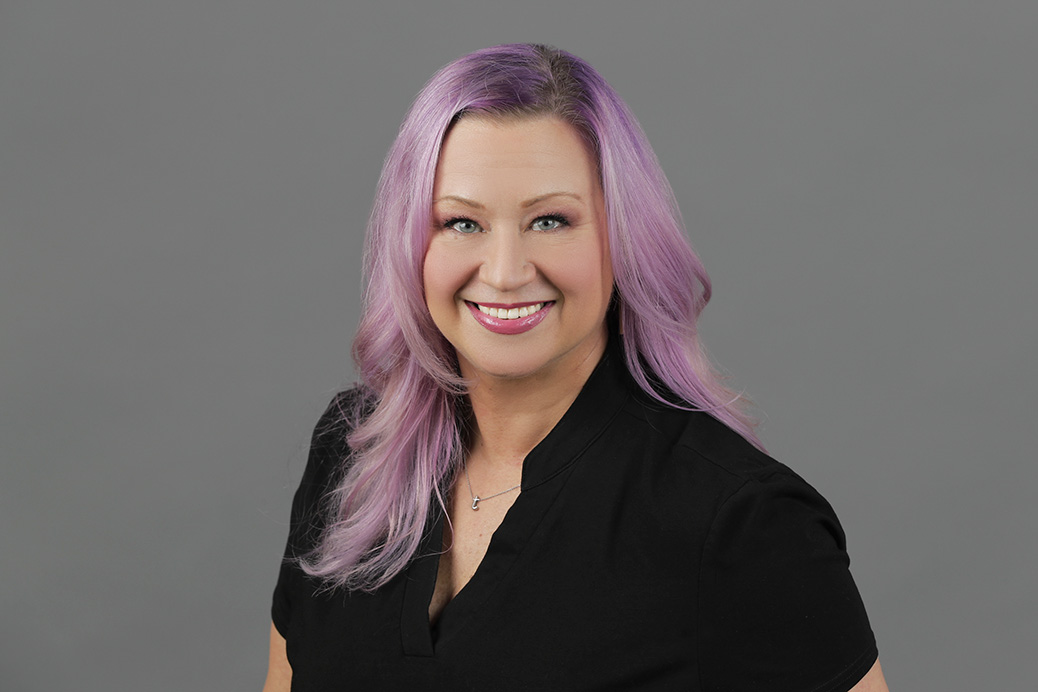 Tracy Shipp, Assistant Director of Marketing & Communications, is the recipient of the College of Health Sciences MVP Award for 2021-22. The MVP award is provided to the faculty or staff member who, during the past academic year, excelled in one or more areas of work, including but not limited to research, instruction and/or service. Shipp manages all aspects of marketing and communications for the college, and always performs at the highest level.
---
CHS assistant professor awarded grant for character education spectrum project
August 18, 2022
Physical Education Teacher Education Assistant Professor, Dr. Jamie Brunsdon, was awarded $5,000 from the Spectrum Institute for Teaching and Learning for his project: "Flourishing Through The Spectrum: Toward an Affective Spectrum Model?"
This project focuses on creating and field testing a new pedagogical model oriented toward teaching character education. Dr. Brunsdon will test the model with three K-12 classes to test the feasibility of the modelas well as the barriers and facilitators associated with implementing the model with youth in modern schools.
---
ESMS associate professor leads world-ranking track & field event as meet director
August 11, 2022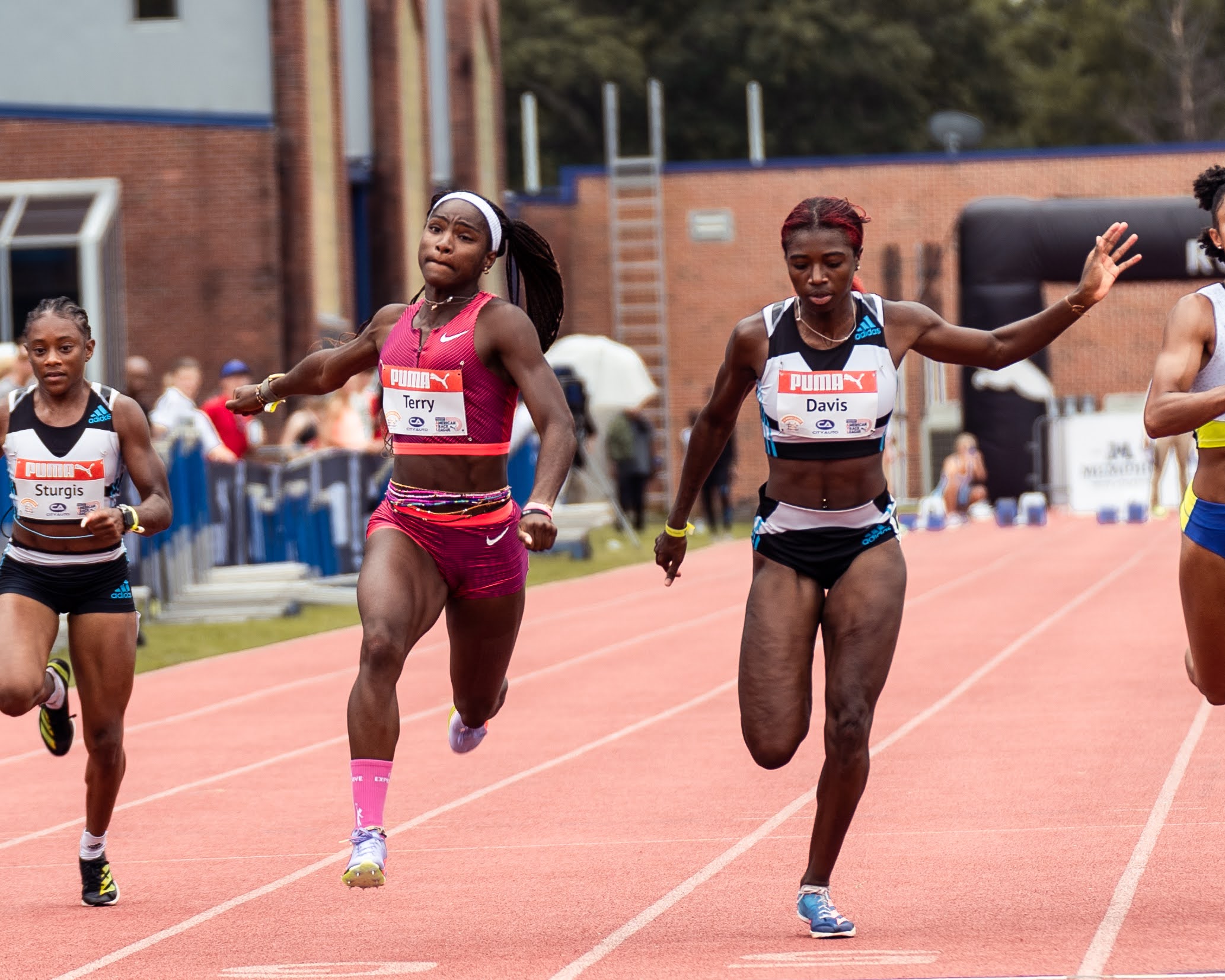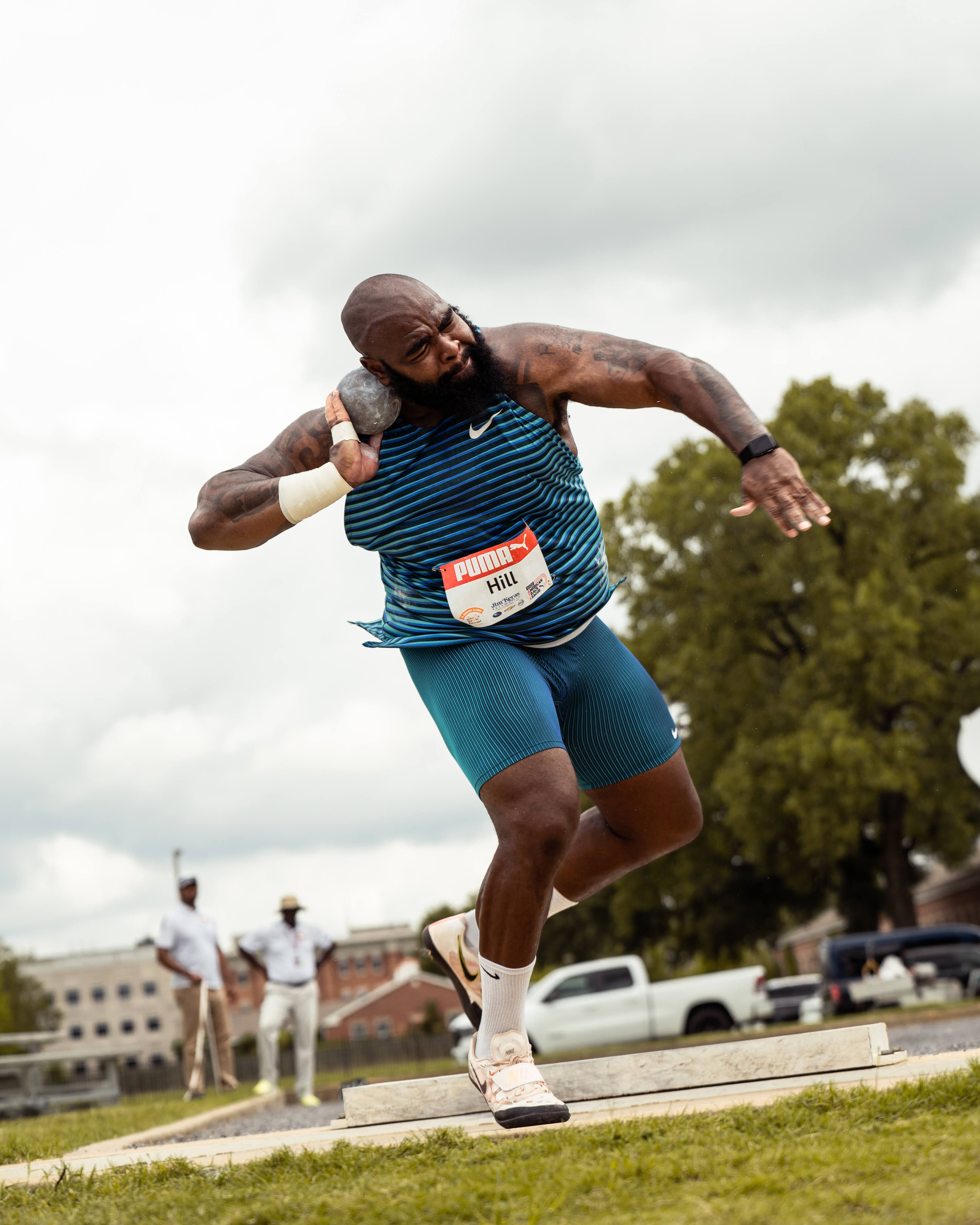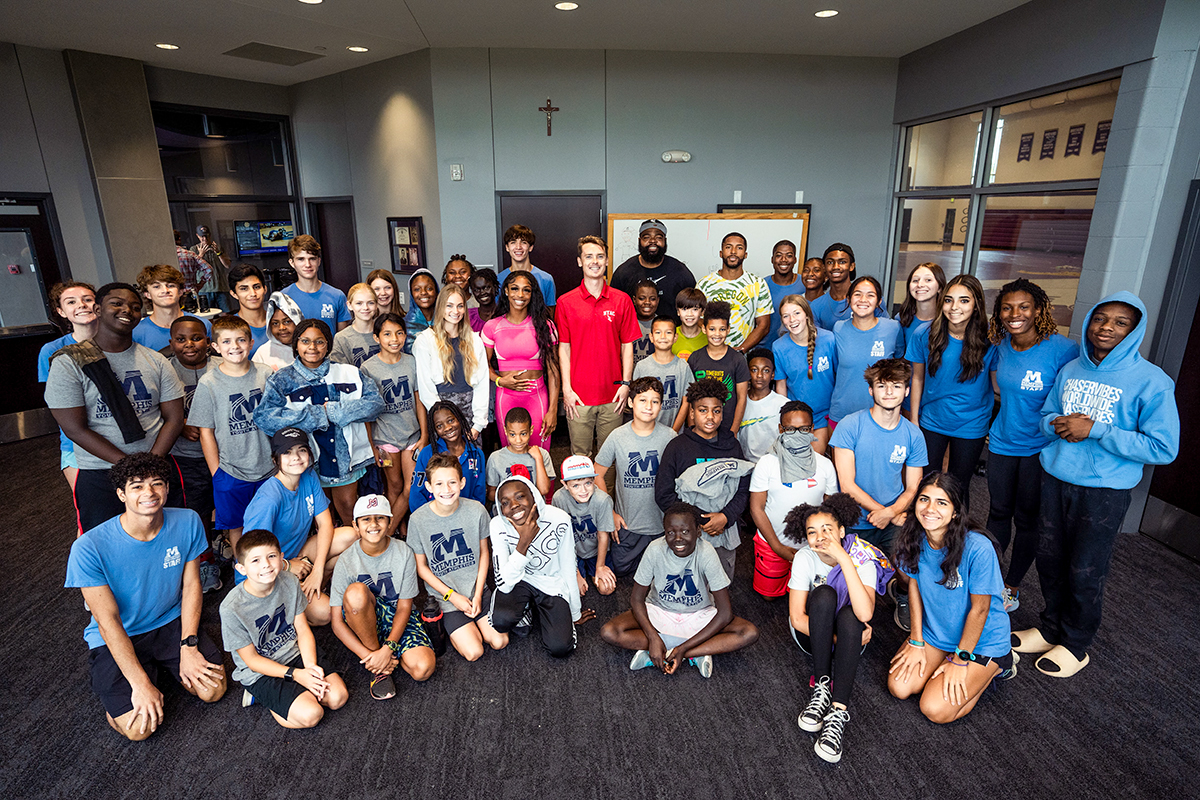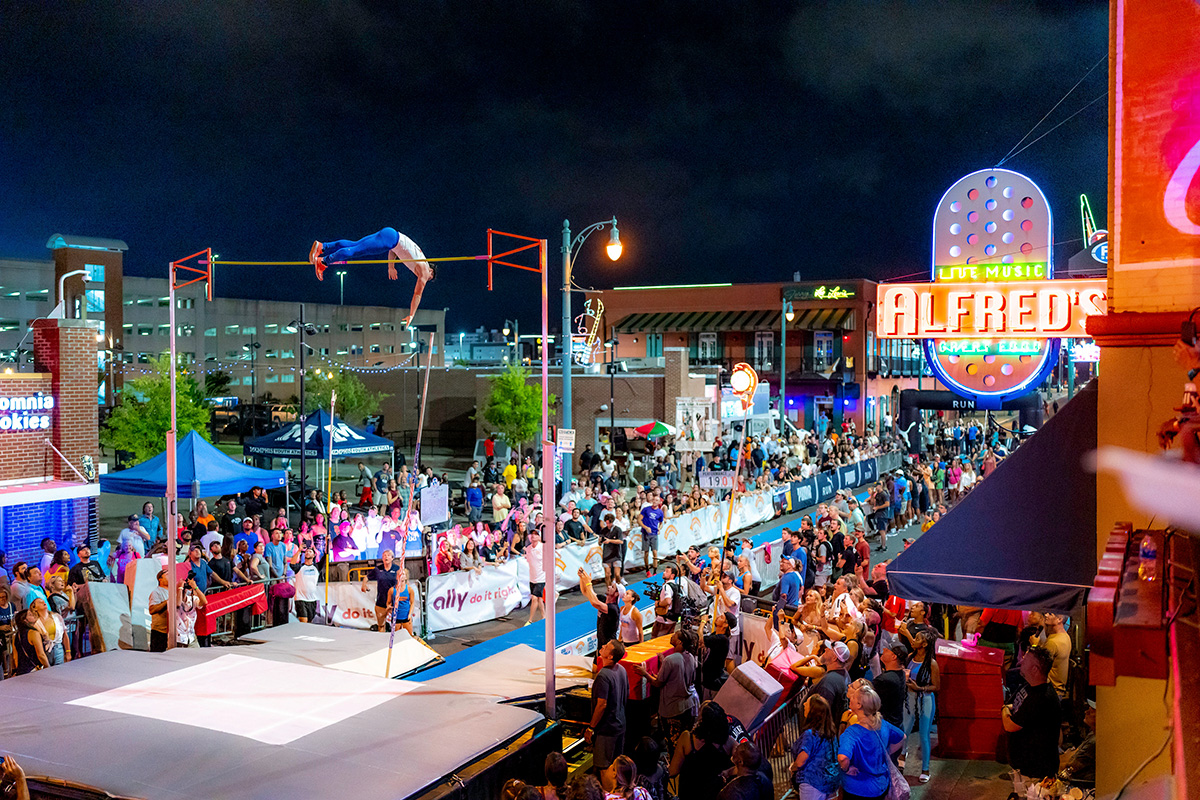 Photo credit: Billy Cvecko; Pole vault photo: Puma Running
Exercise, Sport & Movement Sciences Associate Professor Dr. Max Paquette and his team work continuously to help empower Memphis youth to pursue healthy and active lifestyles through track & field.
Dr. Paquette is the meet director for the annual Ed Murphey Classic held last month at the University of Memphis Billy J. Murphy Track and Soccer Complex. This track and field event hosted hundreds of professional, kids and community athletes with 58 Olympians.
This year's event included 55+ Olympians from 26 different countries, three different track and field sessions, social events, live music, food vendors, Stax Music Academy vocalists, Beale Street Flippers, a kids Q&A and Meet the Pros events. It produced dozens of personal bests, two world records, five TN-Soil records, 13 meet records and a lifetime of memories for local kids.
One of the events was a street pole vault on Beale Street in downtown Memphis. Professional pole vaulters ran down a portable runway and vaulted themselves up to 19 feet off of Beale!
The meet currently ranks 20th in the world and 4th in the U.S., above Penn Relays, Drake Relays, Texas Relays, New York Grand Prix and other outstanding and historic meets.
---
Dietetics students visit Florence, Italy for Study Abroad program
August 5, 2022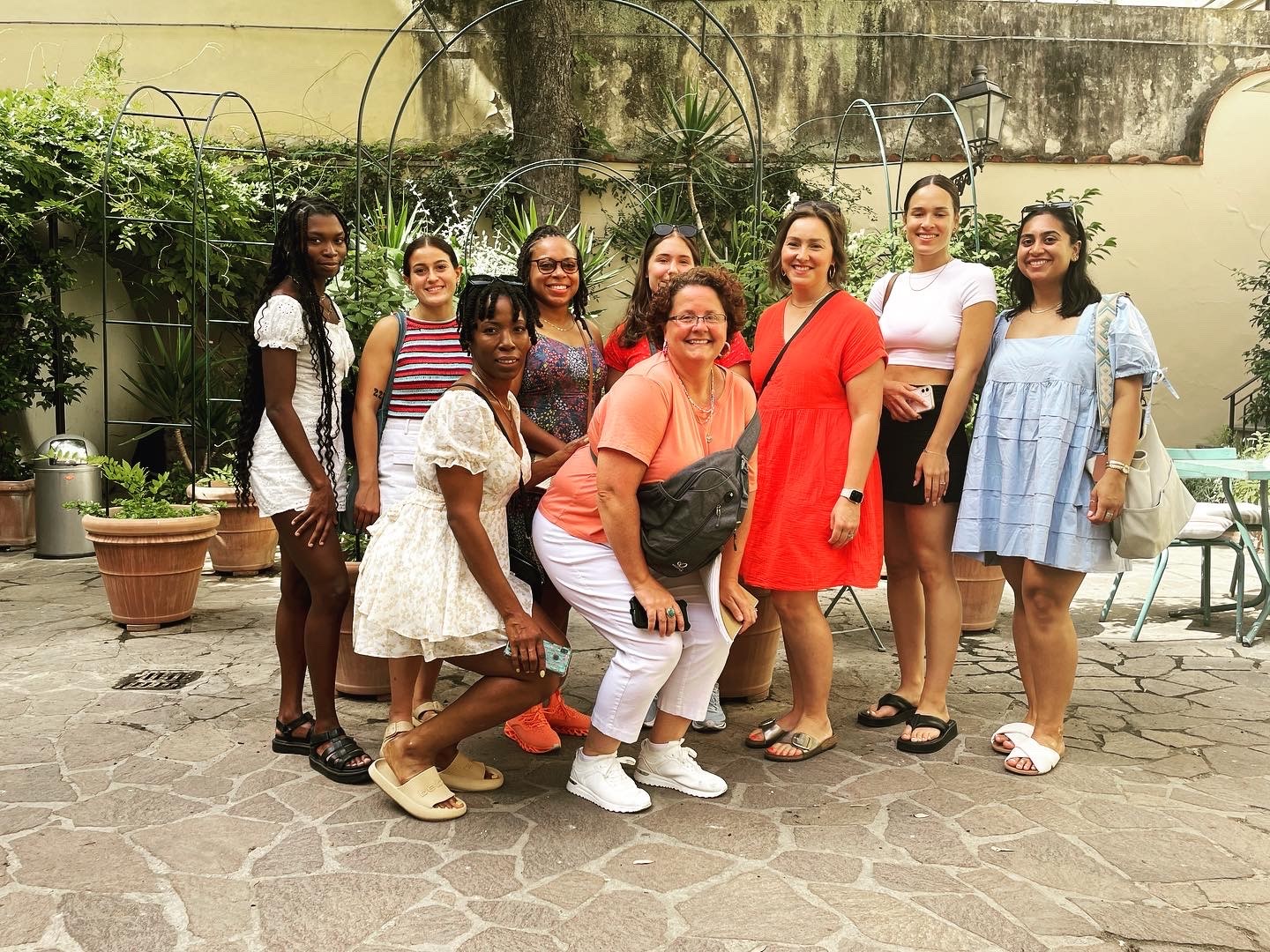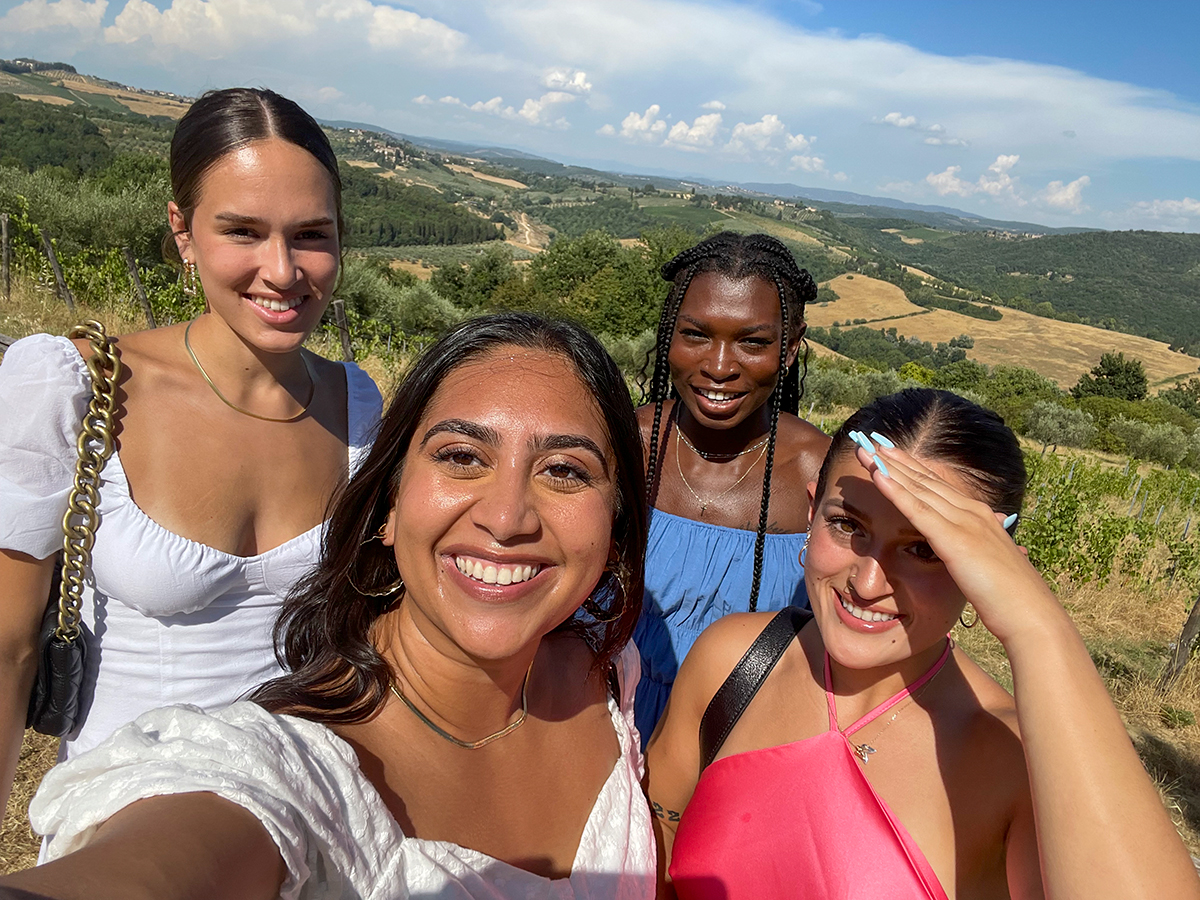 The College of Health Sciences Dietetics program, led by Mary Catherine Schallert, studied abroad in Florence, Italy this summer. The students had the opportunity to take one of the several courses offered in nutrition, health and lifestyle wellness at Florence University of the Arts.
"My overall study abroad experience provided me with the opportunity to gain more knowledge for my major. Also, provided me the opportunity to experience another culture in real time," said Dietetics student Iyalaje Ogunwale.
---
Healthcare Leadership/MAAP graduate featured on local news
July 30, 2022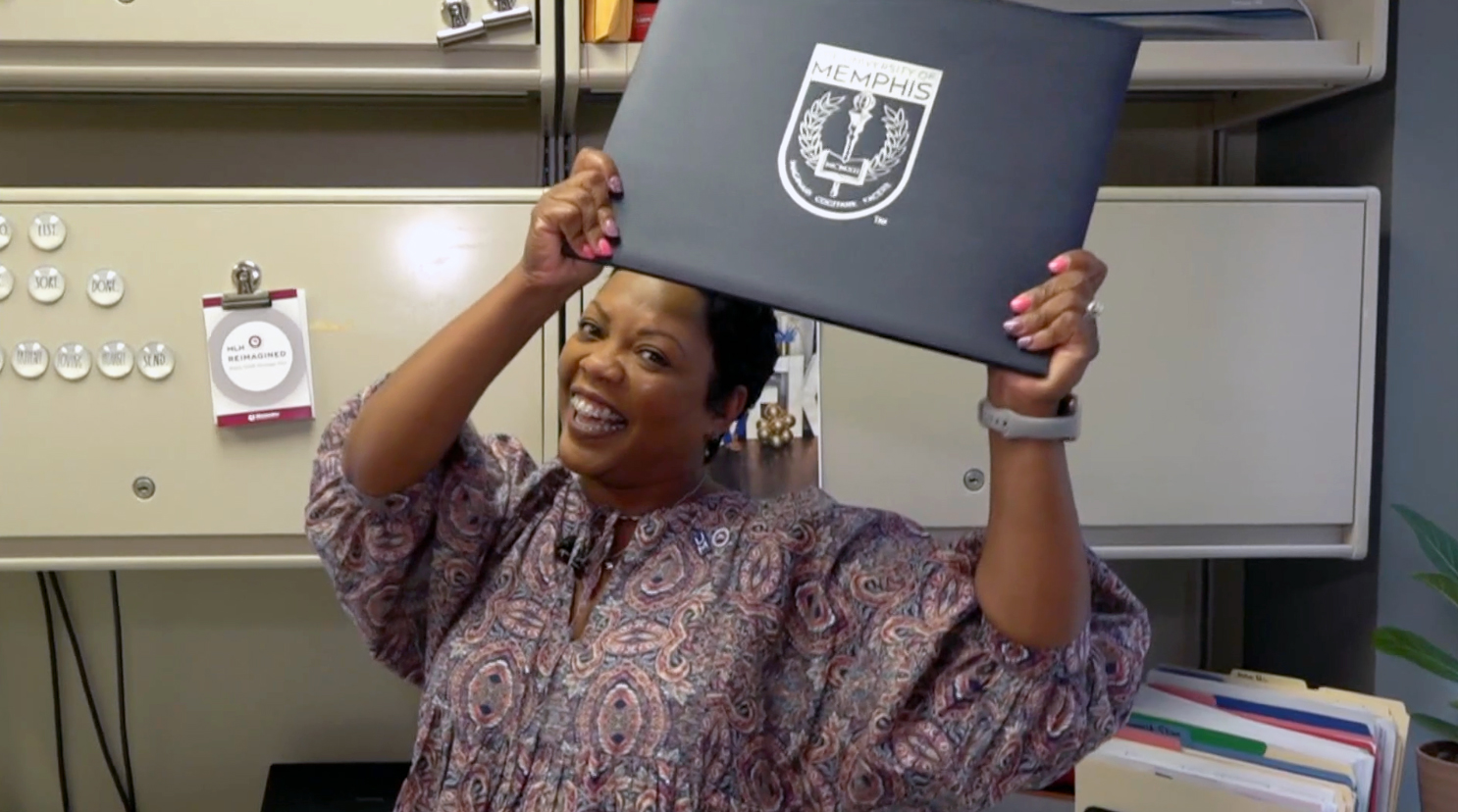 "Earning that bachelor's degree, it changed the trajectory of my life. The doors have opened. My journey is just beginning here."
Tanya Myers, one of the first graduates of the Methodist Le Bonheur Healthcare Associate Advancement Program (MAAP), spoke with ABC24 about earning her bachelor's degree in Healthcare Leadership. The MAAP Program in Partnership with UofM is designed to help associates at MLH further their career goals.
---
Memphis Youth Athletics visits CHS
July 15, 2022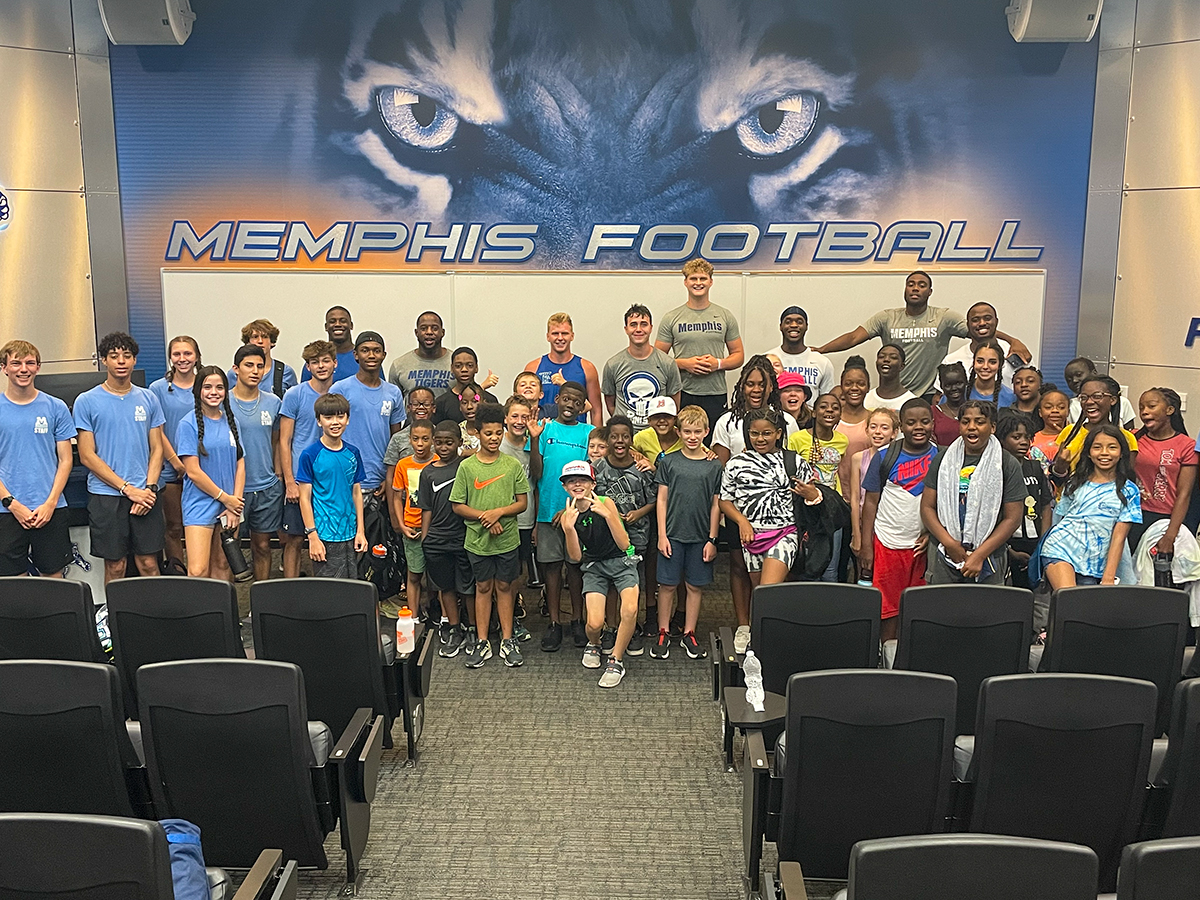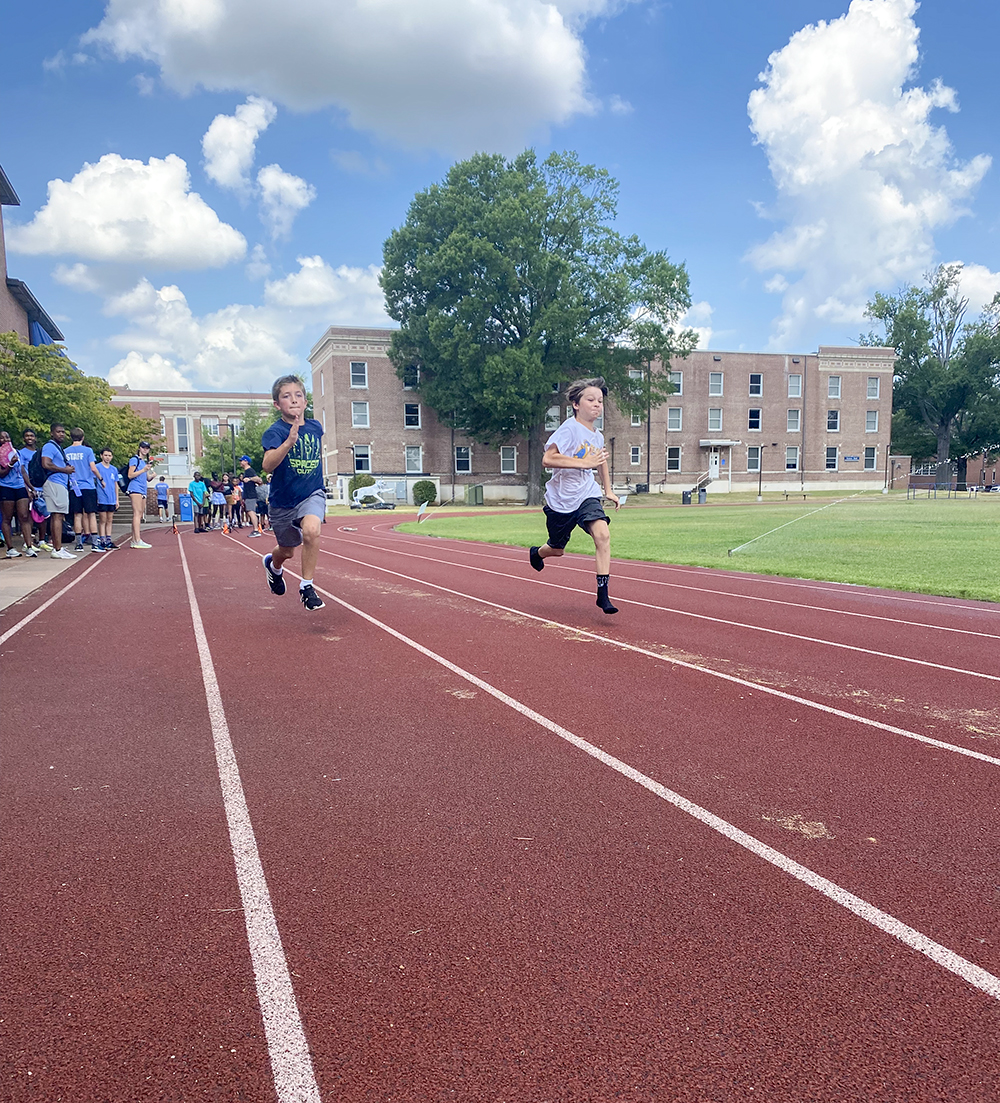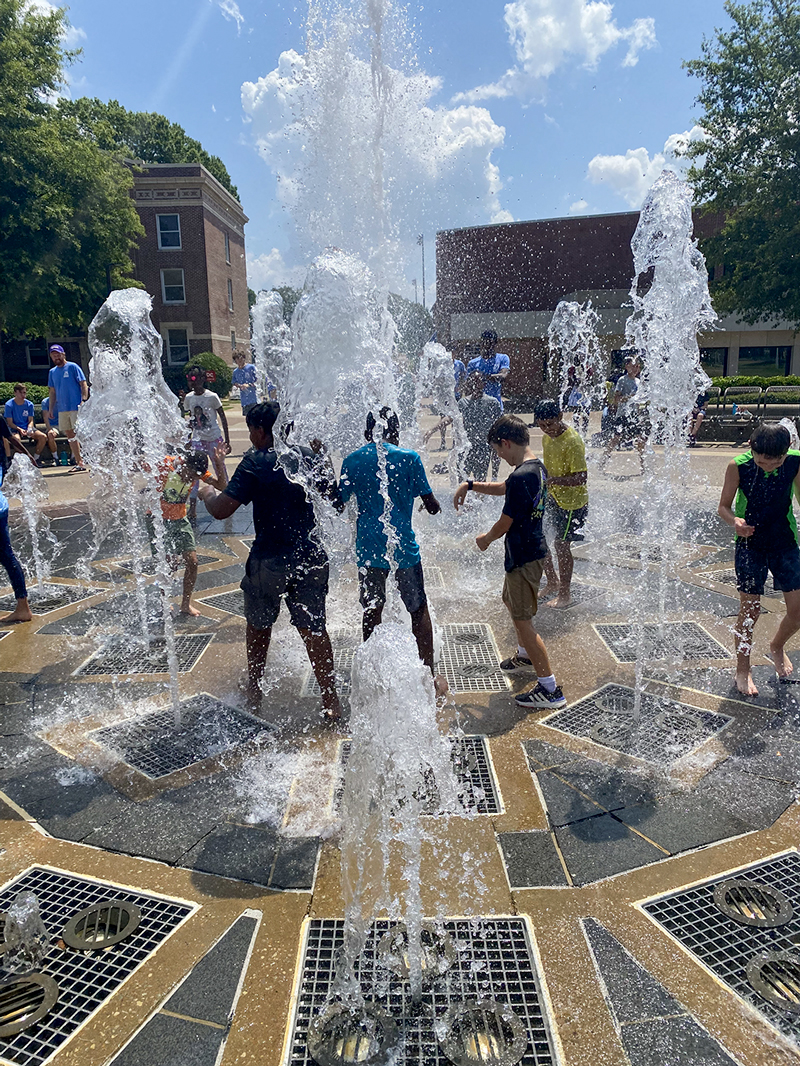 Photo credit: Memphis Youth Athletics
Memphis Youth Athletics visited the College of Health Sciences and Memphis Tigers Athletics during their summer program to learn about human movement. During their visit, the youth athletes were able to practice their track and field skills, talk with some our Tiger Football players and tour the campus. They even had the opportunity to run through the fountain!
Memphis Youth Athletics helps kids ages five to eighteen years in the West TN area see and grow their potential in the sport of track and field, as well as learn how to live a healthy lifestyle.
---
ESMS students win awards at national conference
July 12, 2022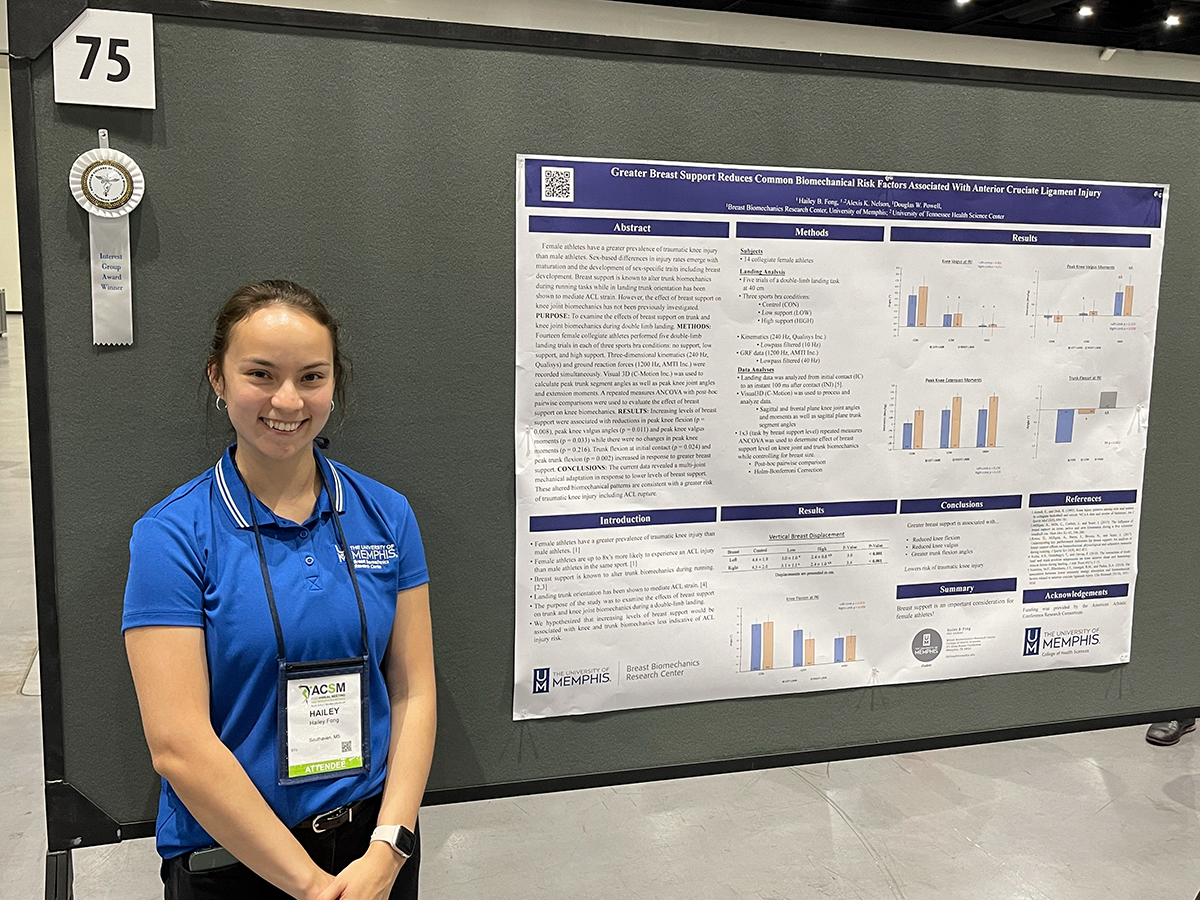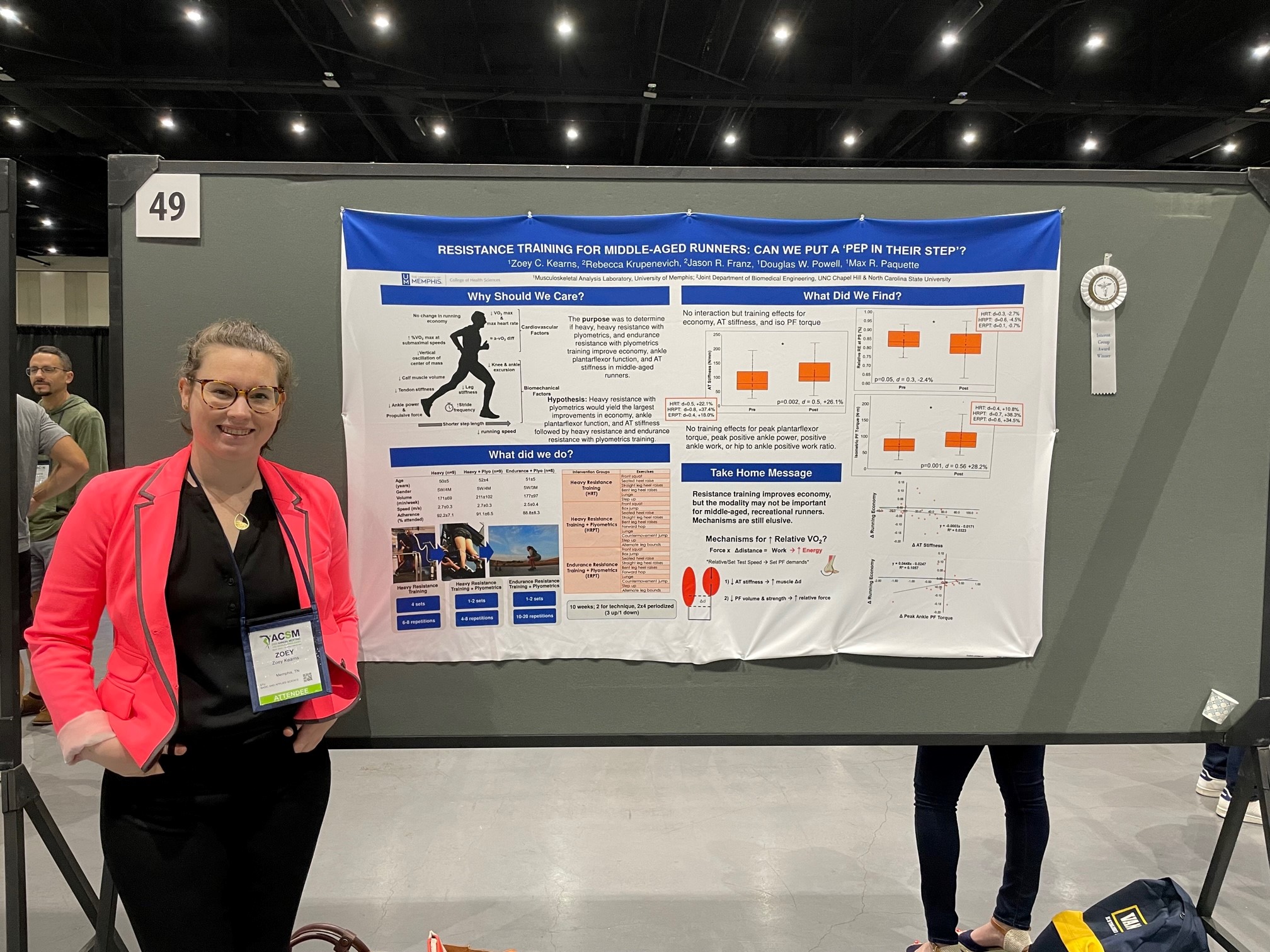 Exercise, Sport and Movement Sciences (ESMS) students recently attended the American College of Sports Medicine (ACSM) Annual Meeting and World Congresses in San Diego. The conference showcases the latest on exercise science and sports medicine.
Zoey Kearns won the Student Travel Award and a Student Research Award for her musculoskeletal analysis presentation. Zoey earned her master's degree in ESMS and is pursuing a PhD at the University of Maryland starting this fall.
PhD students Hailey Fong and Alexis Nelson won a Interest Group Award for their biomechanics research presentation.
During the annual meeting, the students were able to network, seek career advice and attend educational sessions to further their knowledge and prepare themselves for their next step in their exercise science and sports medicine careers.
---