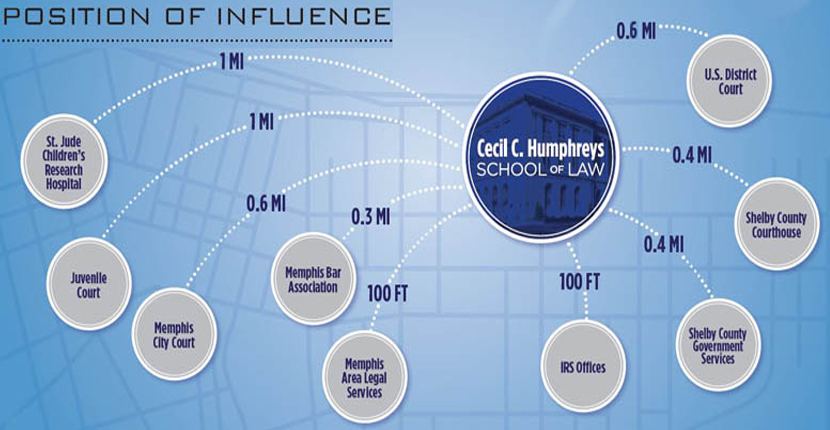 2016 Summer Externships
During the Summer 2016 semester, 50 University of Memphis School of Law students are enrolled in the externship course, simultaneously earning academic credit and gaining valuable hands-on legal experience through field placement work performed under the supervision of federal and state judges on the appellate and trial court levels; federal and state attorneys' and public defenders' offices; federal and state government and administrative agencies; an educational institution; healthcare entities; and non-profit legal services providers.
"By taking advantage of the law school's experiential learning course offerings, including our field-based externships and in-house, live-client clinics, Memphis Law students move beyond the foundation of core doctrinal courses and immerse themselves in supervised legal activities designed to further develop essential lawyering skills and professional values," said Daniel Schaffzin, Assistant Professor of Law and Director of Experiential Learning. "Students emerge from experiential courses that much more ready to practice law and to meet the rightfully high expectations of the future clients and employers on whose behalf they will work following graduation."
"I highly recommend the externship course at the University of Memphis because it provides a necessary exposure to 'real world lawyering' beyond the walls of the law school building," said Bob Huddleston, a rising 3L student, who is a summer extern with the Equal Employment Opportunity Commission's Hearings Unit in Memphis. "An externship provides insight into practical lawyering skills by showing how the substantive material learned in the traditional classroom translates into day-to-day legal practice. Additionally, the contacts, connections, and mentoring relationships made while working alongside supervising judges and practitioners serve the extern well in his or her future career, and, even better, are rewarding on a purely personal level."
As part of the Summer 2016 externship course, Memphis Law students are gaining for-credit learning and work experience opportunities through the following field placements:
Judicial Chambers
Judge Bernice B. Donald, U.S Court of Appeals for the Sixth Circuit, Memphis, Tennessee
Judge S. Thomas Anderson, U. S. District Court for the Western District of Tennessee, Memphis, TN
Judge John T. Fowlkes, U. S. District Court for the Western District of Tennessee, Memphis, TN
Magistrate Judge Tu M. Pham, U.S. District Court for the Western District of Tennessee, Memphis, TN
Justice Holly Kirby, Tennessee Supreme Court, Memphis, TN
Judge Camille McMullen, Tennessee Court of Criminal Appeals, Memphis, TN
Judge Robert L. Childers, Shelby County Circuit Court, 30th Judicial District, Memphis, TN
Judge Donna M. Fields, Shelby County Circuit Court, 30th Judicial District, Memphis, TN
Federal and State Government Law Offices
City of Memphis Attorney's Office, Litigation Unit, Memphis. TN
Office of the Desoto County District Attorney, Hernando, MS
Office of the Dunklin County Prosecuting Attorney, Kennett, MO
Office of the Federal Public Defender for the Western District of Tennessee, Memphis, TN
Shelby County District Attorney General's Office, Memphis, TN

Honors Prosecution Externship (8 Students)

Shelby County Public Defender's Officer, Memphis, TN
Tennessee Office of the Post-Conviction Defender, Nashville, TN
U.S. Attorney's Office for the Western District of Tennessee, Memphis, TN
U.S. Attorney's Office for the Western District of Tennessee, Jackson, TN
Federal and State Administrative Agencies
Centers for Disease Control and Prevention, Public Health Law Program, Atlanta, GA
Memphis-Shelby County Airport Authority, Memphis, TN
Tennessee Department of Environment and Conservation, Nashville, TN
U.S. Equal Employment Opportunity Commission, Hearing Division, Memphis, TN
Educational Institutions
University of Memphis Office of Athletic Compliance
University of Memphis Office of Legal Counsel
Healthcare Entities
Baptist Memorial Health Care Corporation, Memphis, TN
Shelby County Health Department, Memphis, TN
Non-Profit Advocacy
American Civil Liberties Union, Nashville, TN
Community Legal Center, Immigration Justice Program, Memphis, TN
Ducks Unlimited, Memphis, TN
Financial Institution Regulatory Authority (FINRA), Atlanta, GA
Justice for Our Neighbors, Nashville, TN
Memphis Area Legal Services, Memphis, TN

Domestic Violence Unit
Low Income Taxpayer Unit
Partnership for Educational Advocacy and Parity

University of Memphis Neighborhood Preservation Clinic
For more information about the Experiential Learning Program at the University of Memphis School of Law, Experiential Learning Program