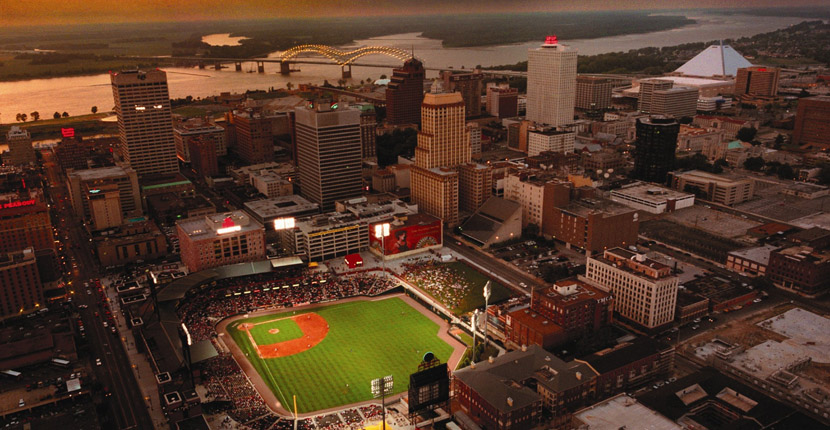 MEMPHIS DINING & ACTIVITIES
Best of the Best
Downtown
Itta Bena
Itta Bena, located on the third floor of BB King's Blues Club Memphis, is tucked away and is worlds apart from Beale Street. If you're looking for a swanky, secret getaway where the lights are low, the vibe is low-key and the music is just as sweet on your ears as the food is on your tongue, come to Itta Bena.
http://www.ittabenamemphis.com
Felicia Suzanne's
Felicia Suzanne's specializes in American cuisine with a Southern, low-country flair. The intimate setting with attention to every detail blends a young, contemporary feel with classic Southern charm and tradition.
http://www.feliciasuzanne.com
Flight Restaurant and Wine Bar
Flight is truly a one of a kind experience. Flight gives patrons the option to dine in "flights" for every course. Appetizers, entrees, and desserts are offered in mix-and-match flights, and all are accompanied by suggested wine flight pairings.
http://www.flightmemphis.com
McEwen's
McEwen's provides an intimate setting that is perfect for a low-key dining experience. However, McEwen's also has the unique option of "wine cellar dining," which is available for parties up to 20 people.
http://mcewensmemphis.com/info/
Rizzo's
Featured on Diners, Drive-Ins, and Dives, Rizzo's serves southern-inspired cuisine, featuring items like lobster pronto pups, brisket, and chorizo meatloaf.
http://www.rizzosmemphis.com/
*The descriptions for each restaurant and attraction come from the restaurants or attractions themselves or local guides, but we have picked some of our favorites to include from all that Memphis has to offer. Obviously, this list is not exhaustive, and there are a number of other great options in Memphis.
Midtown
Bari
Bari is a chic spot for modern Italian cuisine also features an impressive wine list & variety of cheeses. -http://www.barimemphis.com/web/
Café 1912
Café 1912 describes itself as "a casual midtown Memphis bistro with an open kitchen featuring a French inspired menu," but locals consider it one of Memphis's best-kept secrets. It provides an intimate atmosphere perfect for a casual night featuring extraordinary food. http://www.cafe1912.com
Restaurant Iris
Restaurant Iris specializes in French-Creole cuisine featuring local and seasonal ingredients. Chef English infuses his endless creativity and passion for food into each dish. Whether indulging in his Oysters three ways, a "Knuckle Sandwich," or a dessert made just for you, one is sure to reap the benefits of English's rich culinary background.
http://www.restaurantiris.com
East Memphis
Acre
Acre combines the elements of modern fine dining with the comfort of sharing a meal in the home of a good friend. The inventive modern American-cuisine and the outdoor bar patio are draws.
http://acrememphis.com/
Andrew Michael Italian Kitchen
Andrew Michael provides unrivaled innovativeness in the kitchen. The award-winning restaurant continues pushing the culinary limits and assures customers that "their passion for exploration and innovation in their cooking will benefit all those who pass through Andrew Michael Italian Kitchen."
http://andrewmichaelitaliankitchen.com
Erling Jensen
Tucked away on an East Memphis side street, Erling Jensen is a bit difficult to find but worth the trouble. Grounded in French tradition but much broader in scope, this fine restaurant has been a favorite for years. Its personable chef, Erling Jensen, is a fixture both in the kitchen and the dining room. The menu masterfully combines lamb, game, beef, and seafood with fresh vegetables and rich, flavorful sauces. Wild game is a highlight of the menu, with offerings including pheasant breast with risotto, New England red deer chops, and elk. A huge array of salads, wide selection of seafood, and tempting desserts including house-made sorbets round out the broad menu.
http://www.ejensen.com
Hog & Hominy
Across the street from and by the same chefs as Andrew Michael's, the more casual Hog & Hominy is a lively, rustic restaurant & bar serving Southern-influenced Italian dishes and cocktails.
http://www.hogandhominy.com/
Other Memphis Favorites
Downtown
Aldo's
Aldo's Pizza Pies was opened in July 2012 to give Downtown Memphis a great New York style, urban inspired pizza hangout with a long beer list. http://www.aldospizzapies.com
Arcade
Third generation owners Harry and Karan Zepatos can now be found running the day to day operations of the Arcade. There have been many changes over the years, but great care has been taken to preserve the old-time charm. So while the glowing neon signs and the 1920's architecture may transport you to the past, the pesto, feta, and walnut pizza will bring your taste buds to the present.
http://arcaderestaurant.com/about/
Belle- A Southern Bistro
Located in the heart of historic Downtown Memphis, Belle serves classic southern cuisine with a Cajun flare. Led by well-known chef David Johnson, the kitchen melds traditional Southern flavors with influences from the Bayou, Delta, and everything in-between. Breads, desserts, sauces, and dressings are all homemade.
http://www.bellememphis.com/
Café Pontotoc
A new downtown restaurant with tapas and small plates. It also serves draft beer and draft wine.
https://www.facebook.com/cafepontotoc/timeline
Central BBQ
Central BBQ is one of the most highly thought of bbq joints in Memphis. In a city known for bbq, Central is best known for its bbq nachos, but the ribs, brisket, portabella sandwiches, and desserts keep customers coming back as well. Central is a quick restaurant, which makes it popular for downtown workers, and its location right behind the Civil Rights Museum makes it a favorite for visitors as well.
http://cbqmemphis.com
Charlie Vergos's Rendezvous
Rendezvous has been a Memphis favorite for over a half-century, and customers don't expect this to ever change. "Presidents and potentates, the King and the Killer, Rolling Stones, *NSYNC, and everybody who's anybody have all been down for a bite." While it is the ribs that draw many in, frequent customers rave about all items on the menu.
http://www.hogsfly.com/TheRestaurant.php
Gus's Fried Chicken
Gus's fried chicken may be the only restaurant that EVERY Memphian has visited. Gus's feels like a small town, home cooked, fried chicken joint that always delivers world class food.
http://gusfriedchicken.com/about-guss-fried-chicken/
Huey's
Huey's has been serving up Blues, Brews and Burgers since 1970. You'll find a casual setting and laid back feeling in this legendary tavern.
http://hueyburger.com
Local Gastropub
Local is a downtown favorite. Local specializes in American cuisine, runs several weekly specials, including happy hour, crawfish buckets, business lunches, and various other seasonal specials. Local is a great place to have dinner and drinks while watching a sporting event on one of several televisions.
http://www.localgastropub.com
The Little Tea Shop
The Little Tea Shop is an established favorite for the Memphis legal community. Located just across from the University of Memphis Law School, the Tea Shop is a frequent lunch destination for students and downtown attorneys. Specialties include the "Lacy Special" (chicken, rice, cornbread, and gravy), salmon couscous, and varying daily specials. *OPEN FOR LUNCH ONLY
69 Monroe Ave, Memphis, TN 38103; (901) 525-6000
Majestic Grille
Originally built in 1913 as the Majestic No. 1, a silent picture house that entertained Memphians for three decades, the restaurant gives diners a glimpse of the heady Hollywood days of ol'. From the beautifully restored Beaux Arts décor to expertly prepared classic cocktails to warm, gracious service to Chef/Owner Patrick Reilly's award-winning, yet remarkably comfortable food, you find yourself feeling transported to another time.
http://majesticgrille.com
South of Beale
Also featured on Diners, Drive-Ins, and Dives, South of Beale is a gastropub serving American food with outdoor seating.
http://www.southofbeale.com
Midtown
Babalu
Babalu is quickly becoming a favorite among Memphians. Babalu has an energetic vibe, accompanied by excellent eats. Babalu is a taco place in theory, but the regulars know that the Baba Burger is what goes best with the guacamole that is prepared tableside.
http://babalutacos.com
Beauty Shop
From chef Karen Carrier, the menu has a down home American stance with world-beat tints and edges. For instance, you can't help noticing the Watermelon & Wings (combination of huge chicken wings dipped in white Szechwan pepper and sweet chili lime juice, brushed with sugar, then deep fried to incredible crispness and tenderness, and served with chunks of luscious sweet watermelon, sprinkled with toasted cashews).
http://thebeautyshoprestaurant.com/
Chiwawa
A restaurant with creative upscale Mexican food and drinks, Chiwawa is in popular Overton Square and is a local favorite.
http://chiwawamidtown.com/
Ecco on Overton Park
Another option for outdoor seating and great food, Ecco is a charming neighborhood restaurant serving food with Italian and Mediterranean influences.
http://eccoonovertonpark.com/gallery.html
Memphis Pizza Café
Memphis Pizza Café has been a pizza favorite of Memphians for 20 years. Known for thin crust pizzas with crust that is made daily, Memphis Pizza Café is also a common venue for those wanting to enjoy a drink while taking in a sporting event with a group of friends.
http://www.memphispizzacafe.com
Second Line
From the same staff that brings you Restaurant Iris, Second Line is a more casual restaurant with a menu best known for Po' Boys and New Orleans inspired items. The ingredients are often locally sourced, however some of the seafood is brought in from New Orleans for a true Nola dining experience.
http://www.secondlinememphis.com
YoLo
A local Memphis frozen yogurt and gelato shop.
https://www.facebook.com/yolofroyo
Attractions
Downtown
Beale Street
Named America's Most Iconic Street recently by USA Today, Beale Street is the official home of the blues. It is Memphis' answer to Bourbon Street with a number of bars, clubs, and restaurants.
http://www.bealestreet.com/
Bocce Ball on South Main
Bocce sets can be checked out for free with a drivers license or credit card from The Green Beetle, SOB l South of Beale, Leadership Memphis and Spindini.
https://www.gosouthmain.com/bocce/
Carriage Rides
Carriage Tours of Memphis is the oldest and largest operating horse-drawn carriage company in Memphis, Tennessee. We specialize in scenic tours, romantic rides, engagements, weddings, funerals and other special events. While we operate daily in the downtown area, we are able to transport our horses and carriages almost anywhere in the mid-south area to add something special to your event. Reservations recommended. http://www.carriagetoursofmemphis.com
Civil Rights Museum
Open until 6 p.m. Memorial Day weekend through Labor Day weekend. Tennessee residents with state-issued ID may visit the museum for free on Mondays from 3 p.m. until closing. (Not applicable for tour groups and operators. Not available on Dr. Martin Luther King Jr. Day, Presidents' Day, Memorial Day, Labor Day, Columbus Day or Veterans' Day.) Groups of 20 or more are eligible for admission rate discounts if scheduling at least two weeks in advance. See details. Active military members with ID may visit the museum for free. Discounts are available for American Alliance of Museum Members. Rates and hours are subject to change. Call (901) 521-9699 for the latest information.
http://civilrightsmuseum.org
Cotton Museum
When you visit the Cotton Museum, you're treading on the legendary floor of the Memphis Cotton Exchange where cotton traders once stood at the center of the global cotton economy. Once, only the elite members of the Cotton Exchange were allowed to enter. Today, this historic space is open to the public and is devoted to sharing the story of cotton – the crop that created empires, transformed American culture and changed the history of a nation and the world.
http://memphiscottonmuseum.org
Gibson Guitars
Take a complete tour of the Gibson Beale Street Showcase in Memphis. This memorable tour of Gibson's Memphis guitar factory consists of an intimate viewing of the facility as Gibson's skilled Luthiers craft some of the finest guitars in the world. An opportunity to witness the intricate process of binding, neck-fitting, painting, buffing, and tuning that creates these incredible musical instruments. See and hear how Gibson has helped shape the world of music for over 100 years and continues to set the pace for the musical innovations of tomorrow. The tour lasts approximately 45 minutes. Due to varied hours of manufacturing employees, it is not guaranteed that there will always be Luthiers present. Tickets can be purchased inside the Gibson Retail Shop, located in the Gibson, one block south of Beale Street, directly across from the FedEx Forum and The Westin Hotel.
http://www2.gibson.com/Gibson/Discoveries-of-Gibson.aspx
Memphis Redbirds
The Memphis Redbirds are the AAA affiliate of the St. Louis Cardinals. The Redbirds boast one of the highly regarded stadiums in the minor leagues. Fan favorites include Charlie Vergos's Rendezvous BBQ Nachos and locally brewed beer on tap.
http://memphis.redbirds.milb.com/index.jsp?sid=t235
The Orpheum Theater
In 1890, the Grand Opera House was built on the corner of Main and Beale Streets. The Grand was billed as the classiest theatre outside of New York City. Vaudeville was the main source of entertainment at the time, featuring singers, musicians and magicians. The Grand became part of the Orpheum Circuit of vaudeville shows in 1907, and the theatre became known as The Orpheum.
http://www.orpheum-memphis.com/
The Peabody Ducks
The famous Peabody Hotel in downtown Memphis is more than just a nice place to stay. It is also home to one of the city's most famous -- and most peculiar -- attractions. Each day at 11:00 a.m., a parade of five mallard ducks, led by a "duckmaster," makes its way from the roof of the hotel down to the lobby. There, a red carpet is rolled out and John Philip Sousa's King Cotton March begins to play. The ducks march into the fountain of the Peabody's Grand Lobby. At 5:00 p.m., the ceremony is reversed when the ducks return to their rooftop home.
http://www.peabodymemphis.com
Walking Downtown Tours
As you walk down South Main, you're a part of its legendary history. The buildings, most of them constructed in the early 1900s, are museum-quality architectural gems. And the stories that have transpired inside their walls over the past century show the quirky, innovative, individualistic spirit of the neighborhood.
https://www.gosouthmain.com/walking-tour/
Historic Walking Tours with Jimmy Ogle
Downtown Locations, (901) 604-5002
Join local historian Jimmy Ogle every Tuesday and some Saturdays through the summer months for free walking tours of various locations in downtown Memphis. Tours begin at 11:45 a.m. and meet at different locations. A list of tours and times is available here:
http://www.jimmyogle.com/
Midtown
Brooks Museum of Art
The Memphis Brooks Museum of Art is one of the largest art museums in the American South and houses an outstanding collection of art dating from antiquity to the present.
http://www.brooksmuseum.org/
The Children's Museum of Memphis
A private, nonprofit organization, The Children's Museum of Memphis creates memorable learning experiences through the joy of play in hands-on exhibits and programs. Core values: the intersection of play and hands-on learning; a positive impact on the community; a positive family experience; a complement to classroom education; inclusiveness; excellent customer service; nurturing appropriate partnerships in the community; and following the best practices of the children's museum field. http://www.cmom.com/
Levitt Shell
Built in 1936 and recognized as the site of Elvis Presley's first professional rock-n-roll show, the Levitt Shell is an outdoor performing arts pavilion located in the heart of Midtown, Memphis in the beautiful Overton Park. Every year the Levitt Shell puts on more than 50 free concerts and events, made possible by the generous support of the community and encouraging common ground through the arts.
http://www.levittshell.org/
Memphis Zoo
In 2008, the Memphis Zoo was ranked America's No.1 zoo by TripAdvisor.com. In 2009, the Memphis Zoo was rated the "top zoo in the country" in a national survey by Morey Associates. Today, the Memphis Zoo spans 70 acres and is home to more than 3,500 animals, representing over 500 different species.
http://www.memphiszoo.org
Overton Square
Today Overton Square is home to thriving businesses anchored by three live-performance theaters and a multi-screen movie theater. Loeb Properties is cultivating this local landmark into a new kind of arts and entertainment district that is a destination for locals and visitors alike. In addition to the entertainment, Overton Square is home to some of Memphians' favorite dining establishments such as Restaurant Iris, the Second Line, and Babalu, to name a few.
http://www.overtonsquare.com
The Pink Palace Museum
The Pink Palace Museum is one of the largest museums of its kind in the southeastern United States. Its large collection of permanent exhibits help visitors to explore Memphis' natural and cultural history, while its vast variety of touring exhibits give guests an intriguing and well-rounded visit.
http://www.memphismuseums.org
Studio on the Square
Studio on the square is a small, theater located in Overton Square. While it only has handful of screens, showings are constantly sold out due to the wonderful location, and the atmosphere. Studio on the Square tends to attract a more mature audience, due in part to their service of alcoholic beverages.
http://www.malco.com/cinema_shows.php?theatre_pick=32
Sun Studio
Sun Studio opened in Memphis on January 3, 1950 by record producer, Sam Phillips. The studio was originally called Memphis Recording Service and shared a building with the Sun Records label. Memphis Recording Service earned the title of "Birthplace of Rock and Roll" in 1951 when Jackie Brenston and Ike Turner recorded Rocket 88, a song with a heavy backbeat and a sound all its own. Rock and roll was born.
http://www.sunstudio.com/
Wiseacre Brewery
High Cotton Brewery
South Memphis
Graceland
Take an unforgettable journey through the most famous rock 'n' roll residence in the world: Graceland. Memphis, TN was the rock-and-roll legend's home for more than 20 years and at Graceland you can explore the personal side of Elvis Presley. Learn how his revolutionary style and unique sound changed the face of music and culture forever.
http://www.graceland.com
Stax Museum of American Soul Music
The Stax Museum is dedicated to American Soul music. It educates and celebrates the legacy of Stax Records and Stax Music Academy, honoring artists such as Isaac Hayes, Sam & Dave, Otis Redding, and Albert King, but also features artists from all major soul music record labels. http://www.staxmuseum.com

Tunica's Casinos, Restaurants, Shows, and Golf
Tunica, Mississippi, a 45-minute drive from downtown Memphis, is home to sixth-largest gaming area in the country. It has numerous casinos and restaurants (both high-end steakhouses and typical casino buffets), including Goldstrike's non-smoking second floor. There are also two championship golf courses and frequent shows at the various casinos.
http://www.tunicatravel.com/
Memphis Golf Courses
The Links at Galloway
A favorite public course in Memphis. A round is cheap, but tee times should be made a few days to a week in advance.
http://www.thelinksatgalloway.com
Mirimichi
Mirimichi is often considered the nicest public course in Memphis. Opened by Justin Timberlake, it is an eco-friendly course.
http://www.mirimichi.com
Tunica's golf courses
Tunica is home to three golf courses, two of which are connected to the casinos: River Bend, Tunica National, and Cottonwoods.
Useful Links
Free things to do in Memphis
https://www.memphistravel.com/free-things-to-do-in-memphis
I Love Memphis blog
http://www.ilovememphisblog.com
http://www.ilovememphisblog.com/category/do/365-things-to-do/
I love Memphis not only provides an exhaustive list of things to do while in Memphis, the blog also provides a weekly "things to do this weekend" feature that comes in quite handy.
Choose 901 blog
http://choose901.com/
Another good blog source for all-things Memphis.