2017 Hooks Annual Join Hands For Change Gala: Pursuing the Dream to Reality
Honored Guest & Keynote Speaker
Ambassador Andrew J. Young
Thursday, April 20, 2017 | 7 PM
Holiday Inn at the University of Memphis
HOOKS INSTITUTE: 20 YEARS AND COUNTING!
In celebration of Hooks Institute's 20th anniversary, the 2017 Join Hands for Change Gala was an exciting evening to celebrate the Institute's work over the previous two decades. The event was held on the evening of Thursday, April 20, 2017 at 7pm at the University of Memphis Holiday Inn.
Andrew J. Young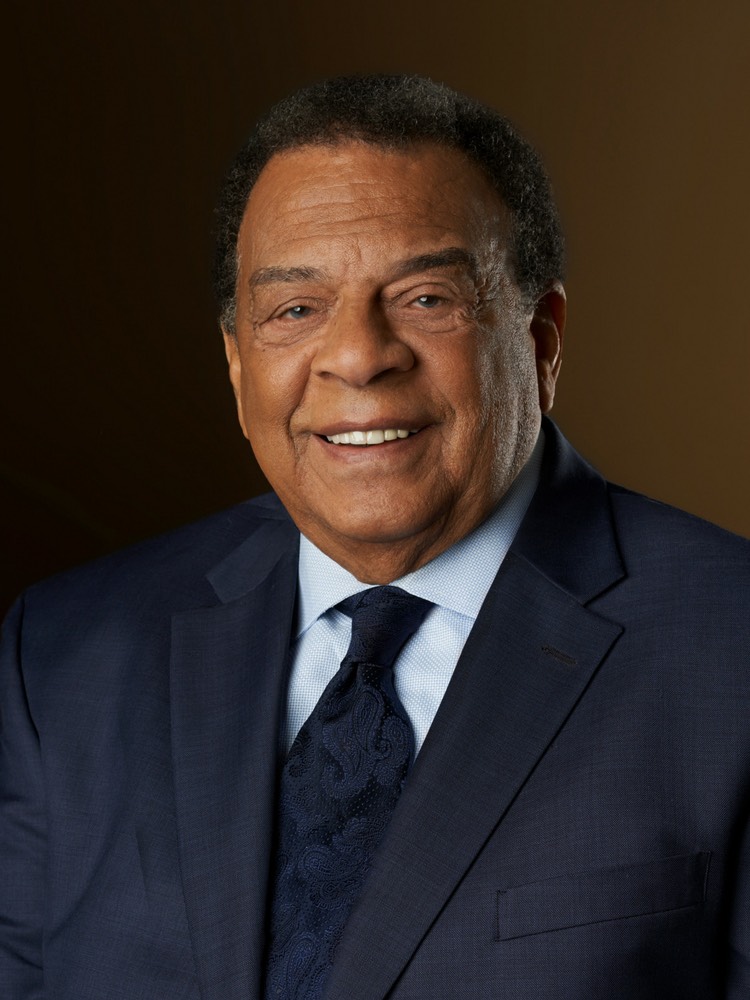 Andrew J. Young heard the call to service as a young man. He has lived his life in response to that call, from his ordination as a minister, to his work on behalf of civil and human rights, to his public service career as a member of Congress, U.S. Ambassador to the United Nations, and Mayor of Atlanta. The Andrew Young Foundation builds on his legacy by developing and nurturing new generations of innovative leaders to tackle this era's global challenges.
Andrew Young was born in 1932 in New Orleans. Raised in a middle-class family – his father was a dentist, his mother a teacher – Young was forced to travel from his own neighborhood in order to attend segregated schools. He excelled as a student and entered college early, graduating from Howard University in 1951 at 19 years of age. He became an ordained minister after graduating from Hartford Theological Seminary in 1955 and took a job as a pastor in Thomasville, Georgia. It was during his time in South Georgia that Young first became active in the Civil Rights movement. He organized voter registration drives in the African-American community, enduring death threats along the way.
The Civil Rights Movement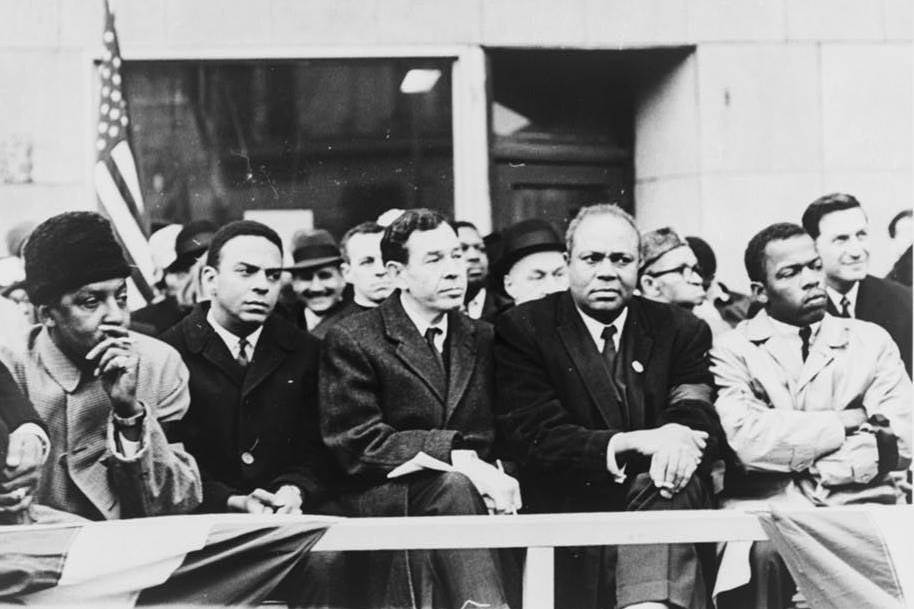 In 1957, Young moved with his wife, Jean Childs Young, to New York City to work with the Youth Division of the National Council of Churches. He returned to Georgia in 1961 to lead the Southern Christian Leadership Conference's (SCLC) "citizenship schools," working closely with Dr. King to teach non-violent organizing strategies.
Within the SCLC, Young organized desegregation efforts throughout the South, including the May 1963 march in Birmingham where participants were viscously attacked by police dogs. King often entrusted Young to oversee the SCLC when King spent time in jail after protests. Young was a key strategist and negotiator during civil rights campaigns that led to the passage of the Civil Rights Act of 1964 and the Voting Rights Act of 1965.
Photograph: Seated left to right: Bayard Rustin, Andrew Young, Rep. William Fitts Ryan, James Farmer, and John Lewis. 1965.
government service
In 1977, President Carter appointed Young to serve as the nation's first African-American Ambassador to the United Nations. As Ambassador, Young negotiated an end to white-minority rule in Namibia and Zimbabwe and brought President Carter's emphasis on human rights to international diplomacy efforts.
In 1970, Young left the Southern Christian Leadership Conference to run for Congress. He lost his first race, but two years later became the first African American representative from the Deep South since Reconstruction. He served on the Banking and Urban Affairs and Rules Committees, sponsoring legislation that established a U.S. Institute for Peace, The African Development Bank and the Chattahoochee River National Park, while negotiating federal funds for MARTA (Metro Atlanta Rapid Transit Authority), the Atlanta highway system and a new international airport for Atlanta.
Mayor of Atlanta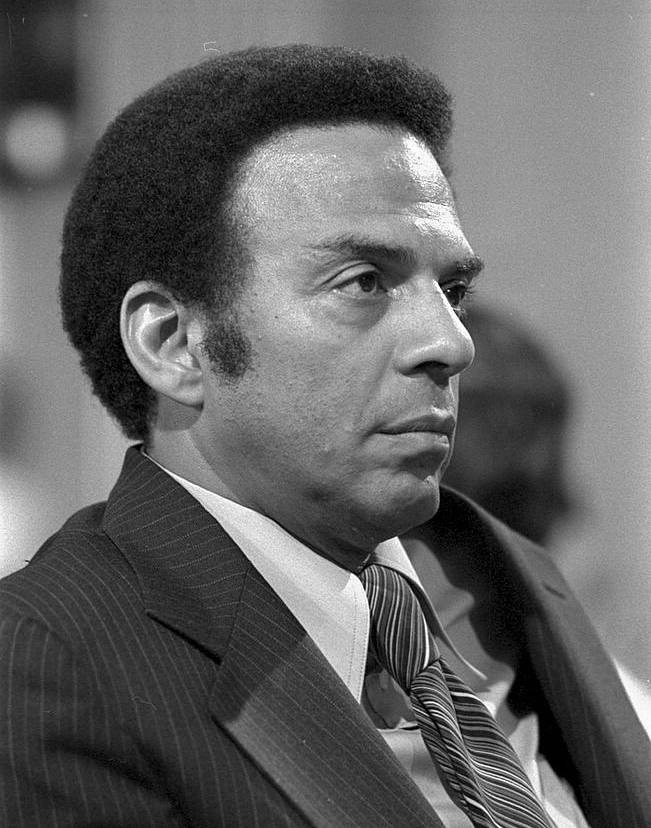 In 1981, Young was elected Mayor of Atlanta in 1981, where, as he liked to say, the mayor had once had him thrown in jail. He was re-elected in 1985 with nearly 80 percent of the vote and in 1988 Atlanta hosted the Democratic National Convention. His tenure corresponded with a recession and a reduction in federal funds for cities. He turned to international markets for investments in Atlanta, attracting 1,100 new businesses, $70 billion in investment, and 1 million new jobs to the region. He developed public-private partnerships to leverage public dollars for the preservation of Zoo Atlanta.
Young led the successful effort to bring the Centennial Olympic Games to Atlanta in 1996. As Co-Chair of the Atlanta Committee for the Olympic Games, he oversaw the largest Olympic Games in history in terms of numbers of participating countries, competing athletes and the number of spectators. He was awarded the Olympic Order, the highest award of the Olympic Movement. President Bill Clinton appointed him founding chair of the Southern African Enterprise Development Fund. In 2000 and 2001, he served as president of the National Council of Churches.
Andrew J. Young Foundation
In 2003, he and his wife Carolyn McClain Young founded the Andrew J. Young Foundation to support and promote education, health, leadership and human rights in the U.S., Africa, and the Caribbean. Andrew Young Presents, the Emmy-nominated, nationally syndicated series of specials produced by Ambassador Young through the Andrew J. Young Foundation, Inc. is seen in nearly 100 American markets and worldwide through the American Forces Network. Its first episode was drawn from the documentary film Rwanda Rising, about Rwanda's progress since the genocide of 1994.Young narrated the film. Ambassador Young retired from GoodWorks International, LLC, in 2012 after well over a decade of facilitating sustainable economic development in the business sectors of the Caribbean and Africa.
Honors and Notable Works
He has shared his life's work in books including "A Way Out of No Way: The Spiritual Memoirs of Andrew Young," "An Easy Burden: The Civil Rights Movement and the Transformation of America," and "Walk in My Shoes: Conversations between a Civil Rights Legend and his Godson on the Journey Ahead," which was co-authored by Kabir Sehgal.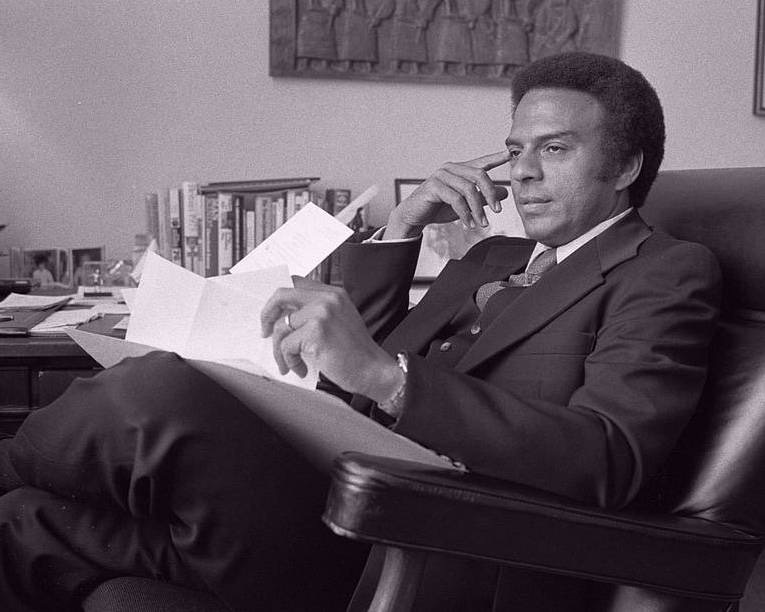 Ambassador Young has received honorary degrees from more than 100 universities and colleges in the U.S. and abroad. President Jimmy Carter awarded him the Presidential Medal of Freedom, and France awarded him the Legion d'Honneur, each representing the highest civilian honor for that particular nation. He has received the NAACP's Springarn Medal. In 2011 he received an Emmy Lifetime Achievement award, and his portrait became part of the permanent collection of the Smithsonian National Portrait Gallery. He serves on a number of boards, including: the Martin Luther King Center for Non-Violent Social Change, United Nations Foundation, the Atlanta Falcons, the Andrew Young School for Policy Studies at Georgia State University, Morehouse College and Chairman of the Andrew J. Young Foundation.
Young continues to call Atlanta home where he lives with his wife, Carolyn McClain Young. He is the father of three daughters and one son and the grandfather of eight.