2020 Events
Fall 2020
Nov. 10
Reimagining Policing Panel Discussion
Nov. 10 | Facebook Live, Hooks Institute's Facebook Page | 6 PM
On November 10 the Hooks Institute hosted an online event, Reimagining Policing, a panel discussion about police reform in Memphis and the nation.
In response to local and national protests and demands for systemic changes in policing, panelists discussed policing policies, practices and reforms and their impact on the community.
Panelists were:
Lynda Williams, president, National Organization of Black Law Enforcement Executives (NOBLE) (Alexandria, Virginia)
Shahidah Jones, founder, Black Lives Matter, Memphis Chapter;
Myesha Braden, director of special justice initiatives, Alliance for Justice (Washington, DC).
Richard McKinney, II, sergeant, Shelby County Sheriff's Department
The moderator was:
Marc Perrusquia, award-winning journalist and director of the Institute for Public Service Reporting.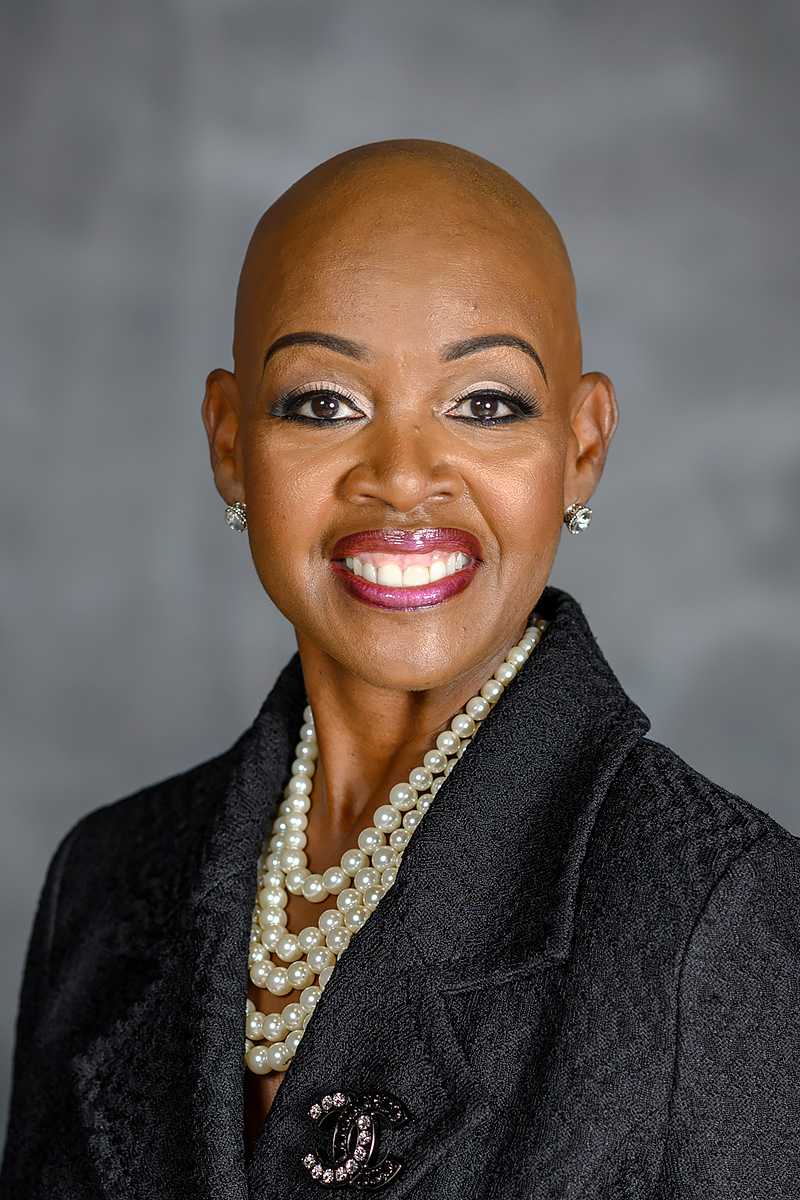 About Lynda R. Williams
Lynda R. Williams is currently the Professor of the Practice at Middle Tennessee State University in the Department of Criminal Justice Administration; with this appointment in 2017, she became the first individual bestowed this title in recognition of the breadth and depth of her knowledge and expertise in the field of criminal justice and executive security. Prior to joining the faculty of Middle Tennessee State University, Ms. Williams led an accomplished career as a veteran of the United States Secret Service, from 1988 until she retired, as the Deputy Assistant Director in 2017. Her Secret Service assignments included protective detail for President Bill Clinton and Vice President Al Gore, and service in administrations from Ronald Reagan to Donald Trump. As current president of the National Organization of Black Law Enforcement (NOBLE), Williams is focused on achieving the organization's goals through a three-pillar platform on police reform, gun violence, and voter engagement. Williams is a native of Memphis, TN.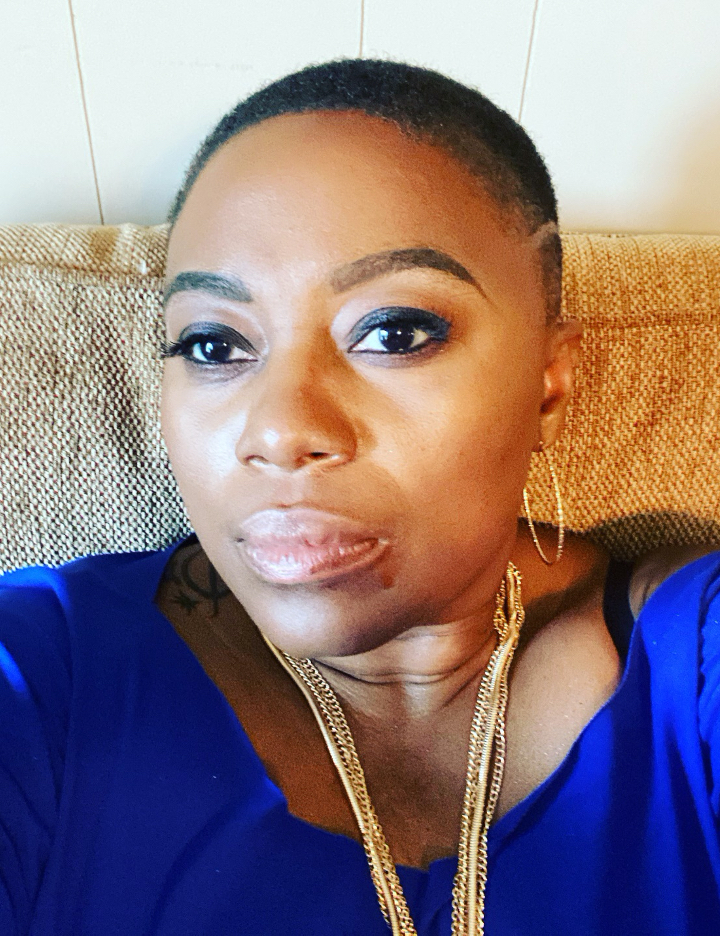 About Shahidah Jones
Shahidah Jones is an unapologetically Black & queer organizer, and an experienced communication and digital media strategist. Jones has an exceptional talent for using her radical perspective to help businesses and non-profits develop creative strategies that improve communication efficiency, increase brand visibility, drive customer engagement and establish vibrant social media communities. Jones dedicates much of her time and efforts to uplifting the community and fighting for the rights of the disenfranchised and truly believes no one is free until we all are free.
A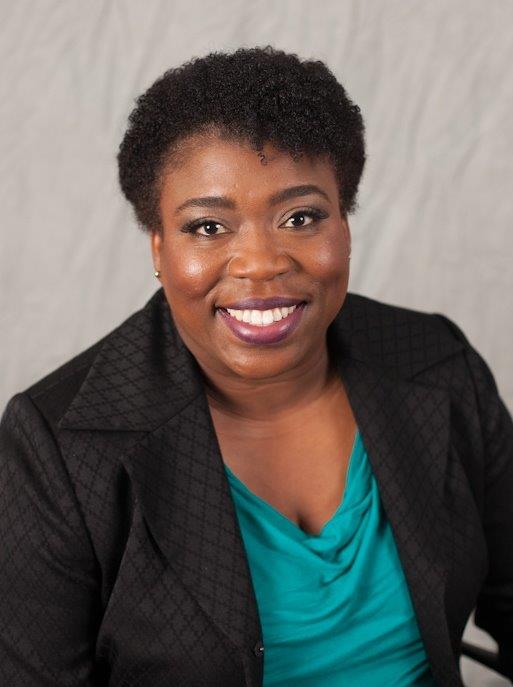 bout Myesha Braden
Myesha Braden is director of Special Justice Initiatives at the Alliance for Justice in Washington, D.C. She is a civil rights attorney and former federal prosecutor with expertise in establishing and managing new programs and practice areas. She was the inaugural director for the Criminal Justice Project at the Lawyers' Committee for Civil Rights Under Law; a senior policy advisor for the White House Domestic Policy Counsel's Office of Urban Affairs, Justice & Opportunity; and a former career federal prosecutor and policy counsel in the U.S. Department of Justice Civil Rights Division. Braden is a creative thinker with an established track record of designing and establishing new litigation and policy programs.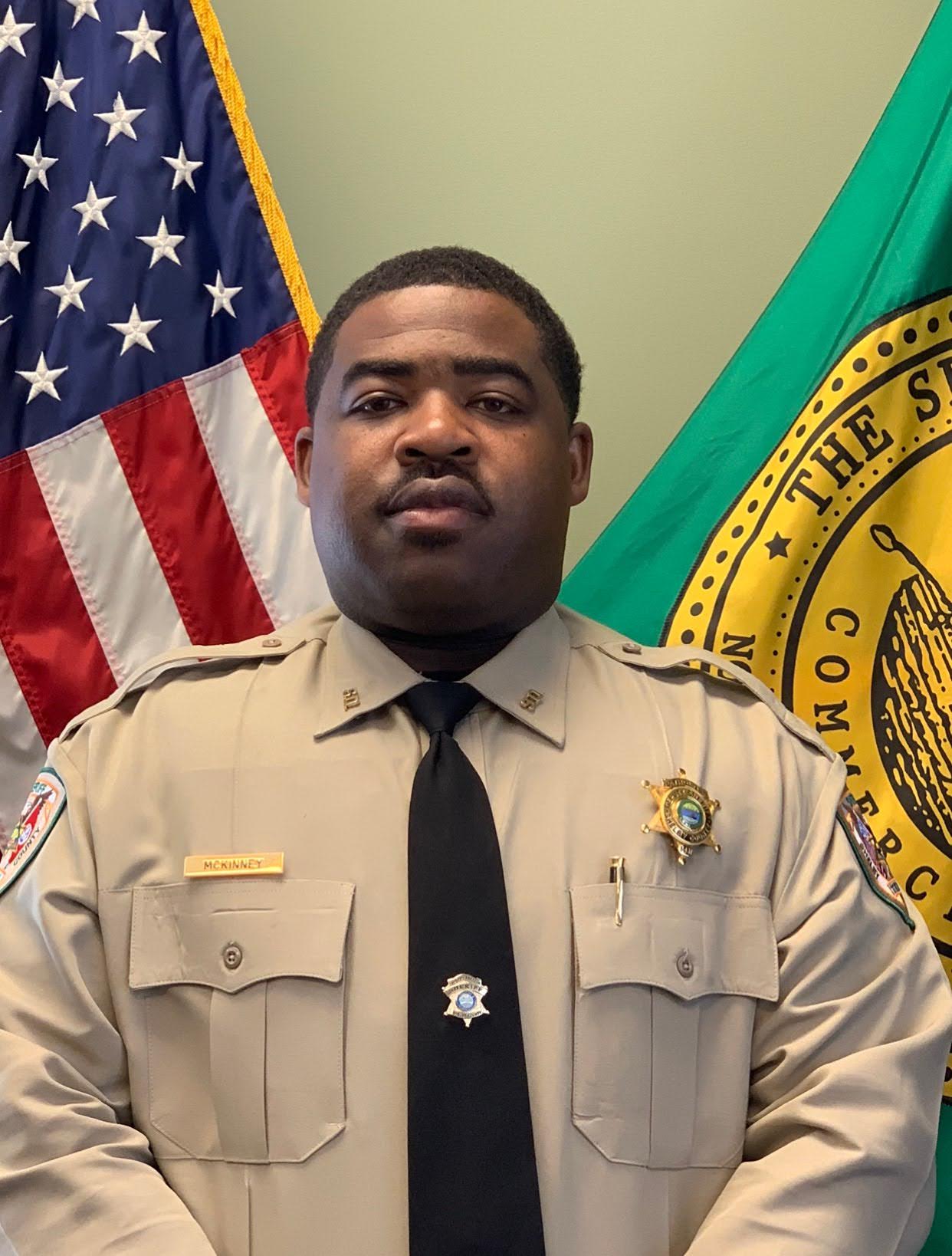 About Richard McKinney, II
Richard McKinney, II is a sergeant in the Shelby County Sheriff's Department and was named Shelby County's Deputy of the Year in 2015. McKinney works in the Domestic Violence/Special Victims Unit and has previously worked in the department's Uniform Patrol Division and DUI Unit. He is a Drug Recognition Expert for the State of Tennessee and Shelby County, training officers and troopers throughout the state. In 2019, he was appointed to the Sheriff Department's Crisis Negotiation Team. He serves as vice president of the Shelby County Sheriff's Association of Tennessee, working with the Sheriff Department's command staff and deputies as well as Shelby County commissioners.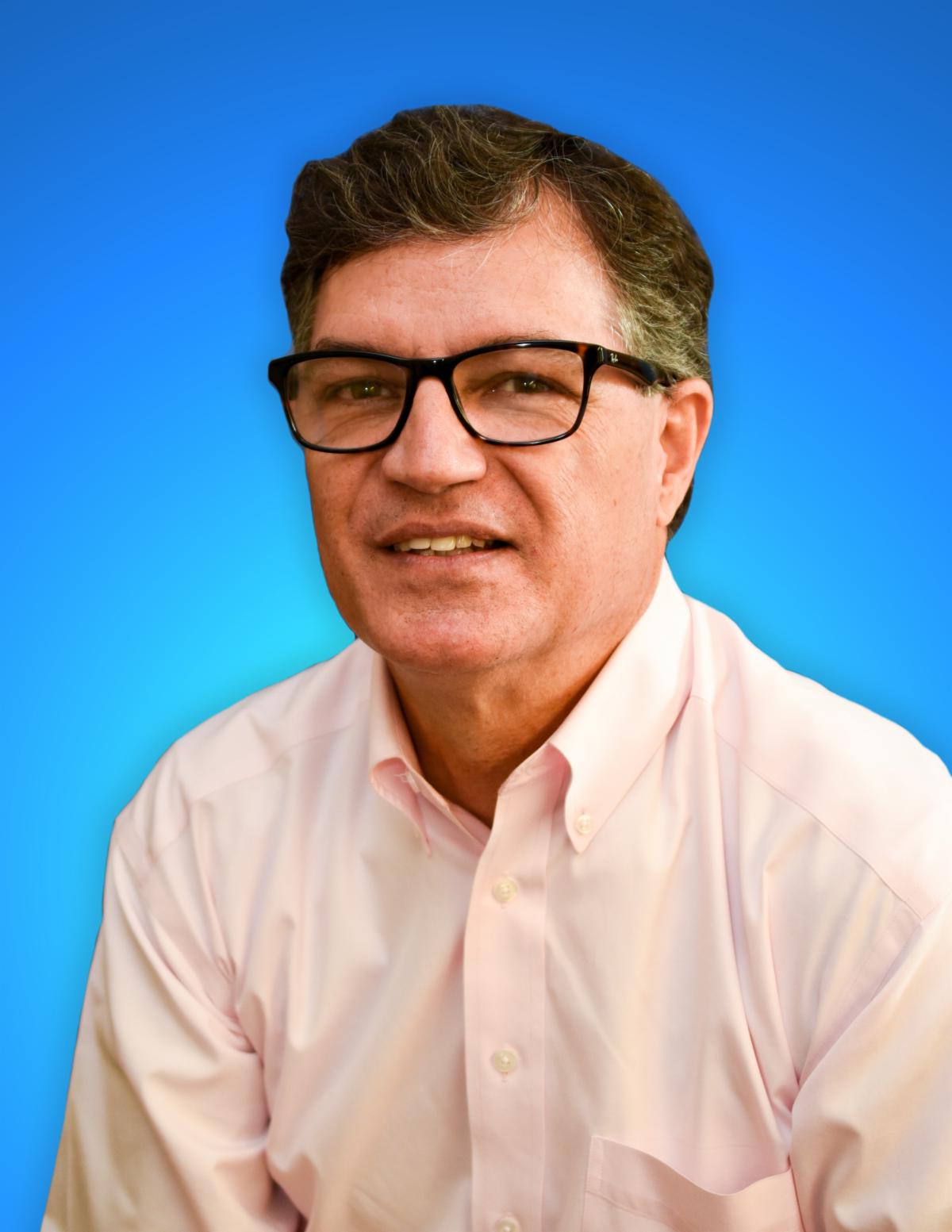 About Marc Perrusquia
Marc Perrusquia is the director of the Institute for Public Service Reporting at the University of Memphis. He's won numerous national awards for feature writing and investigative reporting. Perrusquia worked at The Commercial Appeal for more than 29 years, where he served as a reporter and editor. He is also the author of "A Spy in Canaan" (2018) which tells the story of political surveillance in Memphis in the 1960s and 70s and civil rights photographer Ernest Withers' secret life as a paid FBI informant.
---
Oct. 20

Hooks National Book Award Presentation: Simon Balto, author of Occupied Territory: Policing Black Chicago from Red Summer to Black Power
Oct. 20 | Facebook Live, Hooks Institute's Facebook Page | 6 PM
Simon Balto, winner of the 2019 Hooks National Book Award discussed his book, Occupied Territory: Policing Black Chicago from Red Summer to Black Power, a powerful work of history that speaks directly to our current crisis over race and policing. Occupied Territory is meticulous and engaging with conclusions that are provocative and convincing. It informs a national conversation about the racist foundations of the criminal justice system.
Event Sponsors
The Hooks Institute extends its gratitude to the following University of Memphis entities and sponsors of this event:
African and African American Studies Program, Department of Criminology and Criminal Justice, Department of History, and Marcus Orr Center for the Humanities
---
Oct. 1
A Complete Embrace: The LGBTQIA+ Black Community and the Black Lives Matter Movement
Oct. 1 | Facebook Live, Hooks Institute's Facebook Page | 12:30 PM
The LGBTQ community is actively involved in social justice issues such as gender identity, student experiences, pay equity, and workplace discrimination. This event addresses the challenges faced by an often-marginalized sector of our community and policies that affect the life experiences of this population. Panelists for the event include Gwendolyn D. Clemons and Davin D. Clemons, co-founders of Relationship Unleashed and Andre E. Johnson, Hooks Institute Scholar in Residence and Associate Professor of Rhetoric and Media Studies at the University of Memphis.
---
Sept. 22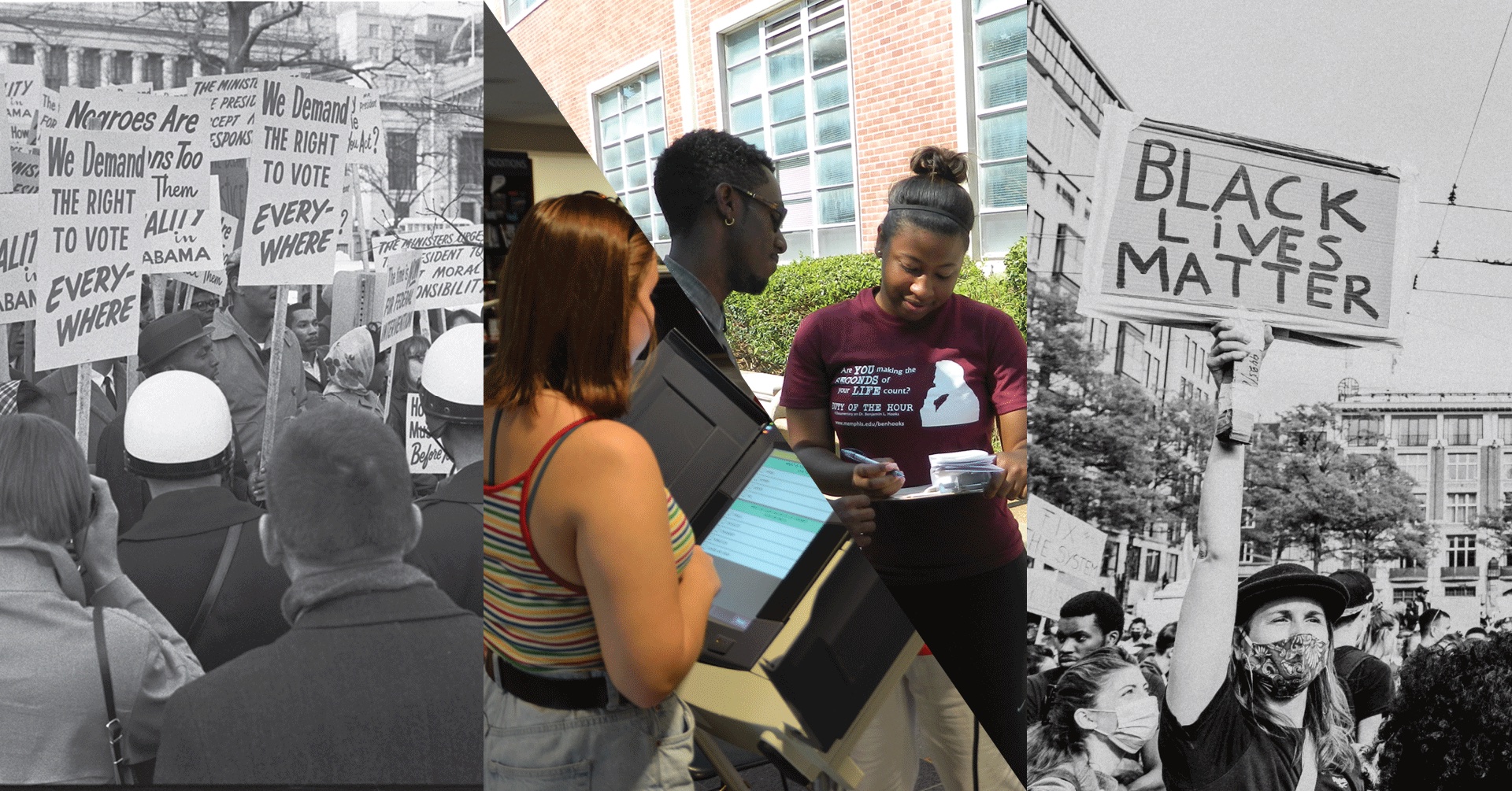 Voter Rights, Apathy and Suppression: A Conversation with the Experts
Sept. 22 | Facebook Live, Hooks Institute's Facebook Page | 6 PM
As we headed into one of the most critical election seasons in our nation's history, the Hooks Institute presented an in-depth discussion on voting rights, voter engagement and apathy, and tactics to suppress voting.
The Hooks Institute assembled a panel of experts who addressed:
"Voting With Conviction: Voting Rights and Voting Restoration in Tennessee," by Shanna Singh Hughey and Dawn Schlukebier explores the history of efforts to secure voting rights and to confront voter suppression before delving deeply into the most significant example of formal voter disenfranchisement – the potentially permanent removal of voting rights after conviction for a felony. Hughey, an attorney, is the president of ThinkTennessee, and Schluckebier is the director of Advocacy and Government Relations. ThinkTennessee, Nashville, is a nonprofit, nonpartisan research and advocacy organization for pragmatic ideas that create civic and economic opportunities that move Tennessee forward.
"The Criminalization of the Ballot Box: Navigating the Rise of Voter Prosecution, Charting a Path of Resistance," by Mitchell Brown describes the use of voter prosecution to punish individuals who have "wrongfully voted," a practice that can intimidate entire communities from exercising their collective power through voting. Brown, an attorney, is an Equal Justice Fellow, sponsored by the Ottinger Foundation, with the Southern Coalition for Justice in Durham, North Carolina. The Southern Coalition for Justice mission includes protecting voting rights of people of color and strengthening civic participation for all.
"#UpTheVote901 and the Fight for Democracy in Memphis/Shelby County," by Earle Fisher and Sijuwola Crawford outlines the challenges of increasing voter engagement to overcome a hidden form of voter suppression – voter apathy. Fisher is the founder of #UptheVote901 and Crawford is the chief operations officer. #UpTheVote901 is a grassroots organization whose mission to is educate, register and empower citizens to improve the social and political conditions in Memphis and Shelby County.
Daniel Kiel, Hooks Institute Associate Director and FedEx Professor of Law, UofM Cecil C. Humphreys School of Law, moderated.
The event was livestreamed on the Hooks Institute's Facebook page.
The topics covered by the panelists is available online with the release of the 2020 Hooks Institute policy papers.
---
Spring-Summer 2020
June 22, 2020
Online Community Conversation on How We Can Collectively Work to Reform Our Communities to Value, Protect and Invest in Black and Brown Lives
Monday, June 22, 2020 | 1 – 2 PM
Facebook Live on the Hooks Institute's FaceBook Page: facebook.com/benhooksinstitute/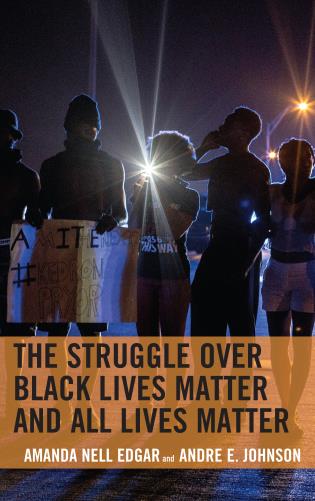 Amanda Nell Edgar and Andre E. Johnson, University of Memphis faculty and authors of The Struggle over Black Lives Matter and All Lives Matter, examined one of the defining social justice struggles of our time. They discussed the surprisingly complex relationship between Black Lives Matter and All Lives Matter as it unfolded on social media, and in interpersonal and community relationships.

The authors shared insights into calls for reform in Memphis and the nation that follow from #BlackLivesMatter activism, including protests following the Murder of George Floyd.

The Hooks Institute also highlighted its efforts within the University of Memphis and the greater community to create and support reform for the removal of race, economic, health and other disparities.
---
2020 Luncheon
Dear Hooks Supporters,
In view of the public health issues presented by the Coronavirus outbreak, the Hooks Institue has cancelled it's 2020 Join Hands For Change Luncheon. We are grateful to each of you for your support and know that you understand that this unprecedented public health crisis requires that our annual event be rescheduled. If you have questions please contact the Hooks Institute at bhi@memphis.edu or (901) 678-3974.
Thank you again for your support. Please be careful and safe.
---
February – April 2020
Civil Rights: Stories to Inspire Change
Led by University of Memphis students, the Benjamin L. Hooks Institute for Social Change is releasing a short video series focused on civil rights history. The video series, Civil Rights: Stories to Inspire Change, will release weekly on the Hooks Institute's YouTube page and run for seven consecutive weeks. Each week, a UofM student will share a story of people who worked to create a more just society, proving that it is possible for ordinary people to do extraordinary things.
Subjects to be featured and the UofM undergraduates who will lead the videos include:
Tom Lee, March 10 – Jeremiah Jones, Journalism, senior
1968 Memphis Sanitation Workers' Strike, March 17 – Thomas McDaniel, History, senior
Orange Mound, March 24 – Carl Bledsoe Jr., African and African American Studies, sophomore
WDIA, March 31 – Amanda Campbell, African and African American Studies, senior
First Beale Street Baptist Church, April 7 – Jazmyne Wright, Political Science/African and African American Studies, freshman
Mason Temple, April 14 – Anna Weiner, History and Psychology, sophomore
Burkle Estate, April 21 – Makayla Bommer, Biology, freshman
The series is produced by Nathaniel C. Ball, Hooks media and programs coordinator, and Rebekkah Mulholland, Hooks graduate assistant, with executive producer Daphene R. McFerren, executive director of the Hooks Institute.
University of Memphis students who are interested in participating in future videos are encouraged to contact Ball at ncball@memphis.edu.
---
March 5
Stax Music Academy: From Soulsville to Italy
Reception 5:30 PM | Viewing of Film 6 PM
Thursday, March 5, 2020 | University Center, Bluff Room (304), University of Memphis, 499 University St., Memphis, TN 38152
Join the Hooks Institute and WKNO-TV Memphis for a screening of Stax Music Academy: From Soulsville to Italy with panelist, Hooks Institute executive director Daphene McFerren. This film follows talented young musicians from Memphis as they perform to audiences in Italy the songs of Soul Legends Otis Redding, Wilson Pickett, Sam & Dave and Aretha Franklin. A question and answer period with members of Stax Academy about the school's mission and the trip will follow the viewing.
This event is free and open to the public. Convenient parking is located at the public parking garage on Zach Curlin.
---
Feb. 3 – Mar. 3, 2020
"Uplift the Vote: Everyone Should Have a Voting Story" Exhibit
M–F, 2–4 p.m. | Sat. Feb. 15 and 29, 10 a.m. – 2 p.m.
Fayette County Public Schools, Central Administration Building,10425 Hwy 76 S. Somerville, TN 38068
The Benjamin L. Hooks Institute for Social Change at the University of Memphis and Fayette County Public Schools hosted the experience "Uplift the Vote: Everyone Should Have a Voting Story," an exhibit on the importance of our most basic civil right – the right to vote. The exhibit showed through photographs, documents and reflections, how African Americans' demand for the right to vote in Fayette County, Tenn., in 1959 helped to create a more just and inclusive nation.
Wreath Laying Ceremony
To commemorate the Fayette County activists, Leadership Fayette placed a wreath on the south side of the Fayette County Courthouse, 16755 Hwy. 64 in Somerville, Jan. 23 at noon. The public was invited.
Guest Speakers
Daphene McFerren, Hooks Institute executive director, was the guest speaker at noon on Feb. 15 and Feb. 29. On Feb. 15, a reception for the public followed her talk.
Sponsors
The exhibit's sponsors included Leadership Fayette, the Somerville Police Department, The Bank, Fayette County Public Schools, AARP, Print Solutions and the Benjamin L. Hooks Institute for Social Change.
Photograph, © Art Shay, John and Viola McFerren leading protectors to the Fayette County, Tennessee Courthouse, March, 1965.