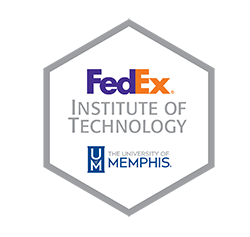 Emerging Innovation Series
Every month the FedEx Institute of Technology invites a leading innovator in emerging technologies to speak about what they are most excited about. Featuring researchers, local leaders, nationally-recognized innovators, and business luminaries, this series is designed to encourage conversation and engage the Memphis community. All talks are free and open to the public.
Plan on Attending? Click on the title of the talk(s) you want to hear and we will be sure to keep you up to date.
2018 Scheduled Talks
Event Overview: Join us for a talk on smart dust technology and the implications of this emerging technology for industry with a focus on logistics implementations. Dr. Osama Khan of the University of California, Berkley will join us for a discussion of his research and the exciting possibility of smart dust.
Speaker Bio - Dr. Khan did his PhD at the University of Michigan-Ann Arbor in 2013. In the summer of 2009, he worked in the RF division at Qualcomm in San Diego, CA. Between Feb 2014 and Nov 2014 he was at Psikick Inc., an ultra-low-power wireless startup, where he developed a low-power crystal oscillator and a short-range radio front-end. Dr. Khan's current research interests are battery independent, robust, adaptive micro-systems and their applications.
Research Overview - To exploit the true potential of ubiquitous connectivity at scale, wireless nodes in a sensor network have to have long battery lifetime and low cost. Low power wireless communication plays a key role in extending the battery life of a wireless sensor node. This is because wireless communication when active, is usually the most power consuming block in a sensor node. To reduce cost of a sensor node, complete system integration is needed including communication, computation, sensing and power management with zero external components. Therefore a single chip mote (sensor node) with zero external components is being developed that can potentially operate off of harvested energy requiring no external battery. This will truly enable perpetual operation of wireless nodes at low cost and hence realize the vision of ubiquitous connectivity at scale.
---
Event Overview: As part of the 2017-2018 DRONES Research Cluster, Dr. Ranganathan Gopalakrishnan has made significant advancement in the use of aerosol technology in utilizing emerging innovations. The FedEx Institute will provide a one day workshop on research in aerosol disbursement of emerging technologies. The subject matter of the class will focus on solar cell applications, medical device applications, and logistics implementations. The workshop will last from 9:00 to 5:00 and will feature lunch.